Appalachian State baseball continued its tough stretch of games to start the season with a trip to N.C. State, where the Mountaineers were swept in a three-game series, dropping to 0-7 on the season.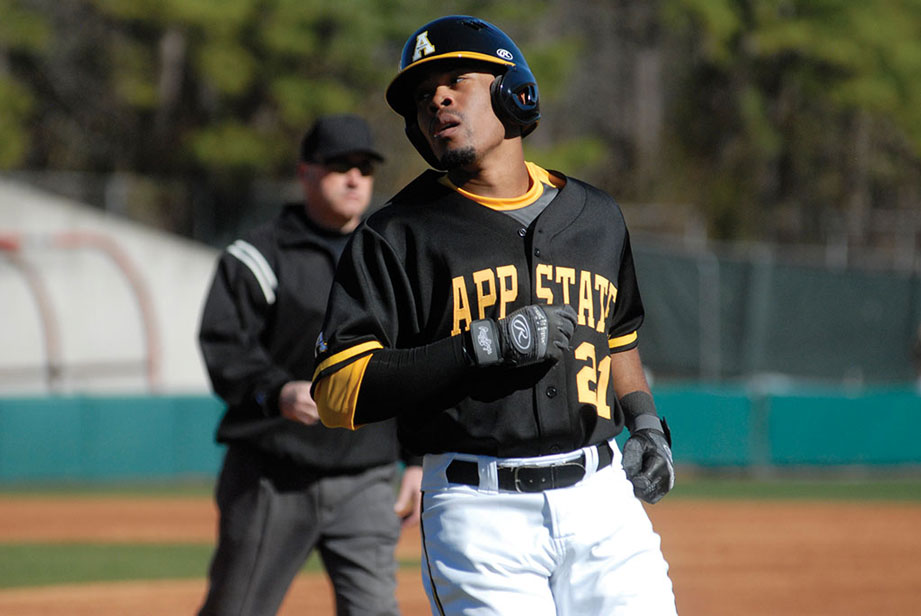 The Wolfpack, who were ranked sixth in the Baseball America rankings released Feb. 17, took advantage of nine App State errors and outscored the Mountaineers 16-6 in the series.
In the first game, N.C. State started junior left-handed pitcher Carlos Rodon, who was named USA Baseball Player of the Year last season. Rodon was opposed by App State's Jamie Nunn, who pitched five innings and allowed five hits and three runs, two of which were earned.
Despite the strong outing, Nunn was outdueled by Rodon, who pitched eight full innings, allowing five hits and three earned runs while striking out nine Mountaineers.
The only earned runs that Rodon surrendered came in the eighth inning and brought the Mountaineers to within a run. App State, who scored two unearned runs in the third inning, entered the eighth inning down 2-6 before sophomore center fielder Jaylin Davis blasted a three-run home run, setting the Mountaineers up for a chance to tie the game in the ninth.
Senior third baseman William Head singled in the ninth and advanced into scoring position, but was left on base when junior right fielder Bradley Morton flew out to deep right field.
Davis, who is the only player to ever hit two home runs off of Rodon, had all five RBIs for App State on Friday night.
"I just tried to stay back and put the ball in play," Davis said. "Rodon is a good pitcher. All you can do is try to compete against him."
Davis and the Mountaineers weren't able to score Saturday, as junior right-handed pitcher Logan Jernigan started for the Wolfpack and pitched six shutout innings, allowing only two App State hits. Sophomore right-hander Jon Olczak pitched the final three frames for the Wolfpack, striking out four Mountaineers and allowing no runs or hits.
N.C. State scored seven runs on the day, but only two of them were earned. The Mountaineers committed five errors, and junior outfielder Jake Fincher drove in three runs for the Wolfpack.
"We didn't take care of the baseball," Mountaineer head coach Billy Jones said. "Today, we didn't show up to play."
In the final game Sunday, the two teams went through five and half innings with no scoring until junior infielder Jake Armstrong roped an RBI double to centerfield, putting the Wolfpack up 1-0.
The Mountaineers responded in the top of the seventh inning when Davis scored from third on a wild pitch to tie the game at one.
Junior pitcher Taylor Thurber, who pitched two innings in relief of junior starting pitcher Jeffrey Springs, only gave up three hits, but one of them was a Wolfpack two-run homerun from Armstrong that restored the Wolfpack lead to 3-1.
App State couldn't manage any hits in the ninth inning, and fell 3-1 in the final game of the series.
Springs, who pitched five and two-thirds innings, allowing only one run and four hits, earned a no decision as the winning runs were charged to Thurber.
"I felt pretty good," Springs said. "Everybody made a lot of plays, and that makes it a lot easier. I just tried to attack them."
Jones said Sunday's game went well for the Mountaineers and even though they are searching for the first win of the season, he is confident his team will continue to progress.
"I thought we played solid defense, and the flow of the game was an actual baseball game," Jones said. "We just continue to work. I was proud of the way our guys played today."
App State is back in action Tuesday against UNC Chapel Hill on the road. First pitch is set for 3 p.m.
After that, the team will participate in the Irish Baseball Classic in Cary, which is hosted by Notre Dame. The Mountaineers open up its tournament schedule with a game against Youngstown State on Friday  at 2 p.m.
Story: Cory Spiers, Sports Editor
Photo: Cory Spiers, Sports Editor