Music Moves My Sole 5K places emphasis on local musicians
Music Moves My Sole, the first 5K of its kind at Appalachian State University, kicked off Saturday morning at Duck Pond field in effort to rally support for local musicians.
While 5K fundraisers are not an abnormal occurrence around the area, Music Moves My Sole was the first to directly benefit Boone musicians. Split Rail Records, Appalachian's student-run record label, came up with the idea as a means of encouraging support for local musicians.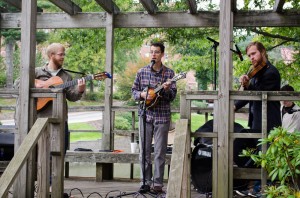 Approximately $2,000 was raised and will go directly toward the production of an album for the next band Split Rail Records works with, in addition to helping pay their artists to perform shows.
More than 80 runners participated in the event, coordinators of the 5K said.
"We wanted to do an event that could incorporate the community as well as the university," said Rachel Mullins, president of Split Rail Records. "We thought of this idea as a way to showcase and highlight some local musicians who we've been working with by having them play along the route and also involve the community more so than just students."
The route led runners through downtown Boone as well as through the heart of Appalachian's campus. During the race, participants passed five bands performing, including local favorites such as Bootstrap Slick and Bare the Traveler.
"I think it's a good idea," said Katie Bond, a sophomore exercise science major. "It gets their voice out."
The 5K saw participation from a diverse group of people, including students from multiple majors, residents of the community and runners ranging from young to old.
While Music Moves My Sole was a brand new idea to Appalachian, those at Split Rail Records are optimistic about things to come.
"We're hoping that it'll become an annual event and every year have new musicians to showcase," Mullins said. "Hopefully it'll just keep growing on itself. It's definitely something that we want to make a tradition."
Story: Andrea Santoyo, Intern A&E Reporter
Photos: Morgan Cook, Photo Editor