National Geographic CEO speaks on scientific storytelling: 'Science alone is not enough'
The CEO of the National Geographic Society spoke Wednesday to a crowd of 400-500 people at the Schaefer Center for the Performing Arts, closing out the first day of the 2023 Appalachian Energy Summit. 
Jill Tiefenthaler gave the keynote address along with professor of geography and National Geographic explorer Baker Perry. 
The Appalachian Energy Summit is an annual event that began in 2012 and welcomes students, staff, and faculty of higher learning institutions and other North Carolina organizations and community groups, says the App State website. 
The presentation, titled "Exploration at the Extremes," highlighted the many endeavors of National Geographic explorers around the world and new initiatives and projects the company has undertaken. 
Two themes Perry and Tiefenthaler continually drew from were the importance of research in all places and learning how to communicate learned information to the audience. 
Tiefenthaler said all the work being done is guided by the mission to "use the power of science, exploration, education and storytelling to illuminate and protect the wonder of our world."
Having a background as an educator taught her that the research being developed by explorers is valuable by itself, Tiefenthaler said. But she realizes that research is also a valuable resource for inspiring individuals to care and act on important issues. 
"Science alone is not enough to inspire the change we want to see in the world," Tiefenthaler said. "So at the society, we put equal value in finding masterful storytellers as we do bold scientists."
Throughout the presentation, Tiefenthaler highlighted a number of different explorers, including Enric Sala who leads the Pristine Seas program. 
"Enric and his team of scientists, filmmakers and policy experts go on expeditions all over the globe to inspire the creation of marine protected areas, which help mitigate climate change, curb biodiversity loss and increase seafood security," Tiefenthaler said. 
Perry spoke about his experience as an explorer installing weather stations in places of extremely high elevation, including Mount Everest, and why the data being collected is impactful to other areas of the world.
"Unfortunately we don't fully understand the climate changes at the highest elevations, as only a handful of weather stations exist in these critical areas," Perry said. "To our knowledge, in 2019, prior to the Everest expedition, there was only one station above 6,000 meters, or 19,684 feet, worldwide." 
Perry said monitoring the weather conditions in high mountain regions is vital to understanding the current global distribution of freshwater because these areas are "very likely warming much faster than the global average." 
Perry, along with other national geographic researchers and explorers and Sherpa and Nepali team members have traversed Everest three times since 2019, with his most recent trip in April. 
During their first expedition, Perry said, the team installed six weather stations. They added a seventh in 2022 and continually perform maintenance and updates to the stations. 
"With continued support from National Geographic, Rolex and App State, we are working closely with our Sherpa team members and Nepali partners to continue to operate these stations and to extend the climate record as long as possible," Perry said. 
Other explorers were introduced through video clips included in Tiefenthaler's part of the presentation. These clips allowed the audience to "hear directly from the explorers," Tiefenthaler said. 
One clip highlighted the work done by photographer Anand Varma to photograph and collect data on hummingbirds. 
Another clip introduced the 2023 winners of the Slingshot Challenge. The Slingshot Challenge is open to 13 to 18-year-olds around the world and asks participants to submit a new solution to the world's environmental problems. 
Participants made videos about their solution which would "protect and restore nature, clean our air, revive our oceans, build a waste-free world, or address climate change," Tiefenthaler said.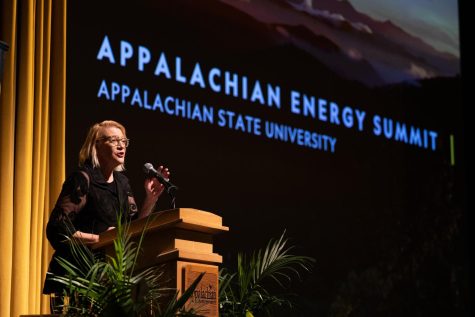 Chancellor Sheri Everts said at the address the Energy Summit set a goal in 2012 for the UNC system, community colleges and other state agencies to avoid $2 billion through energy savings by 2025. 
Everts said she is excited to announce the current amount of money saved in North Carolina through energy expenses is $1.75 billion. 
"As this summit has consistently focused efforts on its founding objective, to reduce and stabilize average annual energy expenditures for our state, it has also positioned UNC System institutions as national leaders in sustainability education and stimulated the North Carolina economy," Everts said.