More than 95 percent of Winkler Hall recycled
Around 96 percent of the debris from the demolition of Winkler Residence Hall has been recycled, resulting in a little over 7,000 tons of recycled material.
The 11-story residence hall was demolished June 1 after it was determined that renovations would cost the university too much,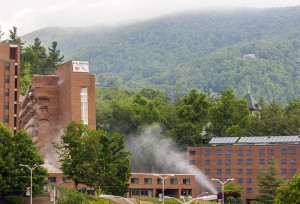 according to an article published June 1 by The Appalachian.
Jennifer Maxwell, the resource conservation specialist at the Office of Sustainability, said the main ecological benefits of recycling the building are the effects it has on local construction.
The recycled concrete, brick and blocks went to a local company called Vulcan, which is using the materials to create gravel.
Maxwell said because they are receiving materials that have already been created, less mining of the land is required. In turn, it saves energy to create recycled products as opposed to creating products from new materials.
Appalachian Sustainability Director Ged Moody said the amount of debris recycled far surpassed the expectations that had been set, due to a collaboration between the Office of Sustainability and the Physical Plant.
"The university, working with the contractor, had the goal that 60 percent of that building would not go to the landfill," Moody said.
Recycling debris is beneficial to the contractors who demolish buildings because they sell the wreckage to other companies for a profit. However, Appalachian does not share in this financial profit.
The contractors get paid by the school to destroy the building, and again by third-party corporations for the recycled material, and Appalachian receives none of the benefits.
However, Moody would like to see a change in the future where the university demands a piece of the profit.
"I'd like to see us make that a requirement in the future," Moody said.
Moody said he believes that the most important reward from recycling the debris of Winkler is that it sets an example.
"When [people] see that on our campus, we've educated them to go out and make a difference in the world," Moody said. "We want to go out and create a better world."
Story: Thomas Culkin, Intern News Reporter
Photo: Paul Heckert, Photographer