'Perfect Fit': Appalachian State joins Sun Belt Conference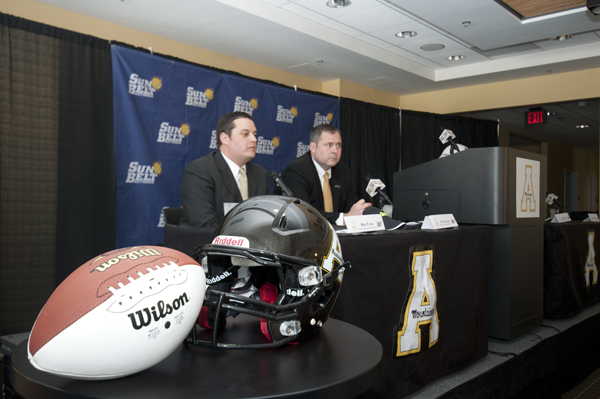 After months of rumors and this week's reports, Appalachian State University is finally officially a member of the Sun Belt Conference and, subsequently, the Football Bowl Subdivision.
Chancellor Kenneth Peacock formally accepted the invitation Wednesday from Sun Belt Commissioner Karl Benson, who said the addition of App State was a "perfect fit."
"The Sun Belt's goal has been to build a conference that makes sense," Benson said. "We are here today to tell you all that the Sun Belt conference got a whole lot better with the addition of Appalachian State."
Peacock said it was a good fit as well.
"We were looking for a good geographical fit," Peacock said. "We looked, we thought, we hammered this, we discussed this. This was not something that was done overnight by any means."
Athletic Director Charlie Cobb said the announcement was the "starting point," and that the "heavy lifting" started Wednesday.
He also said that the decision to move conferences was bigger than the football program and bigger than the athletic department – it was a university decision.
"As an institution, Appalachian deserves to be considered one of the top-tiered universities in our system and in this region," Cobb said.
The announcement also brought with it the answers to many questions.
App State has to complete a two-year "reclassification process," which includes raising the number of football scholarships from 63 to 85.
During the 2013-14 school year, App State football won't be eligible to play in the FCS championship, and will not be able to officially win the Southern Conference title because they would have to forfeit their automatic berth to the postseason that SoCon champion would receive.
However, football is the only sport that is subject to ineligibility.
All other sports, field hockey notwithstanding, will be "eligible to win [SoCon] championships and earn automatic bids to NCAA Championships" in the 2013-14 seasons, according to a press release from the university athletics department.
The Sun Belt doesn't offer field hockey, therefore it will remain in the NorPac Field Hockey Conference and is not affected by the move.
In 2014-15, all sports will be able to play on full Sun Belt schedules. Football is eligible to win the Sun Belt championship, but will not be able to play in postseason bowl games.
Men's soccer and wrestling are also not offered in the Sun Belt and are expected to stay in the Southern Conference.
In 2015-16, all available sports will become completely eligible for all Sun Belt events.
Men's basketball head coach Jason Capel said the thing that jumped off the page for him was that there were two Sun Belt teams in the NCAA tournament, but did not know how much of a difference the talent level was.
"I think we're going to be able to compete in that level, in that league," Capel said. "First and foremost, we want to compete and win next year in the Southern Conference, and then have a smooth transition into the Sun Belt."
On if the players are ready for the move, Capel said the biggest thing was their "maturation."
"Kids have to grow up," said Capel. "They have to understand the importance of hard work and the process it takes to ultimately be a champion. I think we all saw that throughout last season, especially toward the end of the season. I think we put everyone on notice [with the Davidson game] with what we're capable of."
In March 2015, the Sun Belt's basketball tournament will be held in New Orleans.
Women's basketball head coach Darcie Vincent said she will miss playing the SoCon tournament in Asheville, but the new arenas they will play in will be "so cool" and the competition will be exciting.
"We have to double up our hard work and double up our effort," Vincent said. "It's a different type of animal, a different type of conference, but I get excited about challenge and change."
SGA President and Board of Trustees member Jake Cox said he thought this was a "phenomenal move."
"This is absolutely a historical day for Appalachian State University," Cox said. "Together, along with all the evidence on why we're moving up, on why it's such a great decision, just goes to show the kind of leadership we have at the university and why they are making such poignant moves putting us toward a direction of ensuring that our success continues, not only on one level, but on a higher level as well."
Story: ANDREW CLAUSEN, Sports Editor
Photo: JOEY JOHNSON, Staff Photographer