The Appalachian spoke with recent Appalachian State University graduate Brittney Flood, who opened a collection of paintings about her art and her life after college at the start of the month at the 3rd Place Campus Ministries gallery.

"The purpose of 3rd Place is to provide a community space through aspects such as spirituality, creativity and social justice," said Mary Claire Grube, a 3rd Place intern with a focus on social justice. "By providing another art gallery, we offer local artists a chance to display their art and the community a place to view it."
The organization describes itself in its mission statement as "an open and affirming community, practicing the way of Jesus by offering radical welcome and support for seekers of spirituality, creativity and justice," but it is open to people of all religions and hosts non-religious events throughout the month.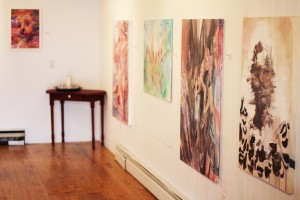 Hosting art like Flood's helps to tie the community in with the ministry, and vice-versa.
"I think [Flood's] art stands out because of the way she makes people her subjects," Grube said. "She re-imagines them in such a fresh wave of impressionism that it just makes you stop and look."
The exhibition is on display in the 3rd Place gallery, on 132 Appalachian St., through November.
The Appalachian: Tell me about your own personal history/experience in art. How did you get started? How have you progressed through college?
Brittney Flood: I didn't paint much until I got to Boone, but I had always doodled through classes and obsessively kept a sketchbook. Through college, I explored a lot of techniques and had the privilege of having professors who encouraged experimentation and individual study. Working in studios with lots of other people was a great collaboration and probably what I miss the most. I think a few of my techniques have progressed, but becoming more confident in making marks and executing a piece is something I think is the most progressive.
TA: How would you describe your own artistic process/style? Has it changed since graduating?
BF: It's quite intuitive. I'll have this idea I'd like to translate visually, and will get clues as to what to do next the moment I begin painting. I often work quickly and on multiple pieces at a time to stay loose. Since graduating in August 2013 I unintentionally took a break from painting and making things for about six months. [I] had a full-time job and was focused on working. Now it is about work, but a different kind. Now, I still paint or make quickly, but have realized the best works I make come from the work itself, from the process, from responding to the paint itself. It's important for me to continue working and painting each day.
TA: What have you been up to lately in the arts?
BF: Exhibition, residency and grant proposals. I'd like to receive an artist residency someday somewhere out west, or maybe in eastern Europe. This past summer, I had my sights set on a residency in Berlin. I was a finalist but ultimately wasn't chosen. It was one of those ideal situations; 24/7-studio access, a small one-bedroom apartment in town, stipend for materials, etc. It was hard to be rejected, but [I] got a lot of great feedback in the process, which has helped along the way. I try to apply to a few things a week and have been putting lots of good vibes out there. Hopefully something good will come back this way soon.
TA: How did you get involved with the 3rd Place for this exhibit?
BF: I saw a "call for artists" flyer on King Street one night and thought I'd go for it. I hadn't shown anything new in Boone since my final senior exhibition last year and was excited about the possibility of bringing something fresh back.
 
TA: Tell me about this body of work that is currently on display in the 3rd Place. How is it similar to or different from your other work? What inspired it? Is there any connection to the 3rd Place or its religious message in your work?
 
BF: Most of this work is inspired by the moments in our life when we realize our own mortality, the metaphysical and lucidity. A lot of those moments are vivid and inspire deep feeling and visions. There are certainly religious undertones and inspirations from human tragedies and ecstasies, and are meant to represent the blur between life, death and the daydream. These paintings were made in the span of one or two months, working on them simultaneously. They are different in the fact that I like working pretty large most of the time so the pieces in this show are small for me, mainly because my car could only fit pieces 4 feet at most. Transitioning paintings has been a fascinating challenge.
TA: What do you hope people take away from this body of work?
BF: I hope by viewing the paintings someone would, for just a moment, quite possibly be swept away into their own sort of daydream. Titles are just as important as the painting for me, and I'd hope the words would have an equal effect. My goal was to make this a visually cohesive presentation of some of my most recent work.
TA: What's next for you?
BF: My next challenge is making a website and online portfolio. It's important to have one, and I've yet to get it done. I'm not the most tech-savvy person, so it will be interesting.
Story: Lovey Cooper, Senior A&E Reporter
Photo: Dalton Kilby, Intern Photographer