Recent App State grad manages Ray Russell's re-election campaign as Election Day nears
Lee Franklin, a May graduate of App State serving as North Carolina representative Ray Russell's campaign manager, had an interaction with a political science professor at freshman orientation in 2016 that made a lasting impression on him.
"You guys should not major in political science if you are not trying to make connections and get involved," Franklin recalled the professor saying. "If you don't make connections and you don't get involved, you will never get a job in political science." 
Shortly before orientation, Franklin walked into a shoe store back home in Chapel Hill. There was a young guy working the cash register, probably a recent college grad, Franklin guessed. They struck up a conversation, and coincidentally, the guy turned out to be an App State graduate with a political science degree. 
After that experience, when Franklin got to orientation and heard the professor "almost trying to deter us" from pursuing political science, he knew what he had to do to find success in the field: make connections and get involved.  
"I was trying to take the advice, so I went to College Democrats and I went to student government," Franklin said.
It was through getting involved with these organizations early on as a freshman that Franklin said he fostered connections that ultimately helped him advance his career.
Franklin joined the App State Student Government Association and started working alongside former Student Body President Anderson Clayton on the external affairs committee, which he eventually became director of in 2018. 
Through the College Democrats, Franklin met Clark Streets, who was the field director for the Watauga County Democratic Party. In the fall semester of 2016, Franklin volunteered a lot of his time to help with voter registration. He helped the party register some 2,000 voters in total that year. In the spring semester, Franklin ran into Streets and mentioned that he'd love to get involved in any way he could.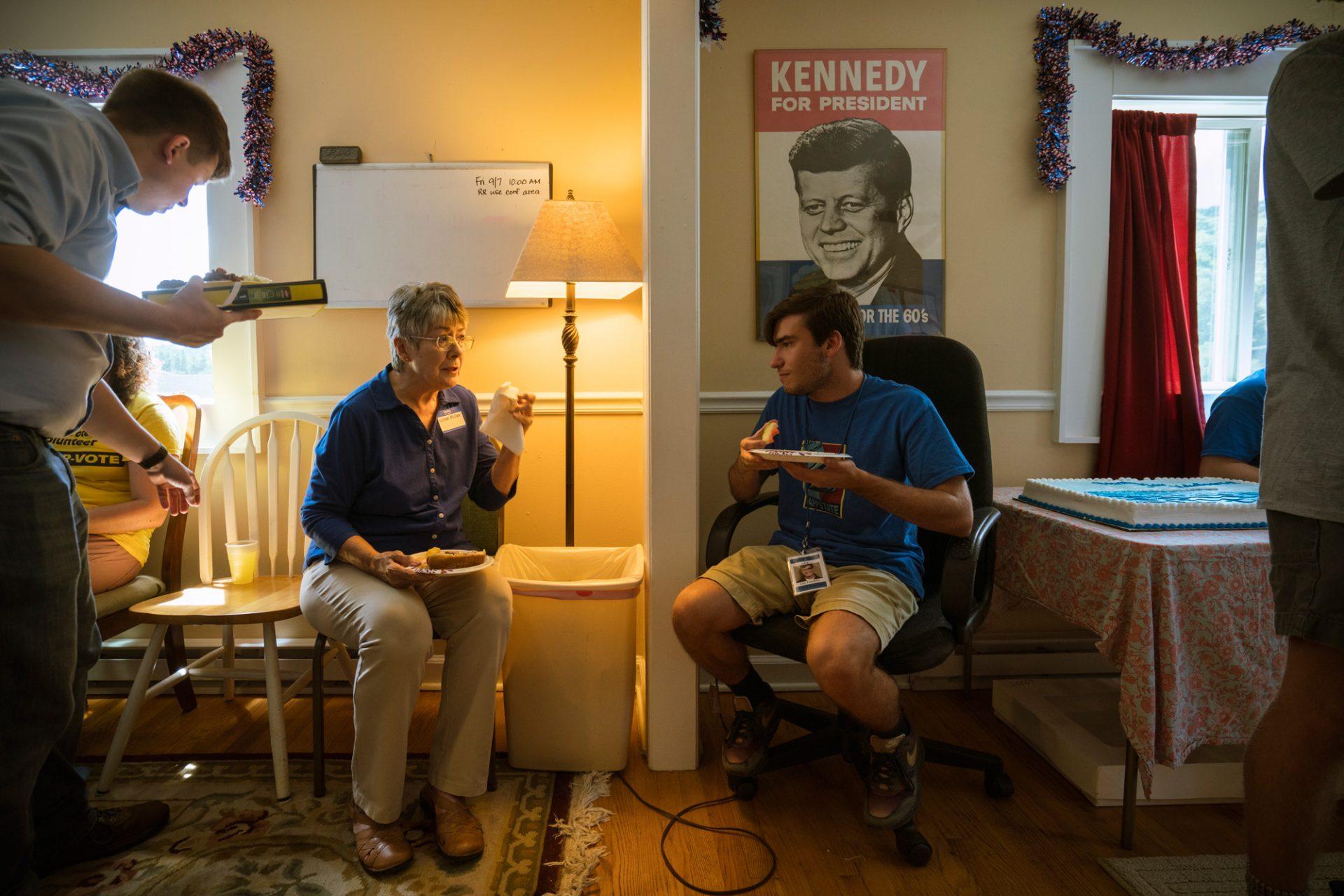 "Later on, he invited me to come to a Watauga County Democratic Party staff meeting," Franklin said. "When I showed up, they were basically like 'Welcome to the team!' and I was like, 'What?'"
The Democratic Party's plan was to hire Franklin in a "deputy" position, where he would learn the ropes by working under someone with more experience. But, the person Franklin was set to learn from ended up leaving the job, so he was named field director for the county's Democratic party in the second semester of his freshman year, with his only prior experience being "a few shifts of voter registration." 
"He really just showed a lot of promise right from the bat," said Christine Behrend, Watauga County Democratic Party operations director. "Right from the takeoff, he was really very enthusiastic and very able to pick up the reins."
Franklin was in charge of running voter registration in 2017, when they registered another 2,000 voters. In charge of registration again in 2018, Franklin helped the county Democrats to a "big year," due in part to the "blue wave" they were hoping for. 
"That year, we were able to register 3,000 voters, and we were able to flip our state house seat when we got Ray Russell elected," Franklin said. "He performed well all over the district, but we had record youth turnout in 2018, so that kind of pushed him over the edge." 
Franklin was in charge of registering many of those youth voters who he said helped elect Russell, which Russell noticed. In the summer of 2019, Russell was looking for a campaign manager for his 2020 re-election campaign. At the same time, Franklin was looking for work as a campaign manager, knowing he would graduate in May of 2020. 
"I worked the 2019 election for the democratic party, we registered another 3,000 voters, and then I started working for Ray Russell for his re-election campaign, and that's what I'm doing now," Franklin said. 
App State College Democrats president Dalton George, a colleague and friend of Franklin's, said the humble yet dedicated mindset Franklin approaches his work contributes to the success he's found early in his career, landing a campaign manager position while still in college.
"Any other person our age would be shouting that from the rooftops, because I think that's really impressive," George said. "Lee is just about putting in the work and being dedicated and passionate about it." 
Franklin said the pandemic has made this campaign different from what it would be during a normal year, such as switching to cold-calling many voters because they can't go door to door. Franklin said a lot of his time on the campaign has been spent raising money, since elections tend to get more and more expensive each year. As Election Day draws near, Franklin said much of the campaign's attention will shift to getting voters to vote and getting them the information they need. 
Franklin will work on Russell's campaign through the end of November, and after that, he isn't sure what he'll do, but he said it'll probably be something within the politics arena. After all, that's been the goal since the advice he received at freshman orientation.