Red Flag Campaign to hold 25th annual Walk for Awareness
The Red Flag Campaign will hold the 25th anniversary of its annual Walk for Awareness on Sept. 2.
The event will begin with a video screening and speakers at 8 p.m. in Belk Library Room 114 and move to Sanford Mall for the walk at 9 p.m.
The walk was started in 1989 after Jeni Gray, an Appalachian State University employee, was abducted and raped on Sept. 24th after going for a walk. Her body was found 15 days later.
Five days after Gray's body was found, Leigh Cooper Wallace, an Appalachian alumna, went for a run on campus when she was abducted and raped by the same man. Wallace survived to share her story until she passed away in December 2012 from pneumonia.
Dean of Students Emeritus Barbara Daye was the one who first initiated the walk 25 years ago.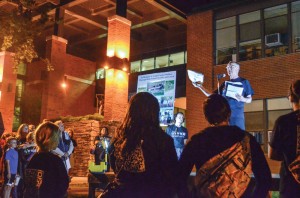 The event's scheduled speakers include Suzette Patterson, assistant director of the Center for Student Involvement and Leadership, who will introduce the walk. Daye will then speak of the history of the walk and Chancellor Sheri N. Everts will speak of the event's future.
"Twenty-five years later, we continue to walk together as we know members of our community continue to be victimized," said Ellen Hartman, an advisor to the Red Flag Campaign and teaching assistant in the department of student conduct. "We walk together, both victims and advocates, in support of our commitment to a violence free campus. As an Appalachian Family, we walk together in acknowledgement of our responsibility of being active bystanders. Appalachian knows we can prevent interpersonal violence, but we need our entire Appalachian community to be active in this cause."
Hartman was a graduate assistant in the Women's Center in 2007 where she first got involved in the walk.
"It's a well-organized, peaceful event – well-attended," Hartman said. "This is my fourth walk, and each year I have been encouraged by the increase in attendance of students, faculty, staff and community members."
Chief of University Police Gunther Doerr said Appalachian police has several staff members, including himself, participating in support of the event, as well as on-duty officers assisting.
"Our on-duty police officers, along with several Parking & Traffic officers provide traffic control on Rivers Street to ensure all walk participants cross Rivers Street going to the Holmes [Convocation] Center safely," Doerr said.
Community member Melissa Reeves and campus a cappella groups will perform throughout the evening.
"I encourage every student, every faculty member, staff member and community member to join us on Sept. 2 at 9 p.m. on Sanford Mall to learn, to support, to empower those who have been affected by violence," Hartman said.
Story: Kaitlan Morehouse, Intern News Reporter