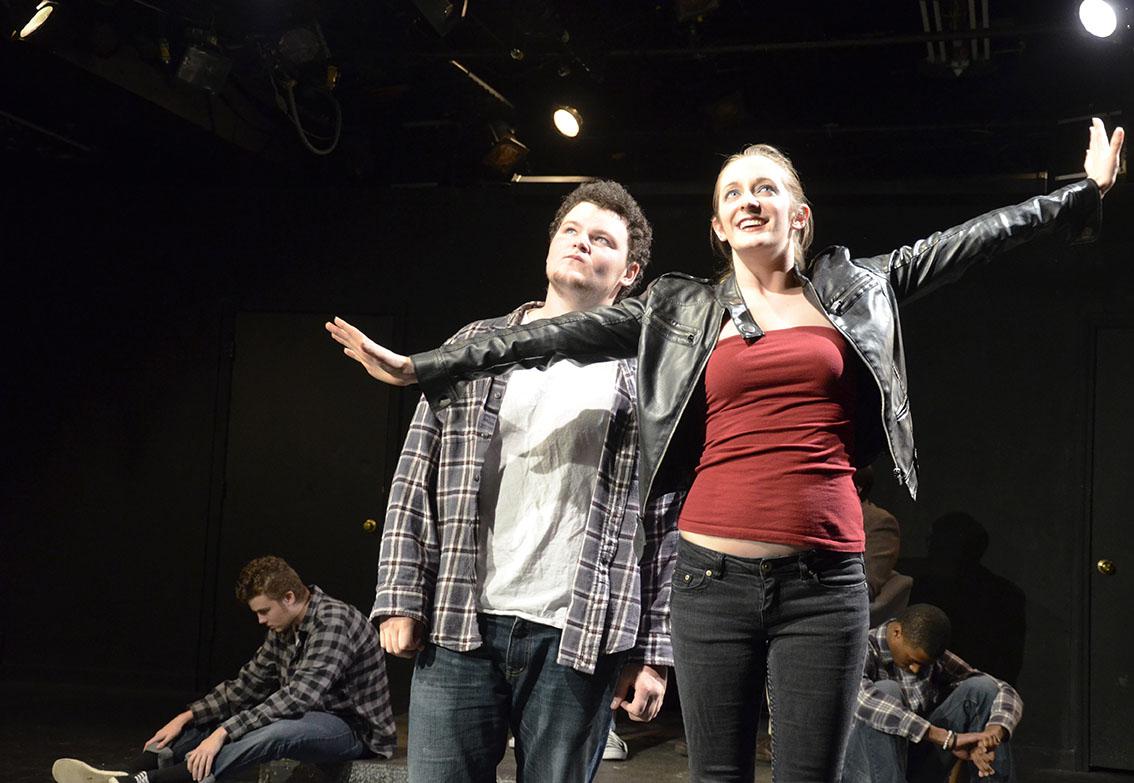 Of the three plays at this year's New Play Festival from Thursday through Saturday, Tyler Quick's comedy "Je Tammy" had the most straightforward premise. A French mime named Pierre, played by sophomore Nick Newman, was to marry Tammy, his southern belle of a girlfriend played by freshman Madi Viterito.
Their marriage was complicated by Tammy's alcoholic family, especially her oppressive mother. But, Pierre came with his own baggage.
At first, it seemed his career as a mime was the play's primary conflict. Tammy referred to him consistently as a "clown," and this theme of cultural disconnect started out as the play's comedic thrust.
The true antagonist, however, was Pierre's psychotic ex-girlfriend Felicia, gleefully played by junior Natalie Carpenter. Initially introduced as a minor complication to the plot, Felicia's machinations eventually became the focus of the story.
The characters in "Je Tammy" all fit established tropes and character archetypes, which at first came across as a major weakness.
Pierre and his flamboyant mime associate Alfonse, played by freshman Ian Lawrence, spoke in ludicrously exaggerated French accents. Tammy and her also flamboyant brother Xander, played by sophomore Jerry Yelton, chugged fake alcohol and complained about their mother for almost the entire play.
Even Felicia, the biggest monkey wrench in the play's straightforward comedic shenanigans, seemed to be there only for crude sex jokes.
That said, the play's pervasive stereotypes didn't detract from a number of well-executed slapstick gags, committed performances from its actors and a dark, twisted ending that put a screeching halt to the plot's comedic formula.
One of the best gags was when Tammy's mother, extravagantly played by senior Katie Hickling, mistook Pierre's makeup bag for her own. In a drunken stupor, she smeared mime makeup across her face and stumbled to the wedding, much to her children's amusement.
Viterito and Yelton played off each other extremely well in these scenes. They tackled their characters' combination of realism and over-the-top farce with poise and gently played humor. Viterito especially stole the show, and carried some of the more ludicrous moments, such as the pitch-black final scene.
Felicia had grown more and more unhinged by the end, buying her own wedding dress for Pierre's wedding and killing his cat Pepe to drive Tammy and Pierre apart.
In the show's final moments, Felicia emerged from her hiding place in Pierre's kitchen to confront Tammy with a knife. After an impassioned fight, Felicia forced Tammy to the ground and literally stabbed her in the back, ending the play.
It was an abrupt, jarring ending to an otherwise low-stakes screwball comedy, but it nonetheless left a grin on much of the audience's faces. Seeing the plot's conventional progression completely derailed was genuinely fun, especially considering Viterito and Carpenter's commitment to the explosively silly climax.
Overall, "Je Tammy" was a lot like its title, a cute, naïve joke that was charming and surprising nonetheless.
REVIEW: COLIN MOORE, Senior A&E Reporter
Photo: MAGGIE COZENS, Senior Photographer