The album cover of "To Pimp a Butterfly," hip-hop artist Kendrick Lamar's third album, was released nearly three weeks ago, and featured a black-and-white photograph of several black men, including Lamar, standing in front of The White House. The men are shown holding stacks of money and bottles of booze, while a dead white judge lays at their feet. This cover speaks volumes regarding the overall themes of the album, which include black stereotypes and racial bias against black Americans.
"TPAB" could not have been released at a better time, for it is a project that focuses on Lamar's own personal feelings and struggles, which reflect the racial issues that America still faces today.
The album's 16 songs take the audience through a epic, 79-minute journey. Lamar, a Compton, California, native, incorporates several different characters and personalities of his own creation, which all are expressed perfectly depending on the production and lyrics of each track. Lamar lets his music do the talking, which reinforces why he is miles ahead of every one of his peers.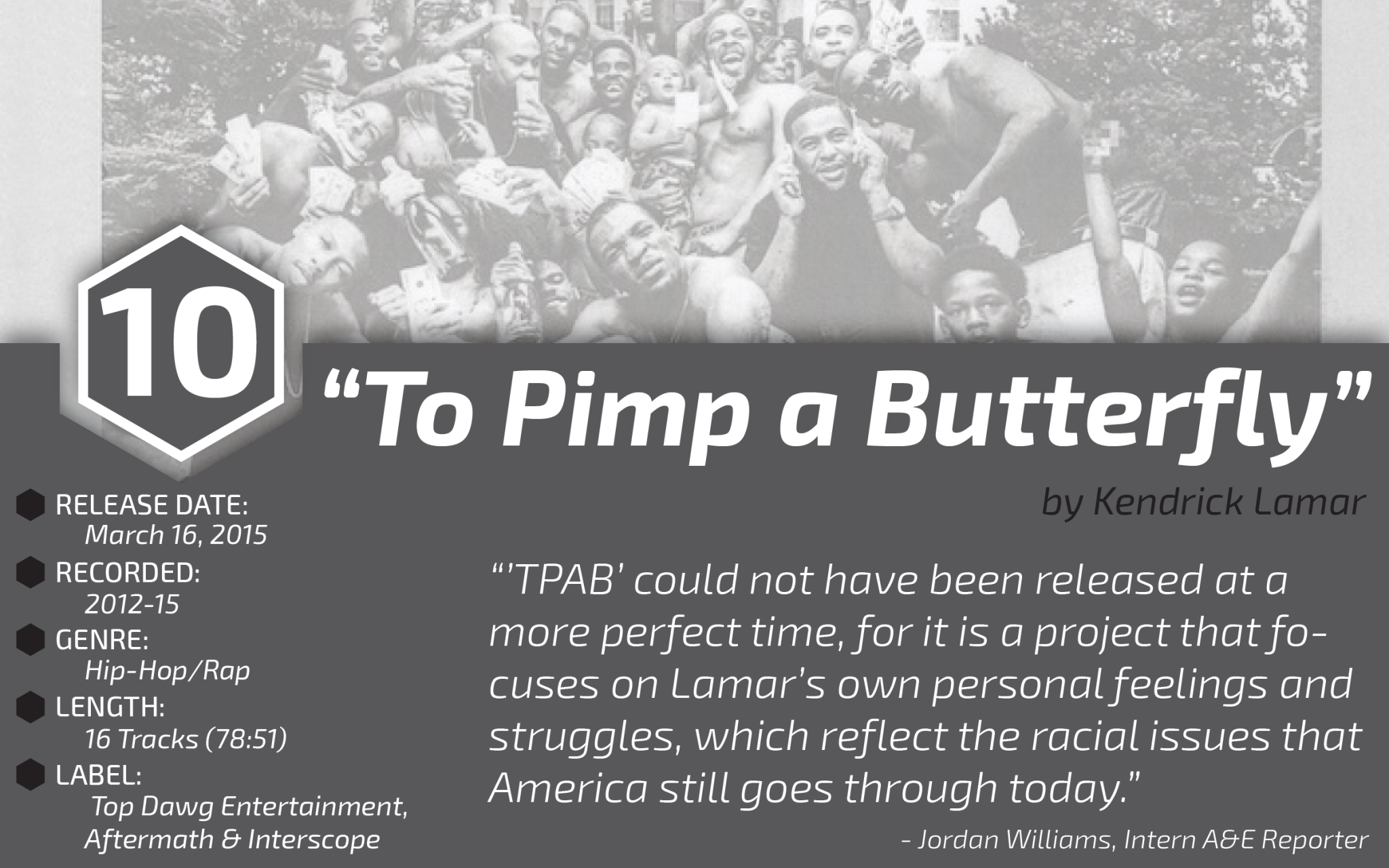 If you were expecting an album that has an easy listening vibe similar to Lamar's previous album, "good kid, m.A.A.d city," then you are in for a surprise.
The album only has one or two radio-friendly songs and most of the featured artists – with the notable exception of Snoop Dogg – are not known by the average hip-hop fan. However, what the album lacks in upbeat club bangers and features, it makes up for with incredibly progressive storytelling and eclectic production.
The album begins with "Wesley's Theory," which features George Clinton and Thundercat. Lamar raps about his first love over melodic keys, funk-inspired guitar and jazzy synths, while speaking on the consumerism and excessive spending of many black Americans upon reaching fame.
First, he speaks from the perspective of a young black musician, "When I get signed, homie I'mma act a fool/Hit the dance floor, strobe lights in the room," only to then change into the character of Uncle Sam, who persuades the young musician to spend as much as possible, "What you want you? A house or a car?/Forty acres and a mule, a piano, a guitar?"
After this is "For Free?," a short interlude that has Lamar rapping double entendres and humorous lines such as. "this dick ain't freeee," at a fast pace over complex live-sounding jazz instrumentation. He makes several remarks about the issue of black enslavement and stereotypes that shadow black Americans, including "Oh America, you bad b*tch, I picked the cotton that made you rich."
With sparse jazz drums and some melodic piano loops, Lamar gives fast-paced, high-pitched raps that deal with personal insecurities of the life of someone who grew up in the ghetto on tracks like "Institutionalized," and "These Walls." Singers Bilal and Anna Wise contribute to the tracks, while rap superstar Snoop Dogg gives a recurring hook-like feature that reflects on lessons learned growing up in the ghetto.
The track "u" is Lamar at his most personal, dealing with his own insecurities that have developed along with his massive success. He speaks through the point of view of his own conscious, who belittles Kendrick and brings up his past mistakes. The point of view changes to that of a drunk and depressed Kendrick, who continues with the personal self-critique, "You ain't no brother, you ain't no disciple, you ain't no friend/A friend never leave Compton for profit or leave his best friend."
The song showcases the complications of expressing his issues with identity and self-love.
"Momma" has Lamar breaking apart stereotypes he assumes people hold of him. "I know everything/I know everything, know myself/I know morality, spirituality, good and bad health," he raps.
Tracks such as "The Blacker the Berry" let out Lamar's anger toward the way black Americans are stereotyped and shamed. "I mean, it's evident that I'm irrelevant to society/That's what you're telling me, penitentiary would only hire me." The resentment continues on the track "Hood Politics," where Lamar raps about living in the hood. "We was in the hood, 14 with the deuce deuce/14 years later going hard, like we used to on the dead homies." On this track, Lamar recalls the different aspects of his upbringing that are especially stereotyped, including gang violence, drugs and violence, and he argues that American classism is the reason for the state of many predominately black neighborhoods.
The album version of "i" is much different than the single version, which was released in late 2014. In the updated version, Lamar performs the song in a live setting. During the "performance," a fight takes place in the crowd, which prompts Lamar to give a speech that reflects on the amount of black Americans that have already been lost to the likes of police violence and racial targeting. He states that black Americans don't have any time to waste on petty fights, and to enjoy the life that they have right now. Lamar also speaks to the rulings that have been made by the judges in recent police brutality cases in the U.S.
The album concludes with the 12-minute epic track, "Mortal Man," in which Lamar has a conversation with the late Tupac Shakur. A huge influence on his life and music, Lamar speaks to Tupac about fame and influence. Tupac lets Lamar know he is the new voice for young black Americans, and he needs to use his influence to change the world, just as many other black leaders did before him.
With "TPAB," Lamar has made a socially conscious record that could not have come at a better time. He has used his musical fame and influence to express the message of black empowerment during a time of racist stereotyping and representation of young black Americans in the media. It is a record that people of all races should listen to, due to the importance of understanding the hardships black Americans face in America.
Every handful of years, a musician comes through with an album that makes people think critically. By getting people to think about some of the real issues that face this country, Lamar has done just that with "TPAB."
Story: Jordan Williams, Intern A&E Reporter