The Rock goes green
Kidd Brewer is working to become waste free
Appalachian State University will implement a zero-waste plan at Kidd Brewer Stadium beginning this football season that will help the university stick to its commitment to sustainability.
There will be 15 Zero Waste Zones throughout the concourse areas of the stadium to collect compost and recyclable materials. Concession items will be either recyclable or compostable, condiments will be in bulk and the stadium clean up will involve separating waste to be recycled orcomposted, according to www.zerowaste.appstate.edu.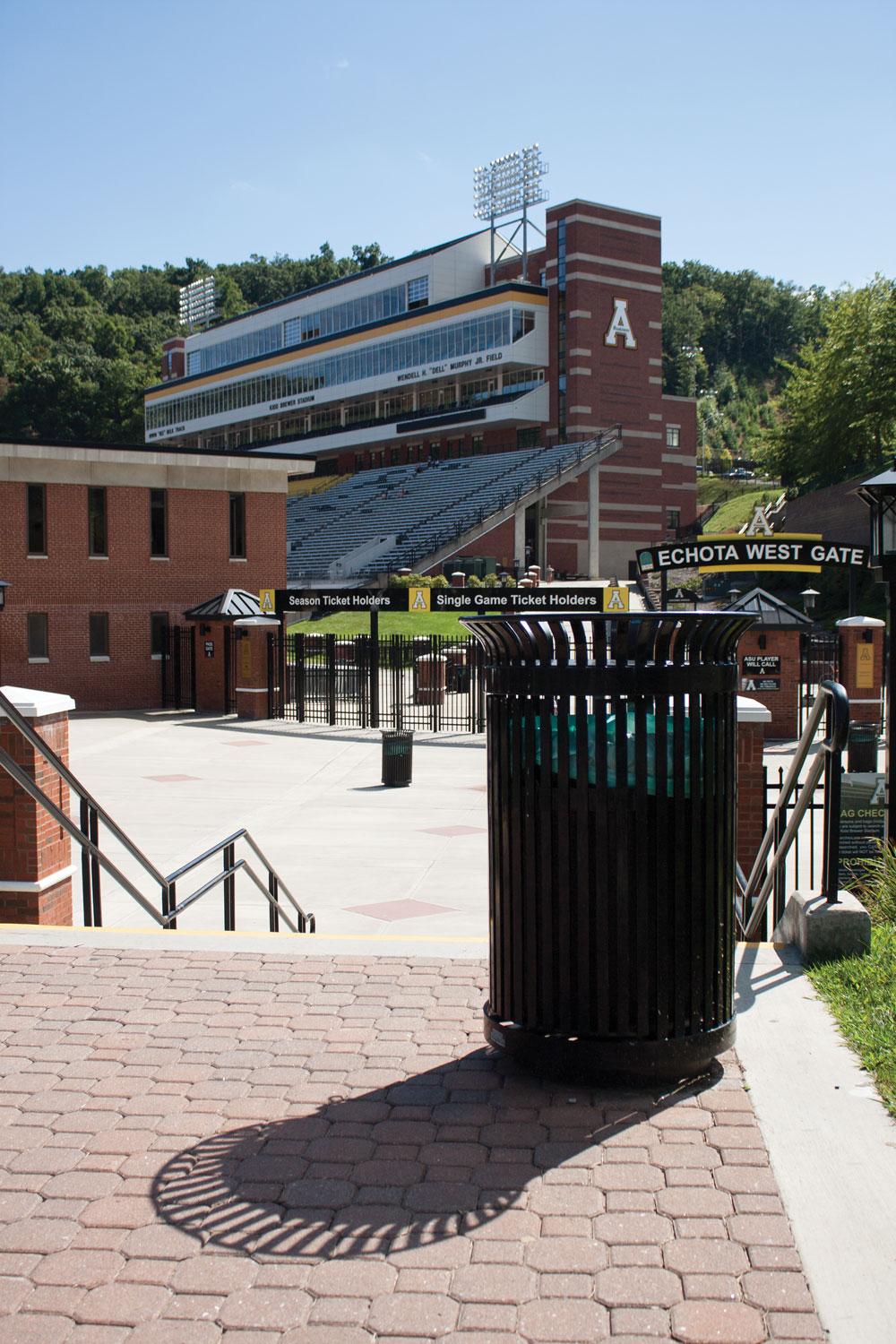 The Athletics Department, Physical Plant and Office of Sustainability joined together in the effort.
"At each of the zero waste zones, we will have a volunteer who will help each fan that is trying to deposit their trash into either the compost or the recycling bin," said Doug Justice, the associate athletics director. "At the end of the game, all recycling will be put into the truck and taken to a recycling center. The compost will be taken out to a grinder to be ground up."
Appalachian intends to be a waste-free campus by 2022 and this initiative is part of the process.
"App State has committed to becoming a zero-waste campus by 2022 and that means all of us will have to be creative in how we approach our daily duties," said Michelle Novacek, the Physical Plant projects director. "We can't keep operating in a business-as-usual fashion because that won't reduce our amount of waste."
Novacek said this is a perfect opportunity to teach students about being more environmentally friendly.
"Instead of hiding and ignoring our trash, let's make it obvious," Novacek said. "Let's start a conversation with our students and fans about the amount of trash we produce and together let's look at ways to eliminate it or turn it into something useful, like compost."
Donna Presnell, the communications manager for the Office of Sustainability said each of the three departments played a large role.
"Athletics and the Office of Sustainability worked with vendors to ensure that no items will be served in the stadium on game day unless they are compostable or recyclable," Presnell said. "Athletics and the Physical Plant have worked together to create the proper signage and purchase the proper bins for recycling and composting," Presnell said. "The Office of Sustainability and the Physical Plant have worked together to create benchmarks for waste and landfill so we can track how much waste is going where and see improvements in App's diversion rate."
Justice said Appalachian was inspired by The Ohio State University to undergo this project.
"We started conversations a few years ago to examine if we might be able to have a Zero Waste Stadium operation," he said.
Story: Nicole Caporaso, News Reporter