SAGA's Disney-themed drag show crowns new Mr., Ms. Appalachian
A new Mr. and Ms. Appalachian were crowned at the Spring Amateur Drag Show on Thursday in the Parkway Ballroom of Plemmons Student Union.
Junior history secondary education major Cedric Bowie, otherwise known as "Ms. Trophy Wife," and freshman graphic arts major Morgan Batley, also known as "Mr. Aiden N. Abetting," are the new amateur drag queen and king champions for the spring semester.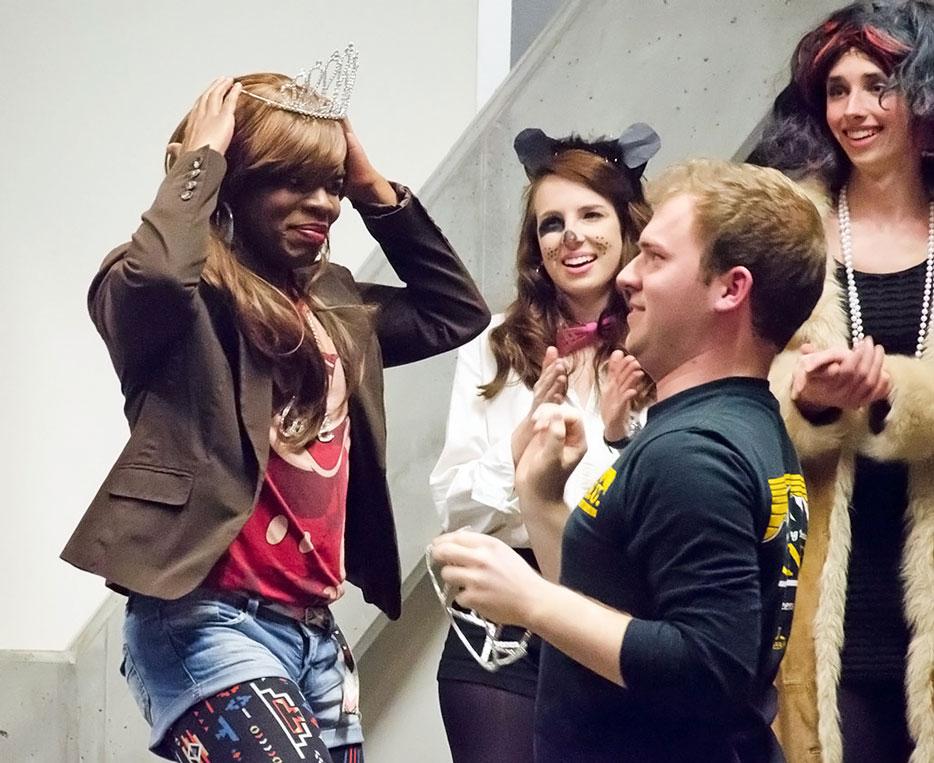 "It felt pretty cool to win," Bowie said. "I wasn't expecting it, honestly. Once I put on my hair and makeup, the diva came out and it was on."
The Sexuality and Gender Alliance's chapter on campus, hosted the competition.
"Sometimes in the LGBT community, a lot of our events are focused on kind of depressing issues," SAGA President Matthew Coons said. "This is important because it's fun. We get out there and all have a good time together and support one another."
A drag show competition asks its competitors to dress in costume and create a routine pertaining to the theme, which was Disney this year. Both kings and queens lip sync and dance to a song chosen by them.
Sophomore anthropology major Christina Fasanello, who won last fall's Mr. Appalachian title as "Lester Fierce," hosted the night, hyping up the audience and introducing each person on stage.
"It was a really great time and the community that came out to this event is phenomenal," Fasanello said.
The judging for the drag show was based upon criteria such as costuming, dancing, lip-syncing, originality and crowd reaction, judge and SAGA Adviser Sheri Williamson said. Competitors were all judged on the same scale, and the judges' scores were averaged at the end of the night.
This semester, the Amateur Drag Show promised to donate a portion of the money collected at the door to a charity of Mr. and Ms. Appalachian's choice. Out of the $800 raised Thursday night, 25 percent of it will be donated once both winners agree on a charity to donate it to, Williamson said.
SAGA will host a professional drag show at the end of March, where both winners will be allowed to perform their own routines alongside professional drag queens.
Story: Casey Suglia, Intern A&E Reporter
Photo: Kim Reynolds, Staff Photographer