Season-long troubles continue for Mountaineers
Defensive miscues and a late-inning collapse doomed App State baseball (11-28, 4-16 Sun Belt) last weekend as the Mountaineers dropped a rain-shortened home series to Sun Belt Conference-leader Georgia State (24-15, 13-3 Sun Belt).
The defensive mistakes in game one resulted in spoiling an excellent start on the mound from an App State ace and the come-from-behind Georgia State win in game two negated a solid team effort at the plate.
Note: Game three was cancelled due to rain on Sunday. Georgia State captured the series win after taking the first two games of the series.
Game 1: 4-3 loss (12 innings)
Despite a season-best performance by senior pitcher Taylor Thurber, App State baseball fell short against Georgia State on Friday night at Smith Stadium, losing 4-3 in 12 innings.
A throwing error by freshman shortstop Carson Jones in the eighth inning and a passed ball on sophomore catcher Zach Hummel in the 12th inning resulted in three unearned runs, the latter proving to be the game-winner for Georgia State (23-15, 12-3 Sun Belt).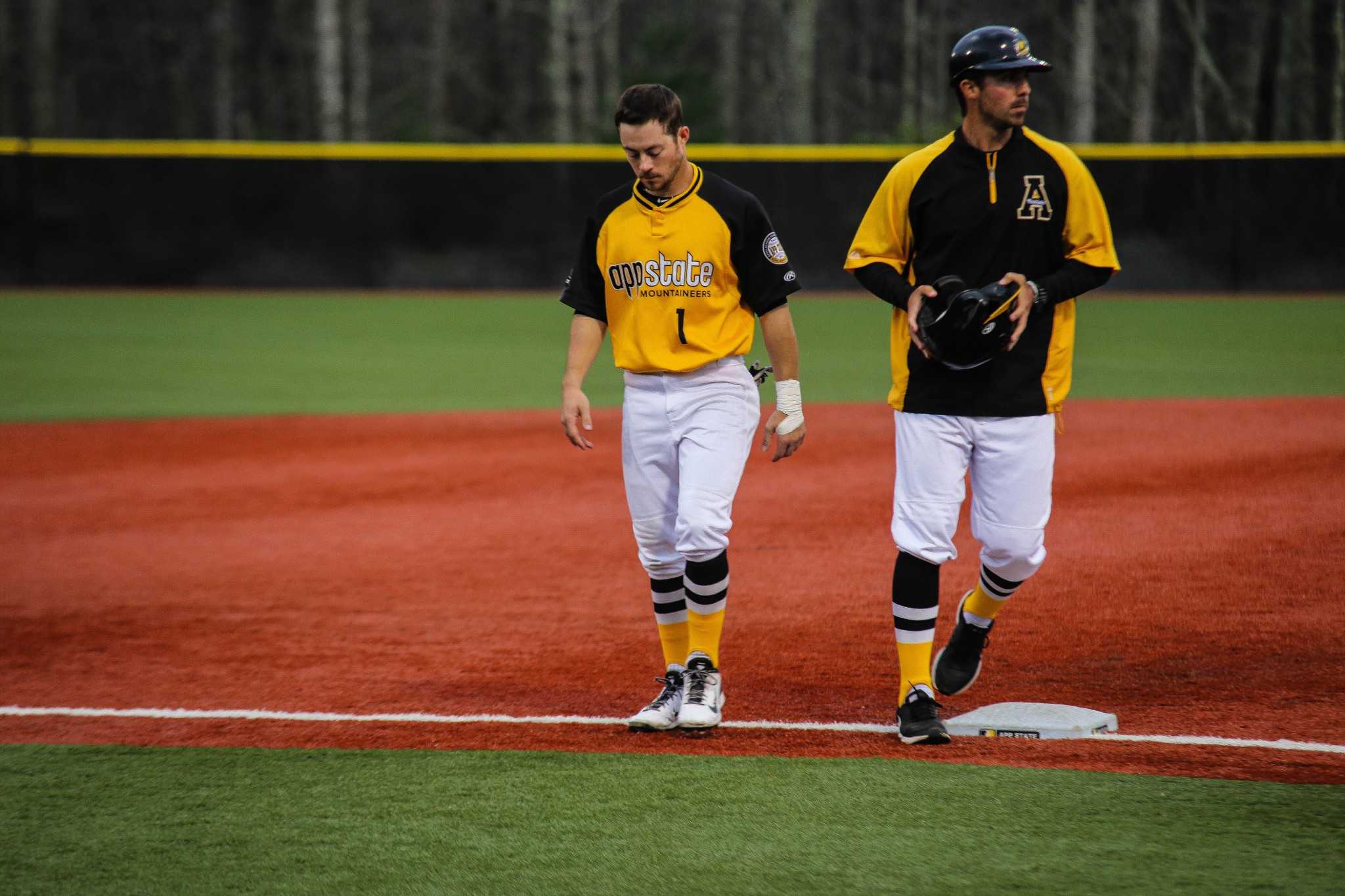 Thurber (3-7, 2.25 ERA), who had a season-high 10 strikeouts over nine innings of work, only allowed two runs, both of which came as a result of Jones' error.
It appeared Thurber would escape a jam in the top of the eighth inning after inducing a ground ball by Panthers junior catcher Joey Roach, but Jones' throw to first base was in the turf and skipped past senior first baseman Noah Holmes, resulting in the first two runs of the game – both unearned.
"It's a simple game, especially when you talk about playing catch," App State head coach Billy Jones said. "On the flip side of that, we were able to respond and match up and tie it back up."
The Mountaineers would respond in the bottom of the eighth inning with two runs as a result of four-straight hits from the 2-3-4-5 hitters. Junior middle infielder Dillon Dobson and senior infielder Michael Pierson connected on consecutive doubles, followed up by singles from sophomore designated hitter Matt Brill and Holmes.
In the top of the 12th, Georgia State took a 3-2 lead off of an RBI-single from freshman shortstop Justin Jones. Shortly afterward, Hummel allowed a passed ball with the bases loaded, resulting in Panthers sophomore center fielder Ryan Blanton to score from third base, extending the lead to 4-2.
The passed ball would prove costly, as App State strung together some offense in the final half-frame to pull the score to 4-3. Jones (1-5) led off with a single and eventually scored on an RBI-single from Pierson (3-5). Brill struck out looking after Pierson's single, leaving the potential tying-run stranded on second base to end the game.
Georgia State's Nathan Bates (4-0, 3.48 ERA) was nearly as impressive as Thurber, holding the Mountaineers to the pair of eighth inning runs while striking out six and scattering eight hits. Despite their dominant performances, neither Thurber or Bates figured in the decision.
"[Thurber] was outstanding," Jones said. "I thought he did a great job to get out of jams, even there in the eighth when he did get out of the jam by etting the ground ball."
Game 2: 15-13 loss
Both offenses for App State and Georgia State were firing on all cylinders Saturday after the teams failed to score until the eighth inning during Friday's series opener. A combined 28 runs and 37 hits were totalled from the two teams, but the Panthers staged a late-inning comeback to take the series win.
The Mountaineers set season-highs in runs scored (13) and hits (17), but surrendered 15 runs to a potent Panthers offense, which scored nine runs after the seventh inning – six in the eighth and three in the ninth.
App State has given up 34 eighth inning runs and 30 ninth inning runs this year, while only scoring 30 total across the two innings.
"I wish there was something I could pull out of the air and give a reason [for the struggles]," Jones said after Saturday's loss. "We've got to figure out how to hold it down. Right now we're not able to handle that spiral. Someone is going to have to stand up and fight."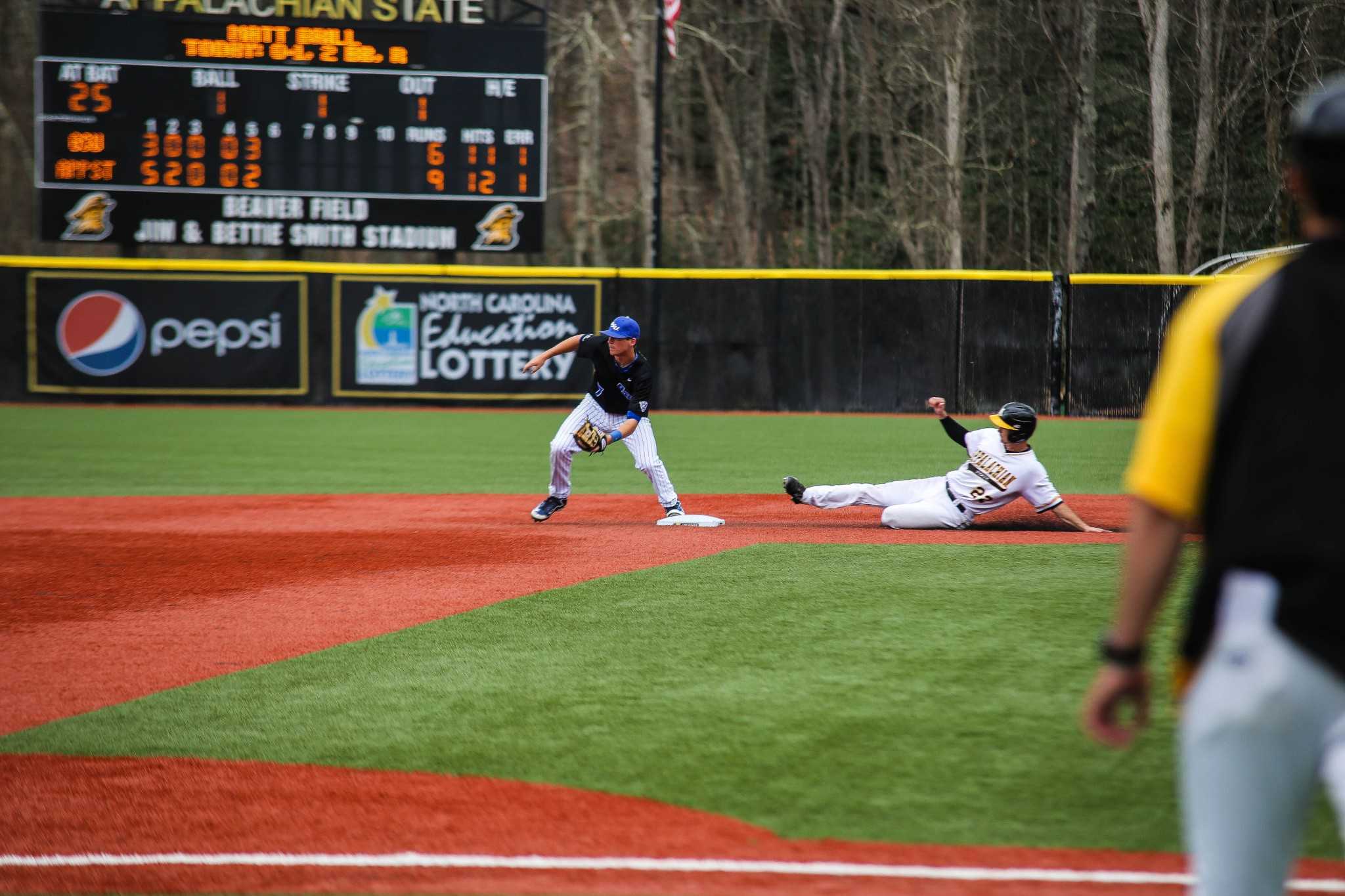 App State's pitching struggled from the beginning. Freshman right-hander Travis Holden made his eighth start of the year on the mound and gave up six earned runs over 4.1 innings. All six Mountaineer pitchers, including Holden, gave up at least one run.
Georgia State compiled two RBI-doubles, an RBI-single and an RBI-triple in the eighth inning to tie the score at 12. After the Mountaineers reclaimed the lead with a run in the same frame, the Panthers piled three more runs on in the ninth inning, highlighted by a two-run home run from junior infielder Matt Rose (4-5, five RBI), his 12th of the season.
"You always have to go back to your fundamental stuff and where you started, you've got to retrace your steps," Jones said concerning how his pitchers will bounce back from the lackluster outings. "At this age, confidence is such a big thing."
Three Mountaineers had three-hit games Saturday, including Dobson (3-5), Pierson (3-3) and Holmes (3-4). After Holden surrendered three runs in the top of the first inning, Holmes responded with a bases-clearing double, which sparked a five-run inning to take the lead.
After a four-run fifth inning, which featured an RBI-double from Dobson and an RBI-single from Pierson, the Mountaineers found themselves with a comfortable 11-6 lead. After the fifth inning, the team was only able to plate two more runs in the final third of the game.
Jones commended the offense for taking a good approach at the plate, also noting that a team usually comes out with a win after scoring 13 runs.
"It's hard to find a winning formula, we can't seem to piece it together right now," Pierson said. "There's no words for it."
App State travels to Cullowhee on Tuesday to face Western Carolina before returning home to face the Catamounts on Wednesday. The Mountaineers then hit the road to face Arkansas State in Jonesboro, Arkansas this weekend.
Story and Photo: Gerrit Van Genderen, Managing Editor