With only 13 games left in the season, the Appalachian State women's basketball team will have to work to improve their current 5-10 season record.
The team has shown improvement since the start of their Southern Conference games, and has a conference record of 2-3.
The Mountaineers added five freshmen this season and have been working to improve their record since their back-to-back wins against Wofford and Samford earlier this month in the SoCon.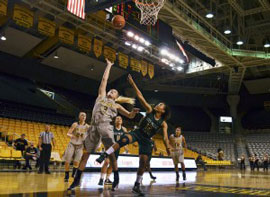 "We have so many young kids, and the Wofford game gave us hope, it wasn't a win where we just won by eight or 10 points, but you beat them by 20, that's a statement," head coach Darcie Vincent said. "Then you come out against Samford who is a great perimeter shooting team and they're always a hard matchup for us, and you basically handle that game."
Since last season, the Mountaineers have lost a number of their top players to graduation and have been working on making up for it with individual skill.
Maryah Sydnor, a junior forward, leads the Mountaineers in scoring, averaging 20.2 points per game while hitting 46 percent of her field goals.
The next highest scorers are sophomore center KeKe Cooper, averaging 9.9 points per game and junior guard Katie Mallow, averaging 8.3 points per game.
Sydnor not only leads the team in scoring, but has also played 518 minutes this season, highest on the team by 144 minutes.
Cooper, Mallow, Joi Jones and Amber Doniere join Sydnor in the top five of play time for the Mountaineers.
Sydnor has embraced an increased on-court role as well as a leadership role, and understands the importance of continuing to work as the year progresses, she said.
"We still haven't peaked," she said. "We are a very young team. It's just about reps and playing together and we're growing."
While Sydnor may dominate points and minutes and tie with Cooper for rebounds, with a total of 124, freshman point guard Jones holds the team high for steals with a total of 31 for the season so far.
Jones also holds the number one spot for assists with a current total of 34.
Vincent said that the Mountaineers have struggled at times as young players like Jones begin to make plays in game situations for the first time.
"I think the first half of the season was a learning experience," sophomore guard Bria Huffman said. "Now the puzzle pieces are starting to come together and we're looking better as a team."
The team has had some growing pains this month, such as a 19 point loss on the road to Furman.
Ultimately, though, Vincent feels the team is trending in the right direction near the halfway point, she said.
"I think since our Wofford game and even after the Furman experience, we've been getting better every day," Vincent said. "And that's our ultimate goal right now. We need to just keep growing."
The 2013-14 season is the last season for the Mountaineers in the SoCon before moving to the Sun Belt Conference next season.
The Mountaineers will face Elon on the road Friday at 7 p.m. in their next game.
Story: Jess Lyons, Sports reporter