From Serbia to Boone, Kostic's future stays bright
In order for a basketball team to mesh well during the season, certain pieces during the process of recruiting must be aligned for a team to have success in the future, especially under the direction of a new coaching staff.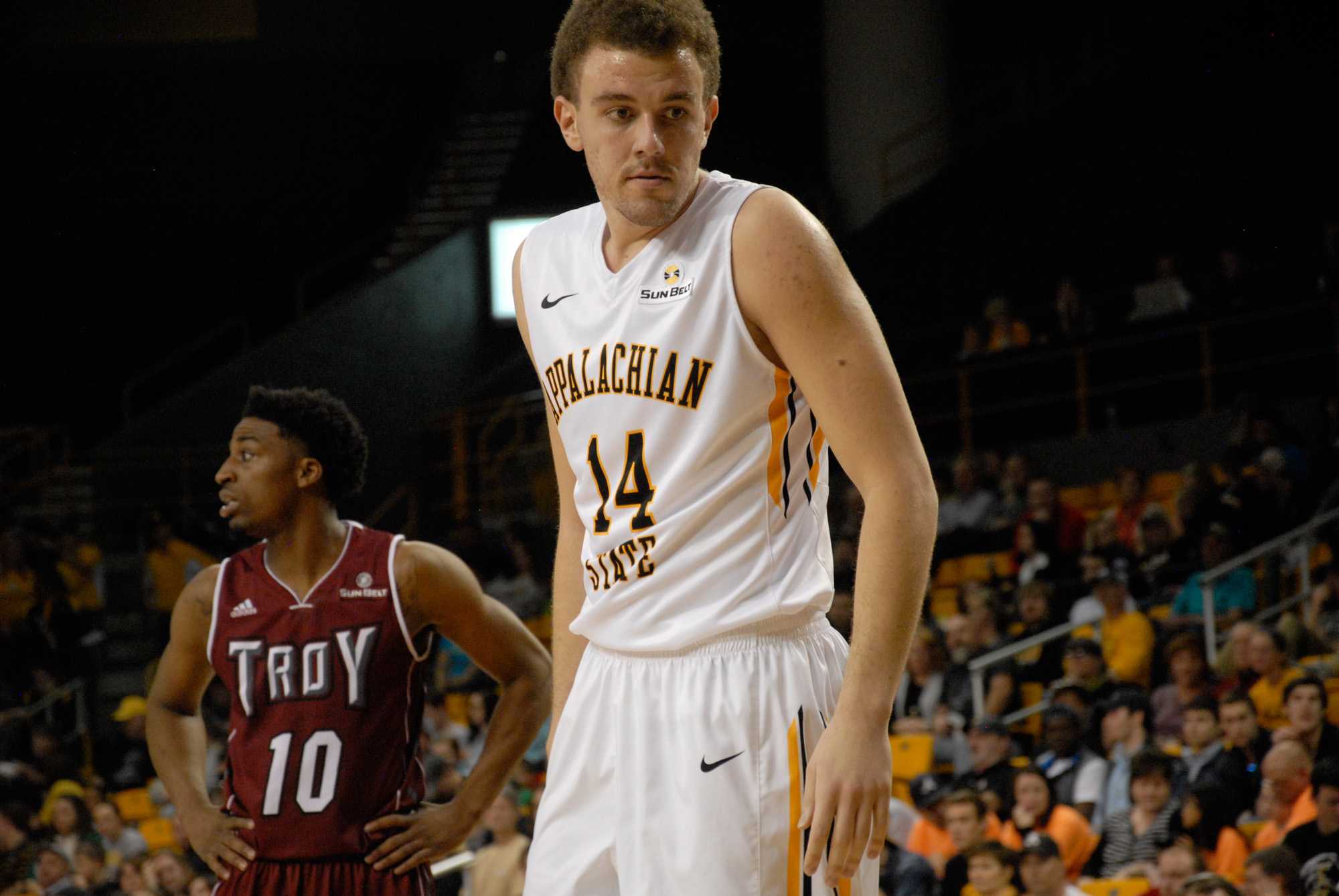 Freshman forward Milos Kostic has been such a player for the Mountaineers in conference play.
Coming into Jim Fox's first season as head coach of App State men's basketball, recruiting players that fit well into the new style and system of play started right away.
"We needed a stretch four player when we recruited [Kostic]," Fox said. "We needed a guy who could shoot it and pass it and someone who had a good basketball IQ. We knew he would be able to help us eventually."
Basketball is nothing new for Kostic, who grew up playing the game in Serbia.
The love for the game started in first grade for Kostic, and it has not wavered.
"Basketball is pretty big in Serbia," Kostic said. "It used to be Yugoslavia before but then the country started separating but they kept the basketball tradition. My mom pushed me. There were a lot of times in the morning when I didn't want to go and she would make me go. It's paying off now."
Kostic came to the United States and started his high school basketball career playing at Traders Point Christian Academy in Florida.
Kostic spent one season at the IMG Academy in Florida where he played under head coach John Mahoney, who spent several years as an assistant coach under Michigan head coach John Beilein.
Kostic averaged 10 points, five rebounds and five assists per game during his one season at IMG Academy and helped lead the Ascenders to a No. 4 national ranking, as well as a 24-2 record and a spot in the prestigious, eight-team National Prep Championship.
"College play is a lot different than high school and prep school, but you just get used to a better level and get tougher," Kostic said. "I'm just trying to do my best and do whatever the coach asks me to do. Back home, the game is more of a slow style just passing and cutting. Here it is a faster style of play and kind of like a speed adjustment."
Kostic first made his presence felt in App State's conference opener on the road at Arkansas State. With less than two minutes to play, the Mountaineers found themselves down 69-71.
Kostic came up big at that moment and showed a flash of what kind of player he could grow to become by draining 3-pointer to give App State a 72-71 lead with 51 seconds left to play.
With 13 seconds left in the game the Mountaineers once again found themselves down against the Redwolves at 72-73, only to have Kostic come up big as he grabbed an offensive rebound off of a missed jumper by fellow freshman guard Jake Babic to put the game-winner in the basket and clinch App State's first Sun Belt victory.
"He went out and really went after the 50-50 ball, got it and had the poise and toughness to score the game winner," Fox said. "He has got the potential to be very good but has to realize it and continue to work hard."
On the season, Kostic has appeared in 15 games, averaging 7.8 minutes per game off of the bench while adding 2.5 points per game.
App State's veteran players, including junior guard Frank Eaves, said the brightest times seem to be ahead for the young forward.
"I think Milos in the time he is out on the court has contributed to the team a lot," Eaves said. "Milos has really helped us throughout the season. I think he is going to continue to improve because he is a really smart player on the court and fits well into the coach's system."
Kostic and the Mountaineers return to the court Thursday to face UALR in Boone at 7:30 p.m.
Story: Bryant Barbery, Sports Reporter
Photo: Cory Spiers, Sports Editor