SGA candidates announced
Current student body president Carson Rich will run against Sam Murray
Last week, Appalachian State University's Student Government Association and CSIL confirmed there will be two pairs running for the student body president and vice president positions for the 2015-16 academic year.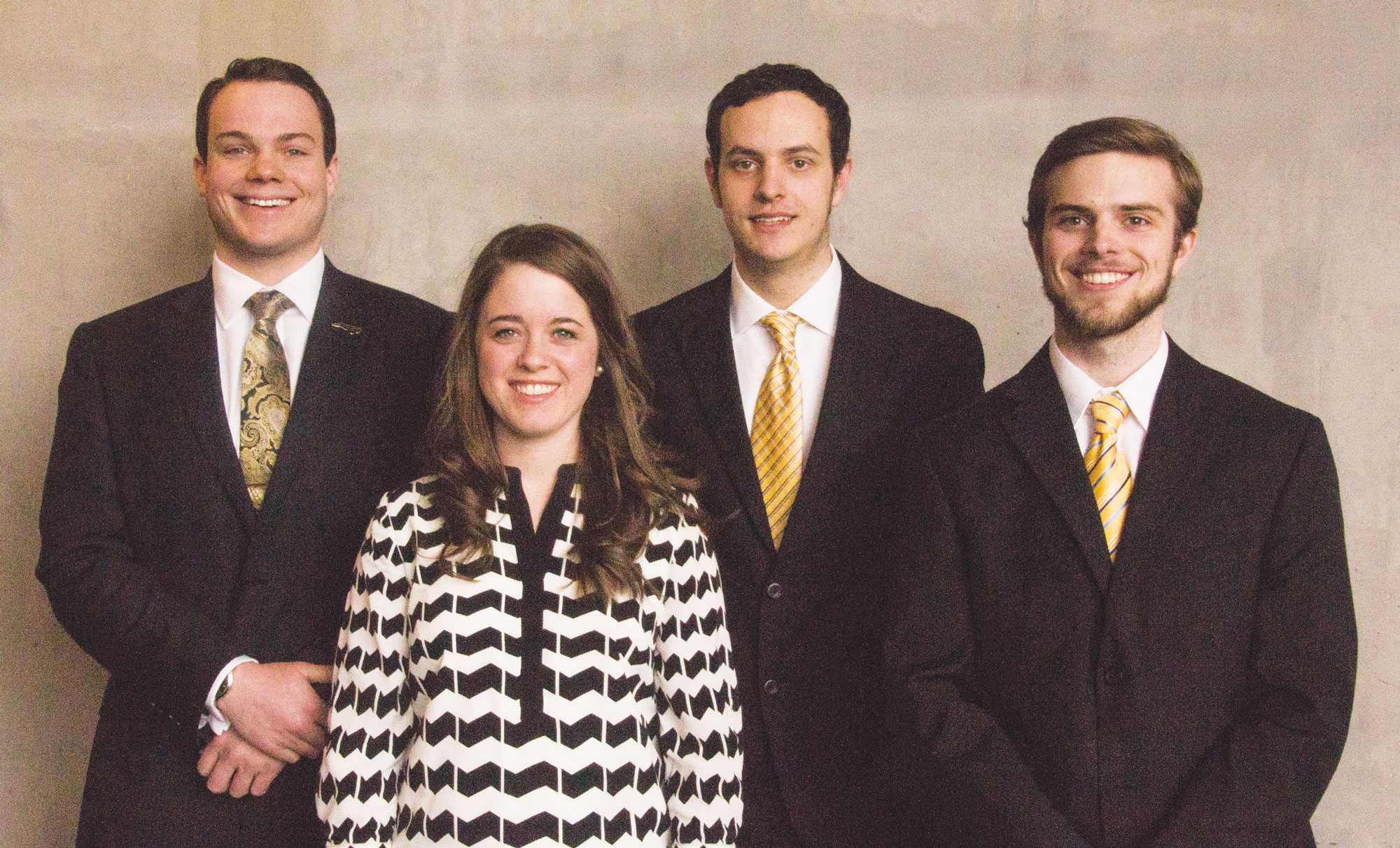 Incumbent student body president and junior theatre arts major, Carson Rich, will be running with Abby Hamrick as his vice presidential candidate. Hamrick, a junior social work major, currently serves as the SGA Chief of Staff for the Rich/Tassitino administration.
Sam Murray, a junior management major, will be running as Rich's opposition, and though not involved with student government, Murray is the president of Delta Sigma Phi fraternity, a student ambassador and a desk shift volunteer for the LGBT Center.
Murray's potential vice president, Wes Rawles, a sophomore health care management major, is a current SGA senator who also serves on the Academic Affairs Committee and is a resident assistant in Justice Residence Hall.
A deep sense of love and service dedicated to Appalachian pushed the current candidates to run for office, or in Rich's case, run for re-election.
"When my mother was diagnosed with cancer in my first year at Appalachian, it was a sucker-punch in the stomach of my college career," Rich said. "My [Resident Director] and [Resident Assistant] reached out to me and made me realize that when your heart is being ripped out, you need to be able to pour it into something."
While Rich hopes to spread this sense of adversity to others, Murray's sense of belonging to Appalachian began with his early years, attending football games as a child whose parents and sister also attended the school.
"It's my home, it's where I feel safe and comfortable and happy," Murray said. "The second I stepped foot on campus for orientation I knew this is where I wanted to be and I didn't want to leave any time soon."
Hamrick and Rawles both said they admire the leadership qualities of their presidential candidates.
"It is very interesting that the two of us are deeply involved on campus, but nothing that we do overlaps with another," Rawles said. "Sam has the most admirable work ethic of anyone else that I know and once he has his mind set on something he does not stop until what he is working on comes to fruition."
Hamrick said Rich is a natural leader with the ability to light up a room and bring people together with his presence.
"He understands what it means to not sit behind a desk all day and give orders, but instead work alongside cabinet and senate to get the job done, which is a style that has not necessarily been seen in the past," Hamrick said.
While Rich and Murray could potentially bring different perspectives to office, both share a strong confidence in their running partner.
Rich said due to other obligations for the upcoming year, Tassitino would not run again as vice president.
"Abby's experience on Senate and Cabinet have given her an amazing institutional knowledge of SGA and made her one of the most passionate, analytical and bright women I know," Rich said. "Her role here is crucial, the last time a female assumed an executive officer position was 2011."
One reason Murray strongly believes in Rawles as a running partner is his SGA experience.
*"Wes and I complement each other really nicely, sometimes he is more reserved while I tend to be more out there," Murray said. "He is the man when it comes to SGA, he did a ton of the work for library 24/5 and got that bill passed."
Regular campaigning will begin on March 16 and Murray looks forward for the process to begin.
"I'm just really excited to get to interact with so many different student groups," Murray said. "I try to push myself outside of my comfort zone and experience new things and this will definitely do that."
Rich feels proud of SGA's accomplishments this year thus far and hopes to continue to serve the student body next year.
"This has been the most difficult, challenging, and eye-opening year of my college career," Rich said. "It has been rough and emotionally draining, but it has been the most amazing and humbling learning experience I have ever been a part of."
*Correction: The Appalachian quoted Sam Murray saying Wes Rawles, "did a ton of the work for library 24/5 and got that bill passed." Rawles was involved in the implementing the bill, not in passing it. The Appalachian apologizes for this error.
Story: Nicole Caporaso, Senior News Reporter