Appalachian State University's chapter of the Sigma Nu fraternity and the women's volleyball team hope to impact the lives of hundreds of children with the third-annual High Country to Haiti Volleyball Tournament, held on Nov. 23 at the Varsity Gym.
All donations and proceeds from the event will go to Nehemiah Vision Ministries – a non-profit organization run on an 18-acre ministry campus in Haiti – to feed and put children in school, according to www.nvm.org.
"They do a lot of leadership conferences, because their mission is to train Haitians to become leaders and help the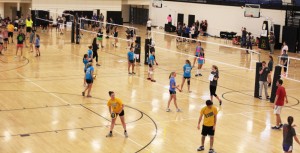 younger generation to rebuild Haiti," said Justin Fisher, junior psychology major and Sigma Nu member.
Last year, the event raised $3,800, which was used to feed 2,500 kids for a week and send 200 children to school.
Teams of six to eight players are formed to participate in the tournament. Each team pays a $10 registration fee. Players who register before Nov. 14 will be given a free T-shirt. Registration ends Nov. 21.
"I have grown up volunteering and helping people, and [in] my first year away, I have had trouble finding fun ways to help others," said Ilyse Champagne, freshman elementary education major. "When I saw that the money raised for the tournament went to Haiti, I immediately thought that would be a great way to help out a country and, at the same time, have fun and be healthy with friends who joined my team."
Because registration recently opened, the exact number of teams participating is still unknown, but last year about 25 teams – along with Sigma Nu and the volleyball team – participated. This year, the same is expected, Fisher said.
In order to encourage even more participants, different food vendors will be at the event and an iPad will be auctioned off.
"I love that Sigma Nu and the volleyball team have found a healthy way to raise money," Champagne said. "Cookouts and all-you-can-eat events are cool too, but I love that I can stay healthy, donate and have fun with other people that feel the same all at the same time."
The tournament will last all day starting at 10 a.m. and will be divided among three divisions – coed, men's and women's. Double elimination will remove teams from the tournament throughout the rounds until a winner is declared.
"My junior year of high school, I went to Haiti for a week and then when I was a freshman, it was the first time [Sigma Nu] did it and it was awesome," Fisher said. "I like doing this because it's something unique, and I think it's cool that we get to partner with the volleyball team."
Story: Chamian Cruz, Intern News Reporter
Photo: Paul Heckert, Business Manager / Photographer