Housing implements new recycling initiative
The University took another step to becoming a zero waste campus by providing rooms in every residence hall with a personal recycling bin.
While Appalachian's residence halls have had recycling bins in the buildings for quite a number of years, said Tom Kane, director of university housing, students were not bringing their glass recyclables outside to their proper bins.
Instead, students would place their glass recyclables on top of trash cans, leading to many broken bottles.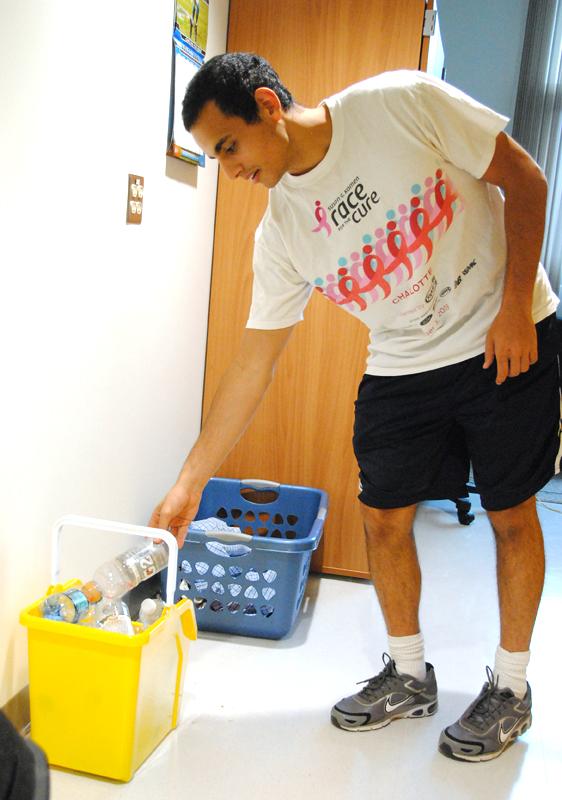 "We made a decision—let's move it all outside," Kane said. "So now all of the recycling is done outside of the residence halls. And to make that easy, why don't we buy everybody a bin, something they can carry out."
2,900 recycling bins were purchased with each bin costing $4.45.
The money for the bins came out of University Housing's operating budget.
"You don't make any money on recycling," Kane said. "It doesn't pay for itself. It's a service you provide because it's the right thing to do."
The positive impact that recycling has on Appalachian's footprint is small, but integral, said Jennifer Maxwell, one of Appalachian's university resource conservation specialists.
"Any time we can work to manage our waste properly, we are benefiting Appalachian," Maxwell said.
Proper waste management contributes not only to the reduction of greenhouse gas emissions, but also toward Appalachian's zero waste commitment, which plans for a 90 percent waste reduction by 2022, Maxwell said.
Sophomore mathematics secondary education major Nathan Kosiba's said that he "loved" the recycling bins.
Freshman Erin Martin, an interior design major, said she was "really excited" to find the recycling bin in her room in Eggers Hall because without it she would not recycle.
"If I get out of bed in the morning and I don't have something to put my yogurt container in, I'm just gonna throw it in the trash," Martin said.
Story: LINDSAY BOOKOUT, Intern News Reporter
Photo: OLIVIA WILKES, Senior Photographer