Social Justice Week kicks off Tuesday with Concert for Justice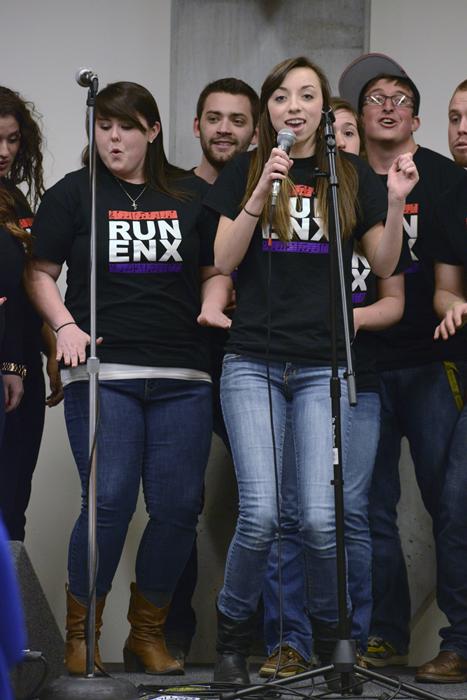 The Concert for Justice kicked off Social Justice Week at Appalachian State with a combination of solo performers, a capella groups and dance groups from around campus Tuesday night.
Each group performed songs based around a theme of peace, love and justice.
Between songs, different people from various events of Justice Week discussed upcoming events that are taking place, said Tommy Wrenn, a junior political science major and coordinator for the concert that was sponsored by the Student Government Association.
Wrenn said that the night was intended to promote Justice Week, inform students about all the events in a more casual context and to give students a performance opportunity.
A capella group Treble Attraction performed at the concert. The group has performed at a few other charity events in the past, including a blood drive and Acapellageddon, and was contacted by organizers for the opportunity to perform as a donation to the cause as well as a chance to practice in front of an audience before other upcoming concerts.
Sophomore international business major Rachel Long is a member of Treble Attraction. Long said that the concert went well, and was not what she expected.
"I'm really glad I was able to be a part of it and I can't wait for some of the events this coming week," she said.
Long said she had heard little of the upcoming Social Justice Week until she became involved with the show.
The concert also served to help incorporate art into the week of social-awareness in order to show that social justice can be embodied in a variety of forms.
"Music and artistic expression have had a tremendous impact on shaping social movements and inspiring people to work toward building a better world," said senior Amanda Moore, a global studies major and organizer of Social Justice Week.
Social Justice Week is a new series of events intended to address social and human rights issues through the efforts of clubs and organizations across campus.
"I knew that other student's would be interested in an initiative like this, so we all met up and started to plan what we wanted this week to look like," Moore said. "Initially, it was only going to be five days long, but as more and more groups found out about SJW, we grew."
The week consists 13 separate events, including a wide range of film screenings, lectures, discussion panels and performance art, all sponsored by 20 different student clubs and organizations and relating back to a core human rights issue.
"Social Justice is everything, it relates to everyone and every major in some way, shape or form," Moore said.
One goal of the week is to generate interest in social justice to eventually establish a Center for Social Justice and Human Rights on Appalachian's campus.
Story: LOVEY COOPER, Senior A&E Reporter
Photo: COURTNEY ROSKOS, Senior Photographer