'Social outcasts' give back to their community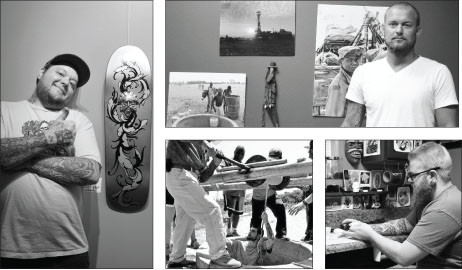 Greg Kinnamon gives thousands of dollars to elementary school art programs in Watauga County every year and CNN Hero Doc Hendley has made clean water possible to millions around the world.
But they don't look like the typical community do-gooder at first glance.
"Unfortunately folks judge off of first look and that's human nature, I think," said Josh Elliott, social media and college coordinator for Wine to Water and Appalachian alumnus.
Kinnamon is the owner of Speakeasy Tattoo Co. and holds the annual fundraiser Tattoos for Schools every Saint Patrick's Day, where the shop does discounted shamrock tattoos and gives all the money to elementary art programs.
Hendley is the founder of Wine to Water, a nonprofit in Boone that works around the world to provide clean water to people who don't have easy access to water. He also adornes a beard, tattoos and is typically dressed in a white T-shirt and blue jeans.
Both men are fathers and husbands, as well.
"It's seeing somebody and automatically thinking and associating social norms as far as this guy's got tattoos or this guy's not necessarily hanging out with a lot of folks and he's a loner and he's probably a bad dude and an outcast," Elliott said. "And I can definitely see that with Doc and Greg. I know them both fairly well."
Elliott works with Hendley and has had tattoos done by Kinnamon and Speakeasy tattoo artist Anthony French, whose dad is a tattoo artist.
Hendley, the son of a preacher, has admitted in his book "Wine to Water: A Bartender's Quest to Bring Clean Water to the World" he was a loner at a younger age and uses the nonprofit not only to bring clean water to masses of people, but to embrace the folks that have been pushed away by society for the way they look.
"I noticed in a lot of ministry stuff growing up I knew that nobody would do anything with the bar crowd at all and keep them at arms length," Hendley said. "So I felt like this could be an organization that embraces that crowd."
French has worked for Kinnamon for over two years. He has tattoos, ear plugs and a large beard, but said most people who get to know him past the look like him.
"There are people who still think stereotypically of tattooers that we're f–king junkies or something and we f–king party all the time," French said. "I go home and watch TV. I don't want to do sh-t. I might go out to the bar and have a beer or two."
French said most of the people he knows that look like the typical social outcast aren't bad people.
"Most of the big, burly people I know are the softest people," he said. "They're little teddy bears."
Both Doc and Elliott agree that anyone who is deemed as a social outcast can pick themselves up and be the person to make change possible around them.
"I grew up with the mentality that I didn't have the ability to accomplish great things," Hendley said. "But even through my studies of reading the Bible to see who this Jesus guy went and embraced was kind of screw ups. So I think it's people like us that if we could realize the potential we have as kind of the edgier, rebellious folks that aren't quite able to fit in any box, we have a very unique ability not just to have an impact on the world but to have an extraordinary impact on the world."
Story by: MICHAEL BRAGG, A&E Editor
Photos by: MICHAEL BRAGG, A&E Editor and CAROLINE HARRISON, Courtesy Photo