Strong first half not enough for Mountaineers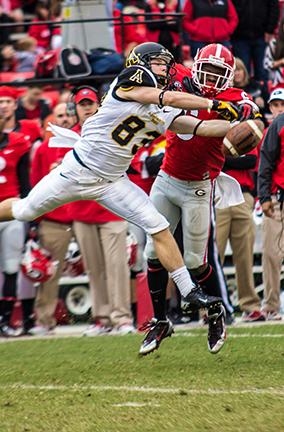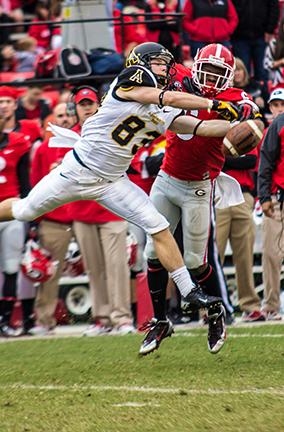 Appalachian State came out strong this past Saturday, despite falling to the University of Georgia 45-6.
The final score notwithstanding, the team trailed just 14-6 after two quarters, although they were pegged as underdogs to the Bulldogs.
"It was the tale of two halves, there is no question about it," head coach Scott Satterfield said. "We started out strong and didn't shy away from this game. Our guys played with great effort to start the game."
At the half, though down by 8 points, App State led in many important statistical categories that usually result in a winning performance. The Mountaineers had more passing yards, converted third-down opportunities, red-zone trips and takeaways before both teams went back to the locker room at the halfway point.
"They made some adjustments," senior receiver Andrew Peacock said of the Bulldogs at halftime. "They didn't expect that score to be what it was at halftime so I'm sure some of their leaders stepped up and said some things during halftime to those guys and got them pumped up. They came out fighting in the second half."
With the offense struggling to get into the end zone, the App State defense held a Georgia offense that averages more than 35 points per game, to just two touchdowns in the first half.
"We said earlier in the week that if we just play our fundamentals, play our technique and execute the defense that's called, then we'll have our shot," senior linebacker Karl Anderson said. "We stopped their running game. Their longest run from scrimmage was 23 yards and that was [Georgia quarterback Aaron] Murray's scramble. I think Gurley had a long of 10, so we did a really nice job against the run, but at the end of the day their size and speed on the perimeter was just able to get us in the passing game."
Murray set the SEC all-time passing touchdown record in the third quarter that helped spark a 31-0 second-half rout of the Mountaineers. Murray finished with 281 passing yards while completing 19-26 passes with two touchdowns and one interception.
This was the first ever meeting between the two schools and many of the players on the team have not played in front of a crowd as large as they performed in front of this past weekend. Nearly 93,000 fans were in attendance, according to ESPN.com
"It was great, you know, the most fans I have ever played in front of was probably about 32,000 at The Rock," quarterback Kameron Bryant said. "So definitely, a 60,000[-person] jump is a big difference. It was just an exciting experience and it's something that we can grow on, especially me. Just to get better from it and learn how to handle that environment, how you can be effective in an environment like that, against a team like that."
Bryant connected on 22-39 pass attempts for 221 passing yards and threw one interception.
App State (2-8, 2-4 SoCon) will prepare for a road date with Wofford University (5-4, 4-2) Saturday, before hosting rival Western Carolina on Nov. 23 to finish out the season.
Story: Nick Joyner, Sports Reporter
Photo: Paul Heckert, Senior Photographer