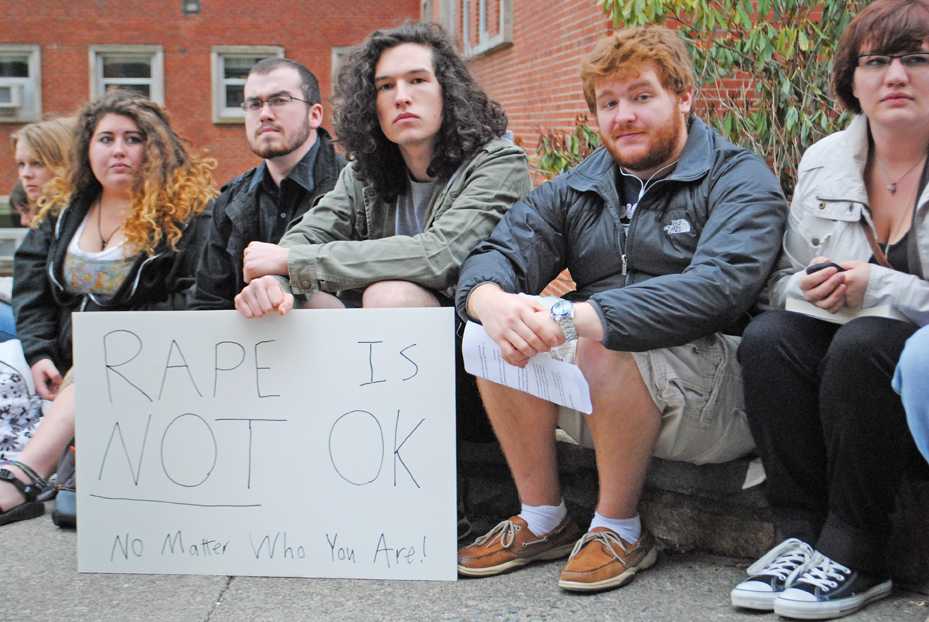 Campus reacts to accusations
The Appalachian State University community was rocked this year when four Mountaineer football players and one other student were accused of sexual assault.
The five students were accused by junior Meagan Creed. Two of the same students were also accused by former Appalachian freshman Alex Miller.
The accusations were addressed in student conduct hearings – but the status of the accused students has shifted over the course of the spring semester.
In March, The Appalachian reported that the accused students had seen their suspensions overturned based on a discrepancy between Appalachian's Code of Student Conduct and the UNC Policy Manual.
A week after the story ran, however, Creed was informed that suspensions for all five students had been reinstated.
Then, in a March Student Conduct Board hearing, four of the five students accused by Creed were found responsible for sexual offenses, sexual misconduct, harassment, hostile communication and accessory to a code violation. The fifth student was found responsible only for harassment and attempting to commit and be accessory to a code violation.
In April, one of the athletes accused by Miller was found responsible for sex offenses, sexual misconduct, harassment, hostile communication and being accessory to a code violation.
Some students reacted in protest to the university administration's handling of both cases.
Two seniors created a Facebook group in support of the alleged victims. "No Equal? No More! Campaign for Sexual Assault Victims at ASU" quickly garnered around 500 members before its numbers leveled off.
In March, organizers of the group put together a silent protest outside a general faculty meeting. Around 160 students attended the protest, during which Chancellor Kenneth Peacock briefly addressed the issue.
"We're going to do everything we can to make this as right as it can be," Peacock told protesters.
Professor ousted from classroom
Appalachian State University recently gained international media attention for placing a tenured professor on administrative leave.
The university placed Jammie Price, a professor in the department of sociology, on leave March 16 after students made seven allegations against her instructional methods. The most widely-discussed complaints surrounded "The Price of Pleasure," a documentary on pornography that Price showed to an introductory sociology class. Students said Price gave no warning before showing the movie and that it was offensive and inappropriate.
Students also claimed that Price did not follow her syllabus and that she repeatedly criticized the university and university administration.
Media outlets around the world, including The New York Daily News, The Chronicle of Higher Education and the U.K.'s Daily Mail, quickly picked up the story.
Price presented Provost Lori Gonzalez with a petition demanding her immediate reinstatement on April 25.
The petition contained more than 400 signatures from supporters as far away as the United Kingdom.
Price met again with university administration Monday to discuss her reinstatement for fall 2012. The administration presented Price with a list of conditions for her reinstatement, which she did not accept.
The controversy surrounding Price's suspension has fueled a much larger conversation on the limitations of both academic freedom and students' rights in the classroom.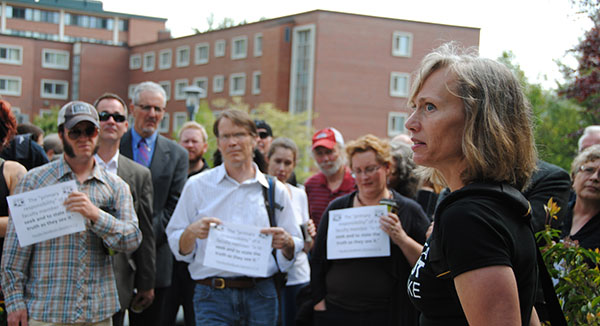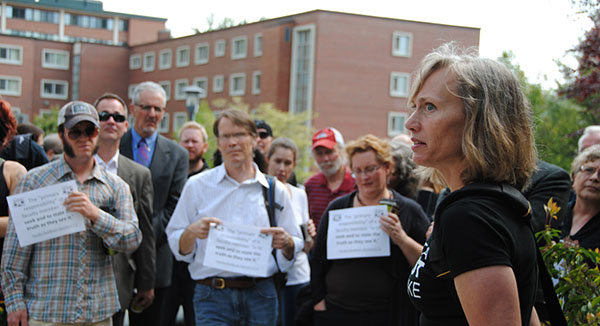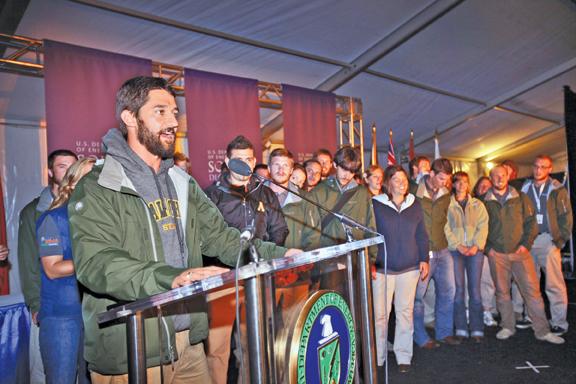 Solar Homestead brings recognition for sustainability
From Zimride to zero waste, the Appalachian State University community engaged in a number of sustainable initiatives on campus this year.
But a group of students, faculty and friends of the university made an international statement in the field of sustainability in September 2011, on the National Mall in Washington, D.C.
The Appalachian Solar Homestead team's sustainable yet aesthetic home placed 12th among 19 other competitors in the 2011 U. S. Department of Energy Solar Decathlon.
Students from a range of majors participated in every step of the home's construction.
The Solar Homestead also won the competition's People's Choice Award, proving itself the crowd favorite.
Gov. Beverly Perdue would later declare Oct. 28 as Appalachian State University Solar Homestead Day.
Coming Out Day messages vandalized
Early on Oct. 24, the free expression tunnel under River Street was covered in rainbow stripes. It was the work of LGBT Center volunteers, who were promoting National Coming Out Day.
By that night, though, the stripes were covered with phrases like "F–k gays."
Just a week before the incident at Appalachian, a similar event took place at North Carolina State University. The door of the university's GLBT Center was covered in the words "f-gs," "burn" and "die."
In both cases, discussion arose about whether the vandalism was protected under the First Amendment, or exempted as hate speech.
At Appalachian, the messages' position in the free expression tunnel protected their legality.
"If this were graffiti, then it would be a hate crime," University Police Lieutenant Casey Mitchell told The Appalachian that week. "But this is the free expression tunnel."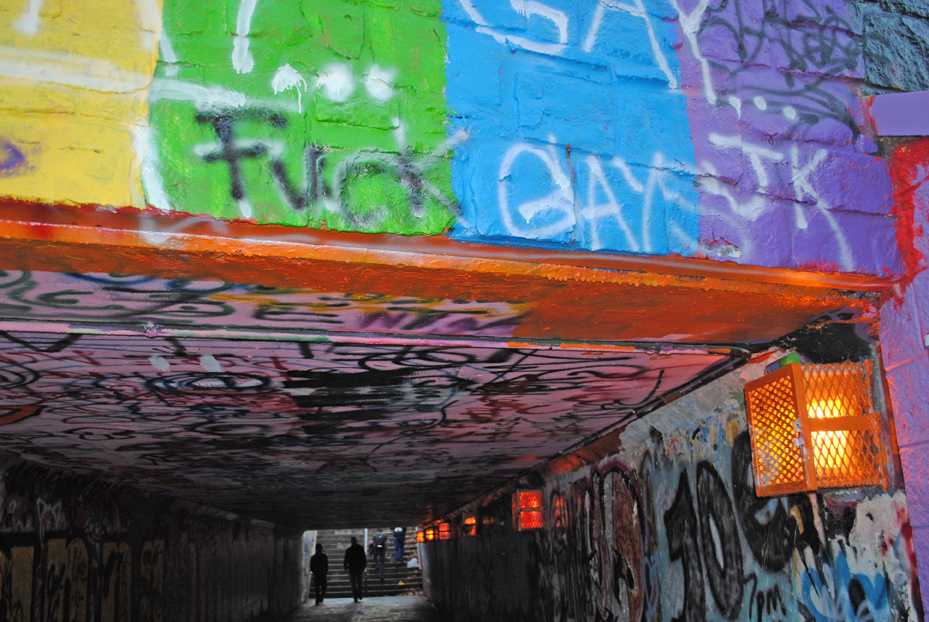 Assault kick-starts hate crime debate
Discussion about what is and what isn't a hate crime exploded on campus in February, after a student and a community member were followed from Cookout and assaulted.
Sarabeth Nordstrom and Appalachian State University senior Erin Johnston believe the assault, which took place at Brown Heights Apartments and landed both in Watauga Medical Center with facial injuries, was motivated by perceived sexual orientation.
Shortly after the assault made headlines, 19-year-old Ketoine Jamahl Mitchell turned himself in to Boone Police. In late February, 18-year-old Brooklyn Lacrossa Canter turned herself in as well.
As legal proceedings continued, a discussion ignited on campus. In North Carolina, hate crime law only applies to categories of "race, color, religion, nationality or country of origin."
Nordstrom and Johnston started a petition demanding the amendment of that law, N.C. General Statute 14-3. The petition garnered nearly 8,000 signatures.
Mitchell was charged with two counts of assault on a female, one count of assault inflicting serious injury and one count of assault with a deadly weapon. Canter is charged with one misdemeanor count of aiding and abetting.
Mitchell will appear in court June 5.
Obama stops in Boone
Barack Obama bought candy in Mast General Store this October.
The president made an unexpected stop in downtown Boone Oct. 17, en-route to a speaking engagement in Wilkesboro.
The visit was brief, but students and community members saw clogged roads and a crowded King Street as a result. Twitter and Facebook feeds were dominated with posts about the president's arrival, as was conversation on campus.
"It was one of the things I'll remember for the rest of my life," senior Collincia Rouse told The Appalachian after seeing the president on her walk to class. "Obama drove up in his van and looked directly at me."
AppalCART officials didn't hear about the president's potential arrival until 1 p.m. that day – about two hours before he arrived. So they quickly made the decision to shut down routes until 4 p.m.
"We're fortunate that the president doesn't come by that often," Director of Transportation Chris Turner told The Appalachian that day. "But it was nice to accommodate him."
Tuition increases further
On Feb. 10, Appalachian students got news that an unsettling trend in tuition costs – a 207 percent increase at Appalachian over the last 10 years – would continue.
That morning, the UNC Board of Governors approved a system-wide average tuition and fees increase of 8.8 percent. The decision meant a 9.3 percent increase in tuition and fees for Appalachian students in 2012-13.
The increases were a poignant reminder of the massive cuts state legislators made to the UNC System's budget in 2011-12. The system lost over $400 million to state cuts, which resulted in a 16 percent cut at Appalachian.
In November, the university proposed a 12.3 percent increase in tuition and fees for 2012-13. SGA adamantly opposed.
SGA eventually capitulated to UNC President Thomas Ross's recommended increase of 9.9 percent.
A letter of support from the Association of Student Governments said Ross's recommendation preserved the affordability, accessibility and quality of higher education in N.C.