Traditional Irish band has growing presence in Boone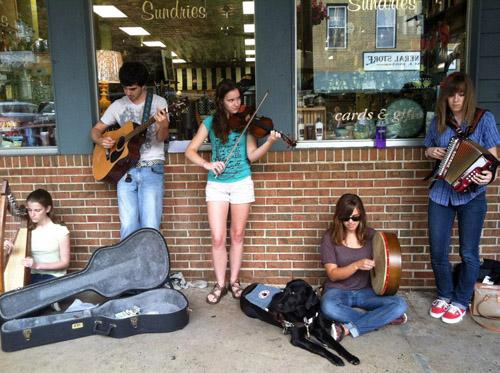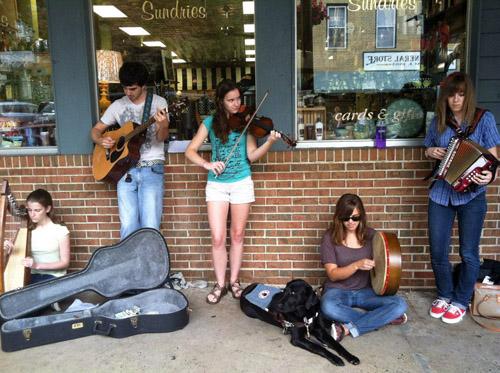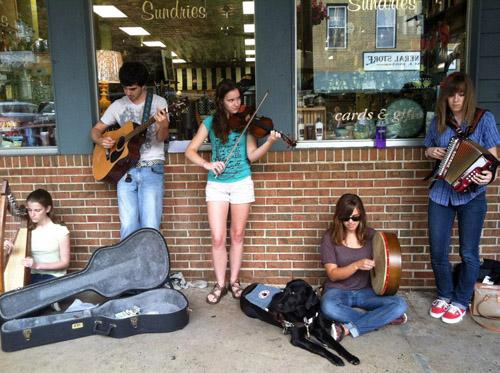 A quintet of Appalachian State University student musicians, known as the Dandeggans, is committed to bringing traditional Irish music to the Boone area.
The band consists of Hayes School of Music students Connor Cook on accordion, Valerie Puhala on fiddle and vocals, Abigail Lanier on bodhrán, Tyler Patterson on acoustic guitar and middle grades education major Jenny Parks on Celtic harp.
"There's just something about Irish music that makes you feel really good," Parks said.
The Dandeggans formed in early 2011 after Cook, Puhala and Lanier studied abroad in Ireland for two weeks in the summer of 2010.
"We just loved [the music] so much, we wanted to keep playing it," Puhala said.
Though they are not typically a band that plays live venues, the Dandeggans were seen this past summer at the Saints and Scholars Irish Pub in Raleigh and, more recently, performing on the fourth floor of the Plemmons Student Union during the grand opening of the new wing Tuesday, Jan. 22.
The quintet can be seen busking on King Street almost every week during the warmer months.
"Whenever we play on King Street, we get a lot of interest," Cook said. "[People] are just excited to hear a different type of music. The whole culture is really friendly."
The five band members, along with junior music industries studies major and flutist Claire Wilkins, also founded the ASU Irish Ensemble.
Taught by Cook, the small ensemble serves as an academic credit for music majors and another way for the Dandeggans to introduce their brand of traditional music to the school.
"It's a kind of music that everyone can enjoy," Cook said. "It's friendly music. It's communion music."
Puhala said that the folk music of Appalachia has its roots in traditional Irish music, and that's why it is so important to the region.
The band also draws inspiration from the Swannanoa Gathering, an annual month-long folk music festival and overnight gathering in the summer outside of Warren Wilson College in Swannanoa.
Puhala and Cook attended the Celtic week portion of Swannanoa last summer, where Cook says the band got "really serious" about Irish music.
Open to all ages, festivalgoers can learn about Celtic music and instruments, take lessons and jam with famous musicians such as Irish fiddler Martin Hayes.
"We're really just in it for the fun," Puhala said. "It's kind of magical."
To find out more information about the Dandeggans, visit dandeggans.wordpress.com.
Story: COLIN MOORE, A&E Reporter
Photo Courtesy: Laura Parks