Troupes host women's arm wrestling tournament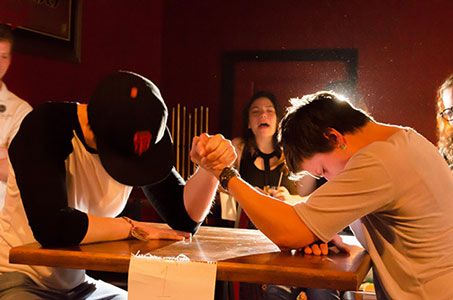 The strength of women was celebrated at Galileo's on Sunday afternoon in Boone's first-ever Women's Arm Wrestling tournament.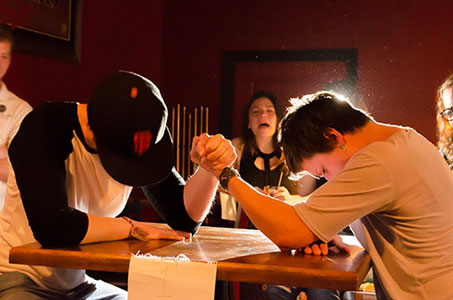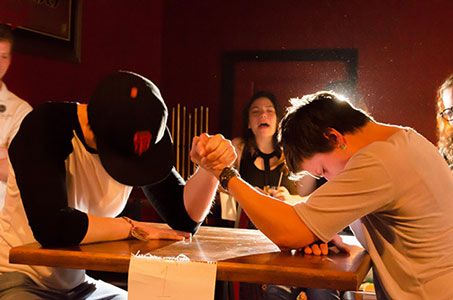 The tournament, hosted by Appalachian Women's Theatre Troupe and In/Visible Theatre, encouraged women to take part in an unconventional competition. Eleven women competed in the event, which raised about $100, split equally between both production companies.
"It went really well," said  Carmen Lawrence, president of the Women's Theatre Troupe. "I was happily surprised at the amount of people that came out that weren't involved with the theatre department."
Both Appalachian Women's Theatre Troupe and In/Visible Theatre hosted the event as a fundraiser in support of their respective spring shows. The groups relied on an entry fee of $3 to $10 as well as donations.
"We like to think of this as a 'friendraiser,'" In/Visible Theatre Producer Karen Sabo said. "It lets people know we exist, lets them know what we do and allows everyone to be included."
The participants competed in three separate rounds until there were only two women remaining.
Each round consisted of three separate matches. The winner of the match was decided when they pinned down their opponent two out of three times.
The tournament featured both a winners' bracket and losers' bracket so participants were able to compete in more matches.
"We're a weird and unusual theatre looking to produce a lot of work that a lot of theaters around here aren't really doing," Sabo said. "So we want our events, our [public relations] and marketing events, to match what we're producing. This was a nice, fun, unusual event to match our work."
Freshman graphic design major Kellee Morgado won the tournament, followed by runners up senior recreation management major Sarah Rolland and senior sustainable development major Chloe Crabtree winning the losers' bracket.
Winners received two tickets each to the hosts' upcoming spring shows, which are "A Part Equal," presented by the Women's Theatre, and "Kill Will," presented by the In/Visible Theatre.
"There were a lot of tough arm wrestlers out there," Morgado said. "It was a lot of fun."
Story: Casey Suglia, Intern A&E Reporter
Photo: Kim Ryenolds, Staff Photographer