Turchin Center auction and celebration explores international out
To celebrate and honor the approximately 140 donors who organizers say are crucial in helping to make the arts accessible on and off campus, the Turchin Center for the Visual Arts hosted an evening of South African art, live music by The Mercury Dames, heavy hors d'oeuvres and a silent auction in its newly re-opened wings Aug. 28.
The auction sold over $13,000 worth of items and donations, said LaTanya Afolayan, Major Gifts Officer for the Turchin.
"We hope that it will multiply tenfold," Afolayan said.
Information about how much money was actually raised has yet to be released, but the funds collected at the event will go to support operations, programming and outreach with the local senior center and charity the Hospitality House, Afolayan said.
Wood-carver Ricky Burns and historian Neva Specht live nearby in Deep Gap and have been donors to the Turchin off and on for four or five years after their son began participating in the community arts school run by the center.
"We really like to have a place to go to experience different kinds of art," Specht said. Given their professions, the two make a point to visit museums when they go to a new city, but have noted that for its region and size, the Turchin provides an extremely varied collection to the region.
"It's something we share as a family, and it's kind of a neat way to see what other people do and check out what the culture of somewhere is," Specht said. "For the size of a town that Boone is, this is really unique."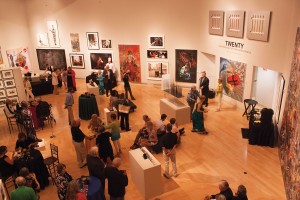 Both donors appreciate the special action taken to bring international work to North Carolina, as demonstrated by the two new collections on display to the public.
"They introduce art that otherwise wouldn't be in Boone, and that's really important," Specht said.
Guests celebrated and mingled in the East Wing of the galleries, amid the fruits of last year's fundraisers with TWENTY: Contemporary Art From South Africa, and South African History Under Apartheid: A Tribute to Nelson Mandela.
TWENTY was brought to the Turchin following a trip to South Africa in September 2013, where three members of the gallery staff visited galleries and public studios in the cities of Johannesburg, Pretoria, Richards Bay and Durban. Through connections with other universities, a comprehensive collection was laid out and brought back to North Carolina.
The show's purpose, as stated on the collection statement, is not only to celebrate twenty years of democracy, but also to represent the dualities of contemporary life in the region. The show publicly explores social conditions like land issues, HIV/AIDS and resistance art and juxtaposes these with more positive aspects like the Mandela years and the influence of traditional craft on contemporary South African art, the statement says.
South African History Under Apartheid: A Tribute to Nelson Mandela plays off of these similar themes. This collection, owned and showed by assistant professors John and Jessica Stephenson, attempts to celebrate the man and his historical role, in the context of these presented themes of modernity.
Both collections are currently on display at the Turchin Center.
For more information, visit TCVA.org.
Story: Lovey Cooper, Senior A&E Reporter
Photo: Rachel Krauza, Photographer