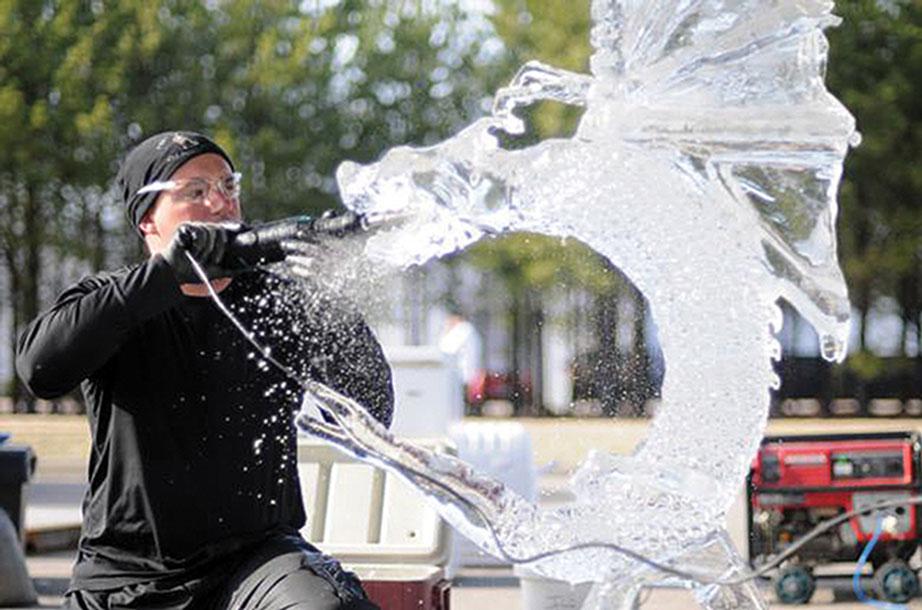 The U.S. Army Special Forces Ice Carving Team came to the Blowing Rock Winterfest on Saturday to give a four-hour demonstration of their sculpting abilities.
The team constructed a three-piece dragon out of multiple ice blocks using chain saws, metal hand saws, drills, chisels, ice picks and other tools. Chilled water was used to connect the pieces of the dragon that could not be constructed in a vertical fashion.
The sculptors also crafted signs out of ice to serve as advertising for the event and businesses in the area prior to the beginning of Winterfest activities.
The sculptors are chefs in the U.S. Army Special Forces. For them, ice carving is a unique hobby that has allowed them to participate in competitions all around the United States. In 2011, the team competed in and won a gold medal for single-block carving at the Ice Carving Competition held at Fort Lee in Virginia.
Team Captain and Chief Warrant Officer 3 Jeff Lein has also competed with the Hawaii State Ice Carving Team, placing 19 out of 49 competitors at the 2006 World Ice Art Championships in Alaska.
"Most competitions are judged in four hours," team member Sergeant Wesley Stoneking said. "Usually you have about three blocks for one man, four blocks with two men or five blocks with three men. It really just depends on the competition guidelines."
Stoneking began cooking when he was 18 and has been in the military for 10 years. Joining the ice carving team has allowed him to participate in something outside of being a chef and he is thankful to have had the opportunity, he said.
While it took him about one year to learn the ropes of ice carving, Stoneking said it takes years of practice to perfect artistic technique.
Master Carver Sergeant Travis Jones also apprenticed one year and, since then, has won 15 high-ranking medals and the military Best in Show title in ice carving for the years 2012 and 2013.
Allison Radcliffe, who carves ice as a hobby, was impressed by the teams Winterfest display.
"I make small sculptures, and they're really not very detailed," Radcliffe said. "But, to see a team work together like this and make something so grand is very inspiring."
The team hopes to return to Winterfest for many years to come, Stoneking said.
Story by Kelsey Hamm, A&E Reporter
Courtesy Photo: