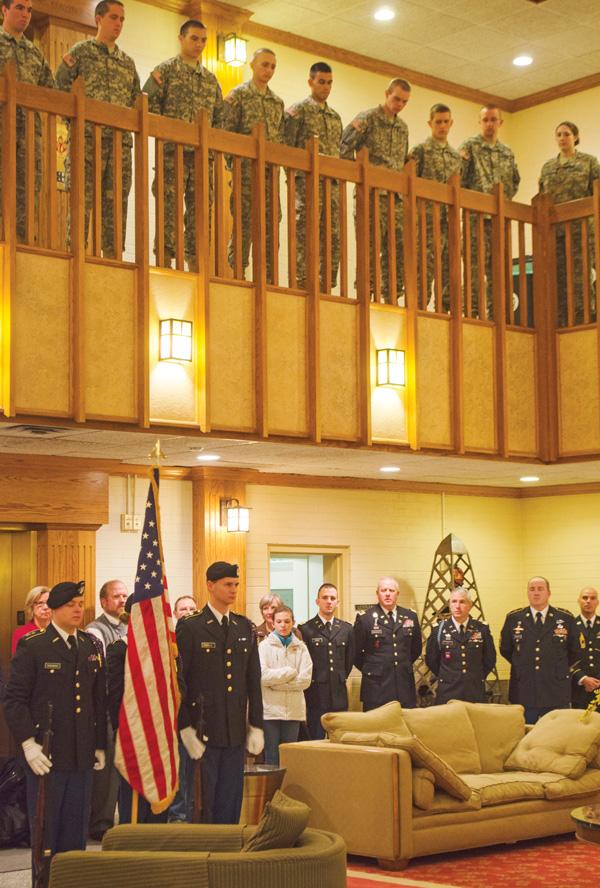 A ceremony was held Monday morning in the lobby of the B.B. Dougherty administrative building in honor of Veterans Day.
The ceremony began with the presentation of the American flag by ROTC cadets while a trumpet played the national anthem.
Chancellor Kenneth Peacock, English professor Joseph Bathanti and Army veteran and student Eric Loew spoke at the event.
Peacock welcomed everyone to the event and introduced the speakers.
"Veterans Day is one of those days that's just a moving day for anyone. You think about people out giving their lives, risking their lives," Peacock said. "They want to be with their families; they want to be back in America, but they're sacrificing for us. It's extremely meaningful to me that this campus has adopted as a part of its culture that every year this campus will pause, even for a brief time, to reflect and to remember those who are serving and have served our country."
Bathanti read a poem titled "Saint Francis's Satyr Butterfly," which he wrote specifically for the occasion. The poem was inspired by the endangered butterfly, which lives exclusively in a 10-square kilometer area in Fort Bragg, that happens to be used as a high artillery impact zone, Bathanti said.
"It's a kind of miracle that within this area of profound destruction something so beautiful occurs," he said.
Bathanti said he was moved by the ceremony.
"It's an extraordinary experience to be asked into their ranks to do something like this," Bathanti said. "For me, it's a terrific honor."
Loew, an army veteran with two deployments in Afghanistan, spoke after Bathanti.
"Make no mistake, it was a privilege to wear the uniform, but we must remember the toll it takes on those that serve," Loew said. "As I speak these words, young men and women are serving the armed forces to keep us safe. Many are the same age as the students here at Appalachian State University. Answering our country's call to war says more about them than I ever could."
Story: JOSH FARMER, Senior News Reporter
Photo: BOWEN JONES, Intern Photographer