[embedvideo id="adiueNIshk4″ website="youtube"]
App State junior wide receiver Simms McElfresh has developed into one of the most explosive offensive weapons for the Mountaineers this season.
Through seven games, McElfresh has started six of them and amassed 349 yards on 31 receptions, while adding a team-high five touchdowns.
App State wide receivers coach Justin Stepp said McElfresh is "by far the best receiver we have in this group."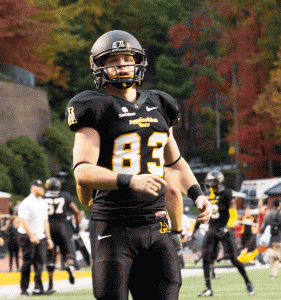 Junior teammate and fellow receiver Malachi Jones said McElfresh is a hard worker, as well, and provides veteran leadership to a young Mountaineers squad.
These are qualities usually more common in scholarship players, who were recruited heavily out of high school. However, McElfresh joined the team as a walk-on in 2011, and has since ascended into his role as a starter.
Recruiting for McElfresh was slow coming out of Charlotte Christian School.
"I had a few partial offers from Division II schools because they don't really give out athletic scholarships." McElfresh said. "App State walked in, watched my film and they offered me a walk-on spot, and I went on a visit and I knew," McElfresh said. "They were the only school I had applied to at the time, so it worked out."
McElfresh said his road to being a featured player for the Mountaineers was not without its share of adversity.
"Being a walk-on is rough, because you don't get as many chances, you're paying for school, obviously, so that's a burden," McElfresh said. "You really just have to work a lot harder and try to prove yourself to the coaches."
McElfresh made his debut in 2012 against East Carolina, where he would also make his first collegiate reception. He appeared in 11 games that season, and eventually earned a starting role.
McElfresh was key part of the offensive success in a 38-37 overtime loss to Illinois State during the 2012 Division 1 Football Championship playoffs, making a crucial 44-yard reception that put App State at the one-yard line during a drive that sent the game into overtime.
In 2013, McElfresh started nine of the 12 contests he played in, finishing sixth on the team in receptions with 20 and third in receiving touchdowns with two.
McElfresh was featured on the NFL Watch List earlier this season at the wide receiver position, and is most noticed for his desperation touchdown catch against Michigan, featured on the www.nfl.com "Can't Miss Moments" for week one of the college football season.
"He's become the leader of this group," Stepp said. "He's matured as a player, he's matured as a young man."
Story: Brooks Maynard, Intern Sports Reporter
Photo: Cory Spiers, Sports Editor