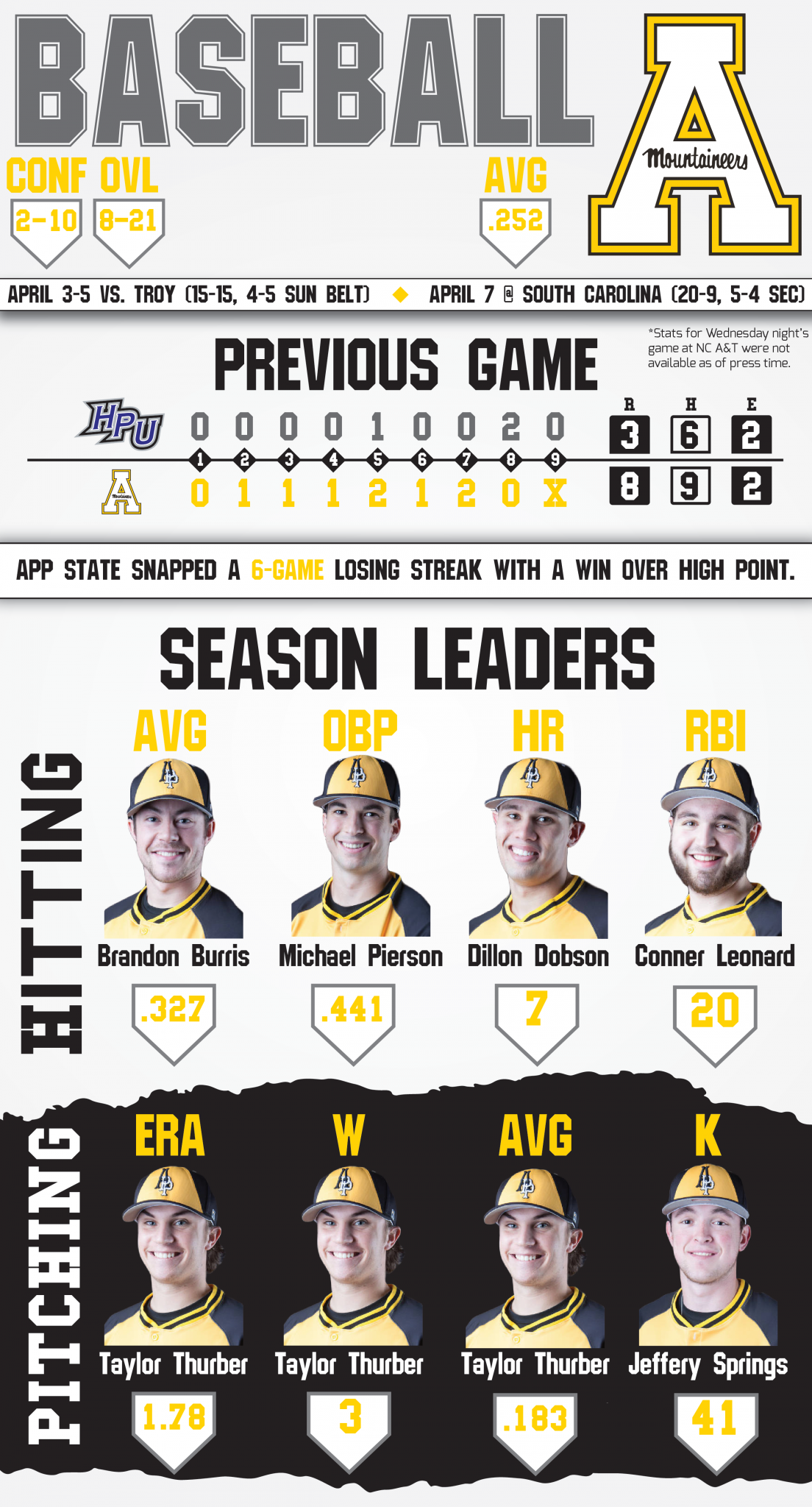 Closing out ball games
App State's previous weekend series against UALR was a true heartbreaker.
The Mountaineers were swept and lost the three games by a combined four runs – including an extra-innings loss in the series finale.
Indeed, closing out games is never an easy task, but App State needs to find a way to start doing that if they are going to string together wins.
An 8-3 home win over High Point on Tuesday night helped take away some of the sting from the close losses over the weekend and snapped a six-game losing streak, but with a home series against another Troy  looming, all eyes should be on the ninth inning.
Can the Mountaineers find the killer instinct to close out the Trojans?
Get some homes wins
With Troy (15-15) coming to town, the Mountaineers should like their chances of grabbing a couple of wins from a team that is 4-5 in Sun Belt play.
And that is important to keep in mind as after Troy, App State hits the road for a very tough stretch of five straight games on the road through mid-April.
The road stretch includes a trip to face SEC foe South Carolina as well as Sun Belt opponent South Alabama who is 7-5 in the Sun Belt this season.
The Mountaineers will need to grab some wins at home while they can, because winning won't get easier.
Fun in the Sun Belt
App State's matchup with Troy is a Sun Belt matchup, but it will also feature plenty of sunshine.
While there is the potential for rain forecast for Saturday, Friday and Saturday are expected to feature sunshine and 60+ degree temperatures.
If you are in town, try to get out and enjoy the game and weather.
As for the team, it should be beautiful conditions to play ball in.
Story: Cory Spiers, Sports Editor
Infographic: Malik Rahili, Visual Managing Editor