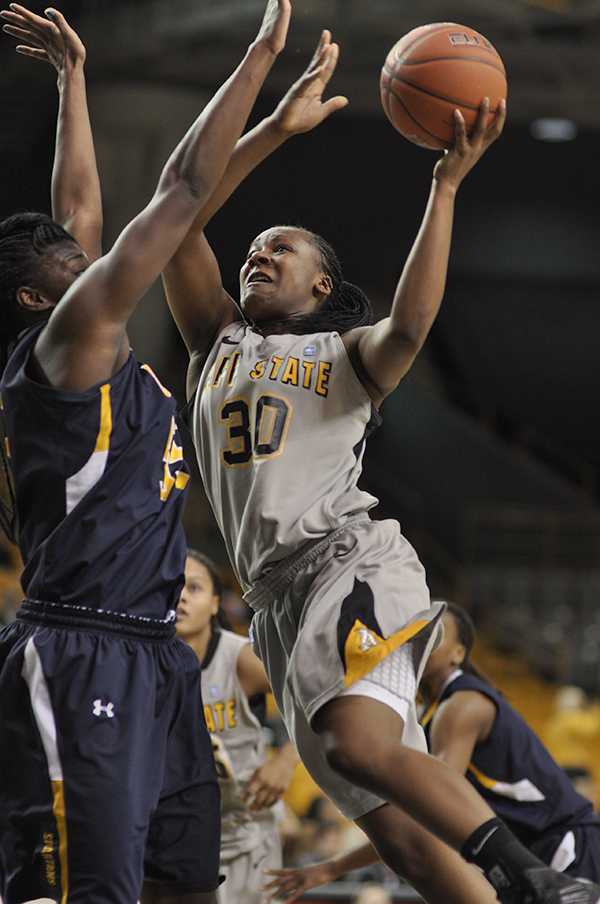 Appalachian State's women's basketball team started off at a sluggish pace but were able to turn their game around in the second half and pull out an 81-58 win over UNC-Greensboro on Sunday.
The Mountaineers (12-3, 6-1 SoCon) found themselves down by as many as nine points in the first half as they struggled to get in the groove of their normally fast-paced game.
They were able to snap back into action in the second half and take down the Spartans (3-13, 0-7) for the seventh straight time.
"When this team decides to play at the level they're capable of playing we're going to be a very good team," ASU head coach Darcie Vincent said. "Right now we're a very average team."
UNC-G put up a fight at the beginning of the game and were able to achieve an 18-9 lead fairly easily with 11:21 left in the first half.
The Black and Gold would start to turn the tide as they put five points up on the board to come within four (18-14), but the Spartans wasted no time in extending the lead with nine minutes remaining (22-14).
With 8:24 remaining in the half, the Mountaineers suddenly seemed to come to life and were able to go on a 17-2 run making the score (31-24).
The Mountaineers were then able to take a 36-31 lead into the second half.
In the second half Appalachian took over the court and controlled the pace of the game, both offensively and defensively.
UNC-G was able to cut the lead to just four points but the Black and Gold answered back by going on a 10-0 run, which extended their lead to 47-33, ending the Spartans' chances of coming back.
Keke Cooper gave the Mountaineers their biggest lead of the game when she sank a bucket and made the score 74-49, sealing the win.
Maryah Sydnor had a double-double with 12 points and 11 rebounds, while Anna Freeman lead her teammates with 18 points and seven rebounds.
Bria Huffman was able to add 11 points for the Black and Gold and Raven Gary had a game-high 10 assists.
"I just wanted to step up and get us into the offense and run the show," Gary said.
The Mountaineers return to the court when they travel to Chattanooga Saturday with a 6 p.m. tipoff.
Story: KAITLYN THRUSTON, Senior Sports Reporter
Photo: Justin Perry, Staff Photographer