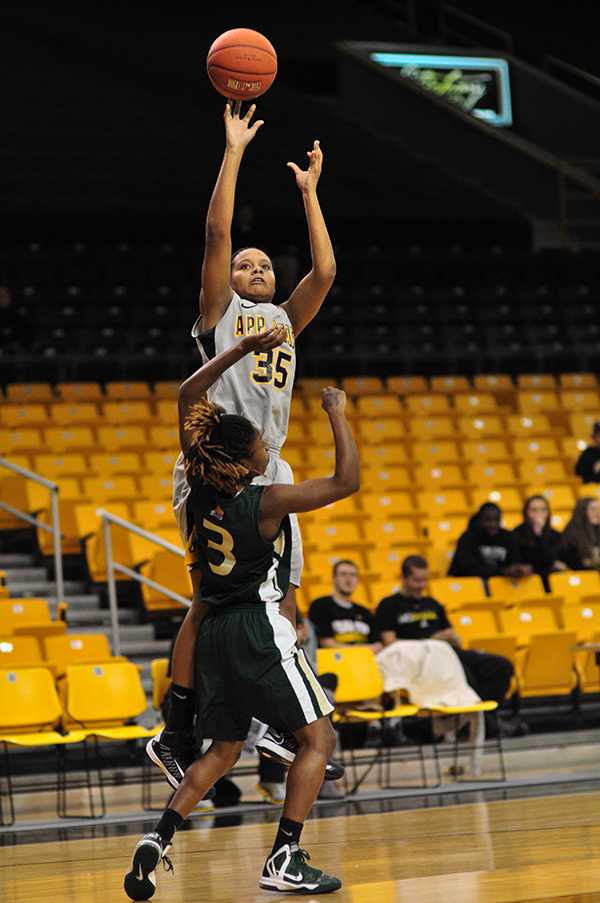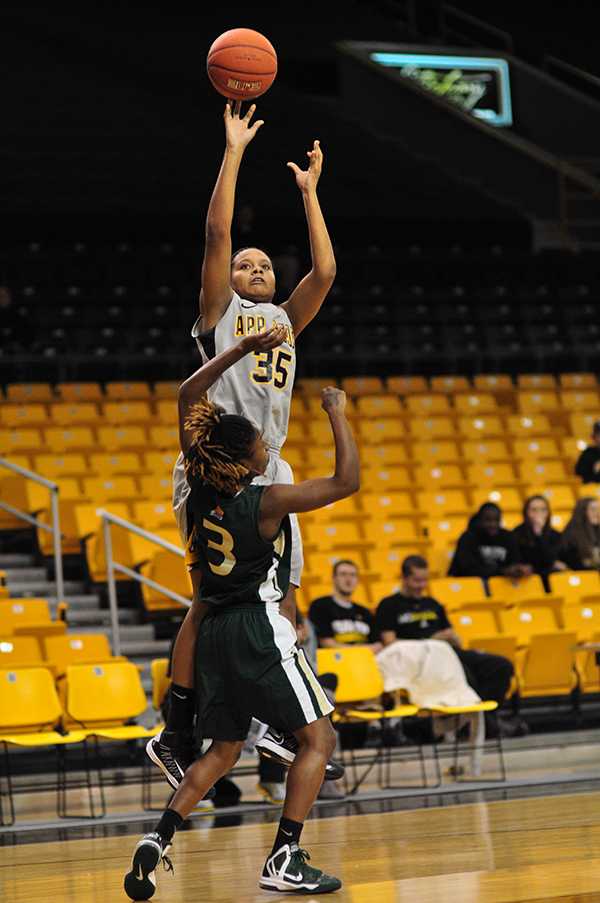 Appalachian State University women's basketball triumphed over Lees–McRae 91-54 in the season opener Friday night at the Holmes Convocation Center.
The Mountaineers opened the game looking sluggish, falling behind seven points (10-3) early in the game while the Bobcats offense came out on fire.
"We have a tendency to play down to someone's level and not to ours," said head coach Darcie Vincent. "This was a challenge for us to put 40 minutes together of App State basketball."
Appalachian looked to whittle the lead down and made a quick 5-0 run to make it 10-8 before tying the game 17-17 on a three-pointer made by Anna Freeman with over 10 minutes left to play in the half.
The Bobcats fought back and made it 21-19 with a jumper from Alyssa Munson, but App State took the lead for good when LaShawna Gatewood put in an easy layup, giving the Mountaineers a 23-21 lead.
Appalachian took its first double-digit lead (43-33) after Courtney Freeman was able to link up a pair of free throws in the final two minutes and went into the half with a 45-36 lead.
It seemed that the Mountaineers were able to get their missing spark back after the first half.
The women began to step up both offensively and defensively.
Appalachian easily found their stride early in the second half as they began to pull away from Lees-McRae. The Black and Gold never led by less than 25 points the rest of the game.
"Every game you play is a learning experience for us," Vincent said. "I think the biggest thing that I've learned is we've got to be more defensively focused than what we do game style."
Courtney Freeman led all scorers with 22 points on 8-of-14 shooting while teammate Anna Freeman scored 18 and made four assists.
Maryah Sydnor had 15 points and eight boards and Kelsey Sharkey added 12 points and eight rebounds. Michelle Taylor, in her eighth collegiate start, scored five points, five assists and racked up three steals.
Appalachian State finished with 37 rebounds while holding Lees-McRae to 27. The Mountaineers forced 27 turnovers and tallied 21 steals while committing 25 turnovers of their own. The Black and Gold shot a notable 52.9 percent (37-of-70) from the floor.
"I think it was good to start with this game because we can see what we need to work on with a team that's not to the level that our conference is going to be," Kelsey Sharkey said. "So we can make adjustments before we get there."
The Mountaineers return to the court when they head to Virginia Tech on Wednesday. The game is slated for a 7 p.m. tipoff in Blacksburg, Va.
Story: KAITLYN THURSTON, Senior Sports Reporter
Photo: JUSTIN PERRY, Staff Photographer