Women's theatre troupe flying high with 'Decision Height'
Exploring the often ignored historical relevance of women in wartime, the Appalachian Women's Theatre Troupe presents "Decision Height" by Kennedy Center American College Theatre Festival award winner Meredith Dayna Levy this weekend.
The play chronicles the experiences of the Women Airforce Service Pilots – or WASPs – and their role as the only female air academy in American history. The real women featured in the story, who flew domestic military planes during WWII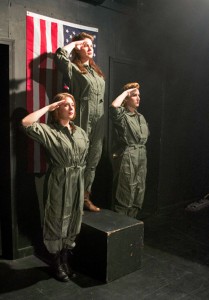 so men could fly in the war, were not granted veteran status until 1977, and were given the Congressional Gold Medal in 2009.
Alexandra Bradley, a junior biology major, plays the character of Mildred. Although she hadn't taken part in a theater production since her senior year of high school, she decided to get involved when she heard about the premise of this play.
"These women were fighting for equality long before we were even a thought," Bradley said. "I feel like we are fighting something today that was relevant back then. It has developed and come a long way, but you can still feel these women fighting for something."
Carmen Lawrence, a senior theatre arts major and president and founder of the troupe, said the group has tried to bring a different message to the forefront with each of their productions so far. Their first play last year, "The Most Massive Woman Wins," focused on women's body issues in society, while "A Part Equal" the next semester shed light on the roles of strong females throughout Shakespearean history. This show, as a change, offers a historical perspective on a heavy issue in feminism, without victimizing the women characters in it, Lawrence said, but rather celebrating them.
"People weren't used to seeing powerful women in history, and I think that's the coolest thing about this play, because it's not explicitly a feminist play," Lawrence said. "This is a historical piece and we don't have to blatantly say 'This is the women's theatre troupe putting on feminist theater' – we're just laying down the fact that this is what really happened and there were powerful women back then."
Savannah Core, a senior theatre arts major, is directing this show as her second with the troupe after their inaugural piece "The Most Massive Woman Wins."
As a young club with lofty goals, she said that the troupe has shown huge improvement in terms of production value. This show raises the bar in terms of orchestration, lighting, set design and costuming, with the intention of drawing in a larger audience, and setting higher standards for club productions on campus.
"We want to cater to the people who love theater, and also to the women on this campus, because I think we have a lot to say to them," Core said.
She said in researching plays for the group to produce, she discovered only 17 percent of playwrights are female. One of the troupe's main overarching goals is to bring attention to just how male-dominated this field is, while providing positive outlets for female expression.
"People don't still understand that feminism is not this bra-burning, not-shaving, man-hating club," Core said.
A stance exemplified by this production, in which some characters are career-driven while others are family-driven. For her, that doesn't make it any less powerful than the other.
"It's not a group of women who are being kept down by men – they're literally flying," Core said.
"Decision Height" will be performed at 7:30 p.m. on Oct. 9, 10 and 12 in I.G. Greer Studio. Advance tickets are $6 and can be purchased from Oct. 6 through 10 from 1 to 5 p.m. in the Valborg Theater lobby, or at the Studio Theatre one hour prior to curtain for $8.
For more information, visit ASU Women's Theatre Troupe on Facebook or contact the Women's Troupe at asuwomenstroupe@gmail.com.
Story: Lovey Cooper, Senior A&E Reporter
Photo: Kerstin VanHuss