A season to remember
App State senior linebacker Kennan Gilchrist knocked the ball loose in overtime out of Tennessee quarterback Josh Dobbs' hands in the Mountaineers first game of the season on a Thursday night, and it was almost a hit heard around the college football world. Except, it wasn't.
Vol's running back Jalen Hurd jumped on top of the ball in the end zone for a touchdown recovery and ranked Tennessee held off a huge upset from the Mountaineers.
The Mountaineers were 0-1 and fans questioned many play calls throughout a game that could have ranked right behind App State's 2007 victory over Michigan had App pulled out the upset. But it was just the start for a record-breaking season that concluded with back-to-back Camellia Bowl wins, back-to-back double digit win seasons and the first ever Sun Belt conference championship for the Apps.
"When we set out this season, our goals were to number one win the Sun Belt, number two to get to a bowl and win the bowl," head coach Scott Satterfield said. "We pretty much did everything we set out to do this year. We got double digit wins again. Back-to-back double digit wins. Back-to-back Camellia Bowl champions. I don't know what else you can do. We did about all we could do this year. It was unbelievable."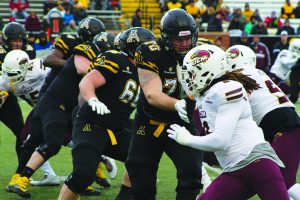 While the Tennessee game stands out as one of the Mountaineers best defensive performances of the season, App State fans entered the season with Miami on their mind. For the first time in school history, a power five team would play in Boone. Yet, it was a big disappointment.
The Hurricanes crushed App 45-10 and senior running back Marcus Cox suffered an injury that kept him out the next four weeks of the season.
A crushing loss can cause some teams to crumble, but the game against Miami would be the last poor performance by the Mountaineers in 2016.
Sophomore running back Jalin Moore more than excelled filling in for Cox. Moore rushed for the sixth highest single games in App history the following week with 257 rushing yards and rushed for 100 or more yards in eight of the next 10 games, finishing as the team's leading rusher with 1,402 rushing yards.
Cox returned against Georgia Southern and had one of the most memorable moments of the season against ULM in the final home game of the season when he broke the all-time rushing record to become App's all-time leading rusher. Cox followed it up in the Camellia Bowl becoming the 16th player in FBS history to rush for over 5,000 yards in his career.
"When you get here everyone wants to be the best but you don't actually think it will happen until it happens," Cox stated after his record breaking game against ULM. "It has been a long journey and our first couple of years was rough but to win my last game at The Rock the way we did and accomplish the record here will always be special to me and I will never forget it."
Records were being broken on the offensive side of the ball, but defensively App held their first five conference opponents to only two offensive touchdowns to build their post-Miami win streak to six games. In the midst of the win streak, App State handedly beat rival Georgia Southern 34-10, the largest victory at Paulson Stadium for App.
The Apps allowed only 10 total touchdowns to Sun Belt opponents all season with four coming against Troy. They allowed only three in the first half of games.
Junior wide receiver Shaedon Meadors broke out with 126 receiving yards against the Eagles including that weeks NCAA catch of the week and finalist for catch of the year when he hauled in a 30-yard catch with a defender on him setting up for an App touchdown.
Meadors game started a run for the Mountaineers wide outs that struggled to get anything going with junior quarterback Taylor Lamb through the season's first half.
But the focus all season was on App State's secondary, also referred to as "The Legion of Boone" or "LOB." Led by freshman Clifton Duck with five interceptions, senior Mondo Williams with four and safety A.J. Howard, the Legion of Boone finished the season with 20 total interceptions to rank tied for sixth in the nation.
The Mountaineers finished first in the Sun Belt and ninth in the nation in scoring defense.
Gilchrist, senior John Law, junior Eric Boggs and Devan Stringer led the team in tackles with 89, 57, 98 and 71 respectively, ranking App 17th in the nation and first in the conference in total defense.
Named the pre-season Sun Belt defensive player of the year, Law finished his exceptional collegiate career with a SoCon championship, Sun Belt Championship and two Camellia Bowls to be remembered as one of the best Mountaineers all-time.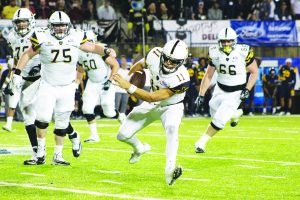 "We always talk about in our program how are you going to finish and what are you going to be remembered for. Well this is what John Law is going to be remembered for," Satterfield said after Law's performance in the Camellia Bowl. "He wanted to lay it all out there and he did tonight. I'm so proud of John. I love him, his family, and what he stands for. He's a guy that's got the three rings. What a great leader for our program."
The Mountaineers kept winning, but so did conference rival Troy, setting up a week 10 showdown between undefeated Sun Belt teams. The game was expected to be a battle, and it was.
Troy built a two-score lead early before Howard had a memorable "strip six" to return the ball for a 71-yard touchdown and putting the Apps back in the game.
Ultimately, the Mountaineers lost 28-24 and the goal of winning the Sun Belt conference championship looked gloomy for App.
Over the final three weeks of the season, Troy fell to Arkansas State and Georgia Southern, and App won their final two games, giving App a share of the Sun Belt title with Arkansas State.
Satterfield had high praise for his team's season. "They believe in each other. Our whole motto this year on our bracelets is we ride together. Everything that we do, we do together. Whether we win or we lose, we're going to do it together."
The Mountaineers once again continued to show that they are one of the best teams to transition from the FCS to the FBS, now holding a 27-5 record over their last 32 games, ranking fourth in the nation. The only losses have come against Clemson, Tennessee, Miami, Troy and Arkansas State.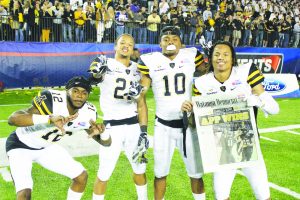 "From our chancellor, to our athletic director, to our coaches. All the way down through. We all pull in the same direction. You can't have success like we've had if you don't do that," Satterfield said after the Camellia Bowl. "We don't have any egos. People want to know why we've been so successful. That's why. I'm so proud of this group and this organization.
App faced Toledo in the Camellia Bowl in Montgomery, Alabama, a place they have become all-too familiar with the last two years and pulled out a 31-28 win behind an MVP performance from Lamb, a 94-yard kickoff return touchdown from freshman Darrynton Evans and a late field goal from redshirt freshman Michael Rubino.
Rubino started the season missing a game-winning field goal against Tennessee and finished it with one of the biggest plays of the season.
"It is big knowing my coaches have that kind of confidence in me and big for me for my confidence to be comfortable out there," Rubino said. "I hope to build off of this second half momentum."
Six players this season were honored with Sun Belt weekly awards. Cox earned offensive player of the week twice and Moore once. Duck and Gilchrist earned defensive player of the week and Critcher earned a special teams player of the week.
In addition, Moore earned Sun Belt offensive player of the year and Duck, freshman of the year. Duck also received USA Today Freshman All-American honors. Five Mountaineers made Sun Belt first team all-conference teams and seven to second team all-conference.
An unpredictable 10-3 overall and 7-1 Sun Belt season finished in a sensational way for the Mountaineers, and with two power five teams on the schedule next season, the Apps will only look for more success.
"Our defense is going to be outstanding next year. We got our running back. We got our quarterback. All our receivers are back except for Jaquil. We're going to be really good again next year, "Satterfield exhilarated after the Camellia Bowl. "This right here is going to snowball into recruiting. It's going to continue to snowball and we're going to bring in some great student-athletes in this next class and have a great offseason and we can't wait for Georgia. That's our first game next year. We're excited about it."
Story By: Jason Huber, Sports Editor