It took junior quarterback Joey Aguilar seven seconds to make an impact on App State football. 
After a tight competition throughout the offseason, head coach Shawn Clark ultimately made Aguilar the backup quarterback to redshirt freshman Ryan Burger.
In a deficit during their first game, and with Burger suffering a finger injury, Clark decided to make a change. The California native walked onto the field against Gardner-Webb in front of more than 36,000 fans for his debut as a Mountaineer.
After his first snap, Aguilar celebrated a touchdown with redshirt junior wide receiver Kaedin Robinson. The pair connected for a 32-yard touchdown on Aguilar's first pass and play in a Black and Gold uniform.
"No one was surprised; that's Joey," Clark said. "We were all happy for him."  
By the end of the first game, Aguilar threw four touchdowns and led the university to a 21-point win. The Rock exploded with chants of "Joey! Joey! Joey!" with each touchdown he threw. Fans quickly embraced the new face of the Mountaineers.
He has all the respect in the locker room
— Shawn Clark
Aguilar's football journey started at 6 years old, playing tight end and linebacker with his father coaching. At first he didn't like it that much, but he stuck with it. 
After a brief stint as a running back, Aguilar played quarterback first in middle school, but he didn't start. It was in high school where he found his footing in the quarterback position. 
Coming out of Freedom High School in Oakley, California, Aguilar wasn't recruited by big name schools. Not wanting to give up on his football career, he enrolled at Diablo Valley College to play at the junior college level. However, his ultimate goal was to play at a higher level. 
His motivation to play comes from wanting to make his parents happy and becoming the man his dad wanted him to be.  
"My dad wasn't able to play when he was in high school, so I'm kind of playing to live a dream he once had," Aguilar said.
Aguilar's success soon made him a three-star recruit as a junior college transfer. With coaches reaching out, Aguilar visited Boone and committed to the Mountaineers on Dec. 20, 2022. In February, he enrolled and began his career at App State.
"It was a no brainer. The way he threw the ball, the way he commanded the offense," Clark said.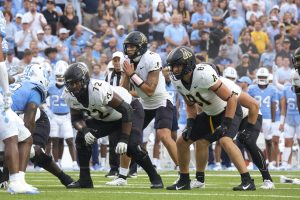 A week after the Gardner-Webb game, Aguilar got his first start as App State traveled to Chapel Hill to face then No. 17 North Carolina. Coming in as underdogs, Aguilar and the Mountaineers pushed the Tar Heels to double overtime, but came up six points short.
Since then, the Mountaineers have had an up and down season, with Aguilar experiencing the highs and lows of a starting quarterback. 
After throwing a game-sealing interception against Wyoming, Aguilar came back the next week and led a late-game drive that put the Mountaineers in position to kick the game-winning field goal against ULM.
"I'm super laid back, so I don't tend to mess with the highs and lows. If it's good, it's good. If it's bad, it's bad. I just stay neutral," Aguilar said. 
Through it all, Aguilar has learned and grown in his athletic ability. A former coach of Aguilar's who saw his play at App State noticed improvement.  
"He looks a lot more polished now, really decisive, looked like he knew what he was doing in the offense," said former Diablo Valley College offensive coordinator Drew Anderson.
Anderson uses words like "fearless," "mature," "gunslinger" and "the real deal" to describe the player he sees when watching Aguilar now.    
Aguilar has thrown for 26 touchdowns and 2,657 passing yards while leading App State to a 6-4 record.
Statistics and numbers tell only so much of the story. Who Aguilar is in the locker room is another thing that makes him stand out. 
"Joey is kind of laid back in some ways, not many things affect him, good or bad. He has all the respect in the locker room," Clark said.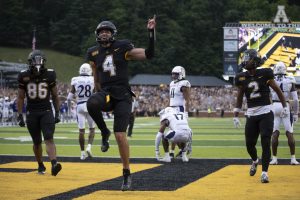 It's not a newly found swagger he has, but an attitude he brought from his days at Diablo Valley College. 
"Goofy guy, fun loving, real laid back, gets along with everybody and relates to everybody," Anderson said. "The type of teammate he is, type of leader he is, sets him apart from the rest."
His standout playmaking and personality have helped him on and off the field. 
A recent NCAA decision allows collegiate athletes to profit off of their own name, image, or likeness and Aguilar has taken advantage of the new rule. His popularity amongst fans earned him deals with businesses such as House United and Rivers Street Ale House, where they serve a chicken wing called the "Joey Wing." 
"Honestly I never thought I would get it," Aguilar said. "Them reaching out and supporting me, it's pretty awesome."    
With all the bright lights of being a student athlete, his priorities remain on the field. As the season continues, Aguilar leads the Mountaineers into a tough Sun Belt schedule that includes a rivalry home game against Georgia Southern to end the season.
The Mountaineers feel like they are in good hands if Aguilar remains who he is: a leader, a great teammate and a quarterback who strives to continually improve.