All Eyes on App State defense
The saying "Defense wins championships" is heard all across sports. Appalachian State football is taking that to mind this season as they are proving to opponents that their defense is not to be messed with.
With an overall 5-1 record and 2-0 in the conference, App State's defense is leading the Sun Belt Conference in total defense by a large margin, allowing 281.2 yards per game, which ranks ninth in the nation. Boston College ranks first in the nation, allowing 196.3 yards per game.
App State's defense is much more experienced this season after returning their entire starting defensive line. The experience is paying off, as they have only allowed 71 points to their opponents this season, good for third in the nation behind 23rd-ranked Duke and No. 15 Michigan.
Defensive coordinator Nate Woody has helped lead the defense and expects a lot of them with the experience gained from the last few seasons.
"I think anytime you have a lot of experience coming back, that lends yourself to great leadership and that is what we have this year," Woody said. "Experience comes with guys that know what to expect rather than just reacting to things."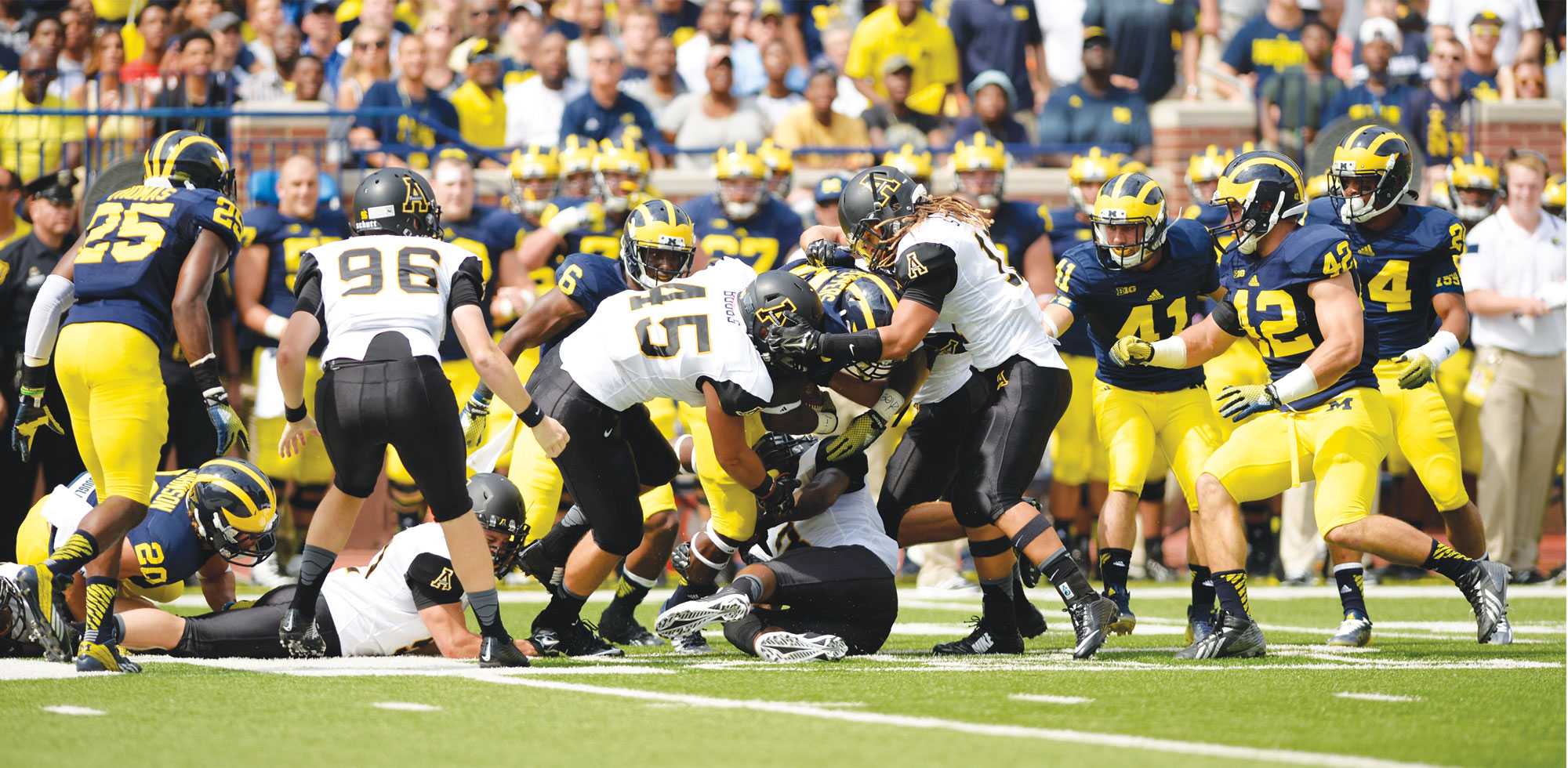 App State had their worst defensive game of the season in week two, to current No. 6 Clemson, losing 41-10. App State has bounced back with four-straight wins and has only allowed 31 points since. Junior nose tackle Tyson Fernandez feels they have improved greatly since week two.
"To me, it's just one of the games we just let slip away," Fernandez said. "If we played them tomorrow, it would be a different case. They are a good team, but we could have won."
Arguably, App State's biggest game of the season is Oct. 22 against Georgia Southern, who is tied for first in the Sun Belt with a 3-0 conference record. The Mountaineers are currently second at 2-0. Georgia Southern runs the same triple threat offense as App State and currently leads the nation in rushing.
Confidence is high right now, though, and Fernandez still has the loss in his mind from last season.
"It will be one of those games we have a chip on our shoulder from last season," he said. "The Rock will be packed for a Thursday night game, and it will take the entire four quarters against them."
Woody had high praise for the Georgia Southern offense as he prepares his defense for the game.
"I think Georgia Southern is one of the best offenses in the country," Woody said. "I think they have good experience and speed. Defensively, if you can contain that type offense, you can contain most offenses."
While App State is leading the conference in many defensive categories, junior linebacker John Law, who has 46 tackles and two interceptions on the season, feels the defense can be much better.
"We just want to be the best defense that we can be," Law said. "That is what drives us. No matter how good we do, we are always trying to do more and do better. There is always more that we can do."
However, the goal isn't only getting better; staying consistent is important as well. Head coach Scott Satterfield feels the end of the season is what matters most.
"I want to be number one at the end," Satterfield said. "Hopefully, we can maintain this level of play. The defense has played well and given us a great opportunity to win and that's all we can ask for."
App State defense has showed that they are a real threat to win the conference and make a bowl this season, and if they keep up the good play, they can stop anybody.
"With all the hard work we put in over the summer, it's good to know that we could be in consideration for one of the top defenses in the country," Fernandez said. "It's only been six games, so we just have to continue what we are doing."
App State takes on conference rival Georgia Southern on Oct. 22 at 7:30 p.m. at Kidd Brewer Stadium.
Story by: Jason Huber, Sports Reporter