Another cross country championship season for the books
Cross country has always been taken very seriously at App State, and the program is one of the most successful athletic programs in the school's history. Head coach Michael Curcio is in his 23rd year at the helm of the team, and the men have claimed 16 conference championships in the last 30 years, finishing outside the top three just twice with one of them being their fourth place finish last season.
"We are very pleased with the progress, there was actually one man that was in our top seven last year that returned and that was Evan Georges who was our fifth man last year, back at 40th [overall]," Curcio said. "The future is bright for us, we've got everybody back next year and out of our top seven, five were freshmen, eligibility-wise. Looking ahead to next year, we're excited that we will be right back in the mix."
The men claimed their first Sun Belt conference championship this year in a down-to-the-wire race, scoring 70 points and edging out UT-Arlington who had 73 points and Texas State who finished with 75. As anyone could imagine, a victory like that makes for a pretty big celebration.
"I was laying on the ground after the race, just exhausted. As I laid there, I kinda propped my head up and I saw the guys coming through, and I was doing mental math just thinking, 'It's gonna be close,'" junior runner Georges said. "Someone turned to me, Natalie Andrejchak who used to run here, and said, 'You guys did it, you guys won.' I got up, threw everything and then everyone just mosh pitted each other. It was the most insane celebration I've ever been a part of; it was so much fun."
Racing on their home course at the Kennedy Trails Course in Boone, Georges led the way for the Mountaineers, finishing first on the team and fifth overall with a time of 25:18.8 in the 8-kilometer race. For his efforts, Georges was named first-team all-Sun Belt.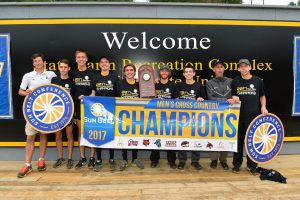 "It's very rewarding to watch this group of young men improve over the semester. We had a few, as any team does, upsides and downsides," Curcio said. "We had seen glimmers of talent, we had seen each of those top-five guys. We had seen glimmers of what they were capable of and the fact that they were able to put it together on the same day, on our home course, that was the key to them winning."
With such a young group and everyone coming back next year, the state of the program could not be better.
"It's a young group, they really gained a lot of maturity over the last three meets of the season, they kept their composure and executed a race plan they came up with to work as a pack, and to work their way through," Curcio said.
This year also marks the 30th anniversary of Appalachian's first ever conference title, coming back in 1987 in the Southern Conference. The legacy this team has created through the successes in the past carries over every year and it is something the players and coaches care a lot about.
"At the beginning of the season, we talked about our goals and what we wanted to accomplish, and what we wanted Appalachian to be known for," Georges said. "I think everyone just had a belief, we knew we wanted to be champions and we wanted to bring home the trophy and do it for the alumni, and do it for the guys before us and so when we all toed the line that day, we just all had the same idea."
On the women's side, they followed up last year's Sun Belt championship with a strong second place finish this year.
"We're disappointed for the women, not disappointed in them; they definitely put a lot of work into it, they got after it each day," Curcio said. "Texas State was a very strong team, we knew they were gonna be the team to beat and they just had a better race than we did. We had a good, solid race; they just had a better race. I'm pleased that they were able to come away with second place, but disappointed that they didn't get to accomplish their goal of winning on our home course."
A first and second place finish in back-to-back years is nothing to be upset about, but second place is never the goal, in any sport for any athlete or coach.
"[Our success] has been awesome. Honestly, coming out of high school, I was hopeful to be on a successful team, but I didn't really know if I was gonna be good enough, so it's been really awesome to be on a team with such awesome people and to see the success that we have," junior runner Emily Fedders said.
In addition to their competitive drive, the women's team builds a lot off of their strong sense of unity and togetherness.
"That's been a huge part for us, to be able to always keep going when one of us is having a rough workout, a rough race, or hitting a rough patch in training or even just in school," Fedders said. "I know I have such a solid team that I can count on for anything, we just have a really good team spirit overall."
As always, Curcio is going to have both teams working hard this offseason and during the track and field season as the Mountaineers will only look to get better and better so they can accomplish what they strive to accomplish year in and year out: win championships.
"We kinda saw [last year's finish] as unacceptable," Georges said. "If you run for Appalachian, we're gonna be the best and that's what we tried to do."
Story by: Silas Albright, Sports Reporter
Photos courtesy of David Mayo