Appalachian State seeks ideas for recently acquired Watauga High School
The Office of Student Development held a meeting on Tuesday, Jan. 16, to discuss Appalachian State University's recent acquisition of the old Watauga High School property on Highway 105
The meeting, led by Darrell Kruger, provost and executive vice chancellor, and Paul Forte, vice chancellor for business affairs, began by covering the history of the recent university dealing with Watauga County.
Forte said that the university swapped a former holding near Lowes for the WHS property. The county plans to build a recreation center at the Lowes location. The university will be paying $800,000 over 19 years for the WHS property.
The property currently has 75 acres, with 35 buildable acres available for development. Forte said it is the last large tract of land close to campus and is only 1.5 miles from campus.
Forte also said the university is focused on developing safe travel routes to the location, including safer bike lanes down Highway 105 and the potential development of crosswalks or skywalks.
As of right now, Forte could only say that the location will be used for parking in the fall of 2018. The location will move some parking away from the State Farm parking lot, allowing for the newly built Beaver College of Health Sciences to have more on-site parking.
The meeting then broke into several small discussion groups, where members of faculty, staff, students and community members discussed their ideas for the potential future of the location.
Chancellor Sheri Everts said that she hopes the groups can come up with a new name for the location.
Community member Cathy LaMarre said that parking for students and faculty is often a problem and hopes that this location can provide more opportunities to students with vehicles. LaMarre also said she hopes this location will allow for a reduction in bus traffic around the town of Boone.
LaMarre also said the idea of utilizing this location as a multiuse facility for students and developing housing would allow Appalachian to build housing without damaging the existing state of Boone's neighborhoods. She also said this would provide the ability to avoid the development of high density housing.
Morgan Nystedt, P.I.T. Director of Appalachian Popular Programming Society, said she would want somewhere for the university's 300 clubs to hold events. Nystedt also brought up the current problems with Legends nightclub after flooding and how a new venue for shows and events would be worth looking into.   
Forte also said that the property is considered an endowment property, and it has to be self sustaining on profits and pay for its own operating costs. Forte said that the location needs to attract the private sector, and private developers are going to be included moving forward. Forte also said that traditional developers for public-private partnerships, or P3s, would not be interested in this location. He said that different developers, like those for apartments, would be more interested in this location, rather than those that develop dorms.
J.J. Brown, vice chancellor of student affairs, finished by saying the university will be incorporating as many thoughts and perspectives as they can, and said that this location is a once in a lifetime opportunity for the university.
The university is holding two more sessions about the property on Jan. 23, 9-10:30 a.m., and Jan. 31,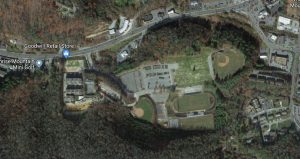 9-10:30 a.m., in Beacon Heights room 417 in Plemmons Student Union.