Artificial turf makes athletic fields easier to maintain
The use of artificial turf has been a hotly debated topic for years but is something Appalachian State has utilized. In addition to Kidd Brewer Stadium, the baseball field at Jim and Bettie Smith Stadium and the soccer field at the Ted Mackorell Soccer Complex are also turf fields. With App State's Sustain App mantra, it begs the question: why does App use this artificial grass? Is it environmentally friendly, or is it just university friendly?
The popularity of artificial turf has waxed and waned over the years. Forty colleges installed turf between 1968 and 1977, including Appalachian State, who installed AstroTurf in 1970 and replaced it with FieldTurf in 2003.  22 of those schools still play on the surface today, according to herosports.com. Regular grass was the trend during the 1980s and '90s until 41 schools switched to turf between 2000 and 2014.
With App State being geographically positioned on a mountain, the university has a scarcity of space. Unlike many other major universities, App State does not have the luxury of having multiple fields to practice on. The field is also used for events besides football. This constant usage of the fields takes its toll and would make regular grass difficult to maintain.
"We are very challenged for space. Most Division 1 schools have several practice football fields, but here we only have space for one that we both practice and play games on. That same field is used by PE classes until 2 p.m., Monday through Friday," William Heustess, senior associate athletic director, said. "If we did not have turf fields all these activities would take place on dirt, not grass."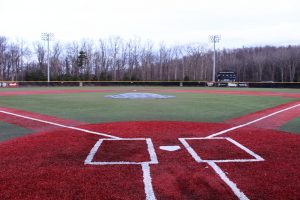 On top of the limited space, another factor that leads to the university's use of turf is the climate that it is located in. The mountain atmosphere can make weather unpredictable and in some cases unsuitable for Division I standard grass. Even if it could be grown, the constant barrage of football cleats and gym shoes would mean having to tend to the field on a daily basis. This makes it difficult and costly for the university to attempt to grow grass.
"Grass is a preferred surface by most, but only if it is well maintained, healthy grass. With our weather and high traffic at all our fields, turf is the only way to provide all our users with a safe surface," Heustess said.
Financial reasons are also a factor. While growing grass would take constant upkeep as well as equipment with no guarantee it would grow properly, turf is a simple one-time fix. Once it is laid down, there is little to no upkeep if proper maintenance rules are followed. The turf does need to be properly checked and is even sometimes replaced to ensure safety of all especially the athletes, but only occasionally.
"(It) probably (costs) less than it would be to properly maintain natural surfaces," Heustess said.
An article published in the Journal of Environmental Quality, authors James Beard and Robert Green of the Alliance of Crop, Soil, and Environmental Science Societies discuss several advantages that turf provides to not only the environment but people as well.
"Turfgrasses have been utilized by humans to enhance their environment for more than 10 centuries," according to Beard and Green. "Turfgrass benefits may be divided into functional, recreational, and aesthetic components."
Functional benefits can include preventing soil erosion and flood control. With turf, things such as runoff and erosion are avoided because the material that the turf is made of stays in place unlike dirt. As for the recreational benefits, it can provide a unique low-cost cushion for high-impact injuries and a cheaper playing surface. This is a major advantage of turf as safety among athletes, especially football players, have never been of higher priority. With the current concussion epidemic that can lead to the highly controversial Chronic Traumatic Encephalopathy or better known as CTE. For aesthetics, turf provides the fans with a better viewing experience because turf is more difficult to mess up than grass, making the game more high quality.
"Unless we suddenly have more space, turf is our only option," Heustess said.
App State utilizes turf surfaces not only because of the benefits it provides the university with, but also for the environmental benefits and the fact that it is their only option. Currently scientist and environmentalist have not been able to find negative drawbacks against this use of turf. App State has evaluated every option and are using the best the university has to the fullest extent.  
Story By: Chase Frick, Sports Reporter
Photos By: Veronica Hayes, Staff Photographer