Appalachian State University baseball was tabbed to finish third in the this year's Southern Conference preseason coaches poll, which was announced Thursday.
Western Carolina, last year's regular-season champion, earned 10 first-place votes and 78 points to finish first on the preseason poll.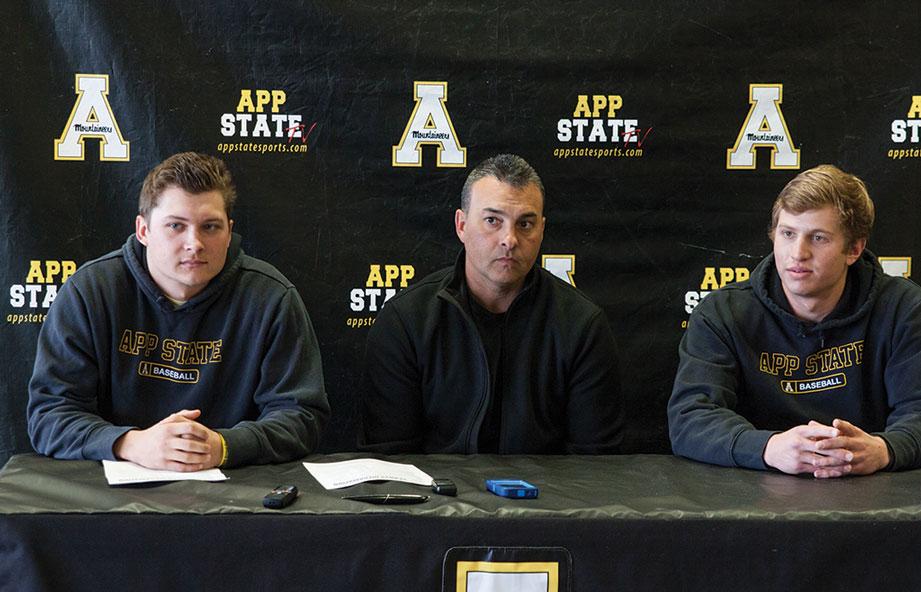 App State baseball earned zero first-place votes but tallied 60 points, putting the team behind Western Carolina and The Citadel.
The Mountaineers went 30-24 in 2013, finishing off a school-record of seventh-straight 30-win season.
Head coach Billy Jones will return 21 players from the 2013 roster, while adding 17 new players.
"Our expectations are simple, we have a championship to play for and we feel like we have a good group and a good mix of lower- and upperclassmen," Jones said. "We're excited for what's ahead of us."
The SoCon coaches also selected three Mountaineers as preseason all-conference honorees Feb. 6.
First-team outfielder Tyler Zupcic earned preseason all-conference recognition despite not having stepped on the field in 20 months.
During App State's 5-4 victory over Oklahoma in the opening game of the 2012 NCAA Regional in Charlottesville, Va., the fifth-year senior journalism major suffered a torn LCL, PCL and a fractured fibula and was unable to compete in the 2013 season.
Zupcic hit .338 with 17 doubles and 12 stolen bases as a junior in 2012 to help lead the Mountaineers to their first SoCon championship in 25 years.
"My health is good and I'm ready to go," Zupcic said. "I'm really excited to be back out there, it seems like it's been a while since I've been able to play and the expectations for myself are going to be the same I've had for my past three years of playing."
Returning pitcher Jamie Nunn earned second-team all-conference honors. During the 2013 season, he tied for most wins in the Southern Conference with nine and ranked 11th in the league in strikeouts (77).
"This year I feel like our pitching is going to have a lot more variety," Nunn said. "We're not going to be as reliant on one or two guys, and all of us get along really well. I don't think there's going to be much nerves."
Sophomore outfielder Jaylin Davis also earned preseason all-conference honors. Davis was a Freshman All-American in 2013 after hitting .257 with 12 doubles, four triples, four home runs, 36 RBI and 12 stolen bases in his first collegiate campaign.
The 56-game regular season schedule boasts 15 games against teams that advanced to postseason play last season, which includes two College World Series participants in UNC-Chapel Hill and N.C. State.
Seventeen of 29 non-conference games feature opponents from the Atlantic Coast Conference, Southeastern Conference and Big Ten.
The Mountaineers will begin the 2014 campaign when they take on Arkansas on the road in a three-game series starting Friday.
App State continues its stretch of 12 straight away games with some against Tennessee, N.C. State and UNC. The Mountaineers will then take on UNC Asheville in their home opener March 7.
 Story: Kaitlyn Thruston, Senior sports reporter 
Photo: Rachel Krauza, Staff photographer