Blair becomes eighth former Mountaineer drafted into the NFL
Appalachian State alum defensive end Ronald Blair was selected by the San Francisco 49ers with the third pick in the fifth round (124nd overall) in the 2016 NFL Draft on Saturday.
Blair became the 26th player in App State history to be selected in the draft and the highest selected player since former Mountaineer Brian Quick was chosen with the first pick of the second round by the St. Louis Rams in 2012.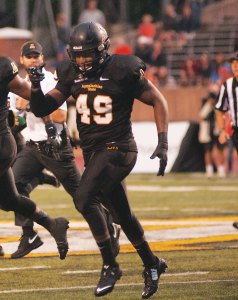 Blair is the first Mountaineer chosen in the draft since the Jacksonville Jaguars selected Demetrius McCray in the seventh round in 2013.
After winning the 2015 Sun Belt Defensive Student-Athlete of the year, Blair finished his senior campaign with 19 tackles for loss (tied 12th nationally) and ranked second in the league with 7.5 sacks. Blair also tallied 71 total tackles, two quarterback hurries, a forced fumble and a fumble recovery.
Starting all 51 games that he suited up for during his Mountaineer career, Blair finished with 53.5 tackles for loss (fifth in school history) and 20.5 sacks (10th in school history). He was a three-time all-conference honoree (Sun Belt 2014 and 2015, Southern Conference 2012) and an NCAA Division 1 FCS freshman All-American in 2011.
Originally from Greensboro, Georgia, Blair attended and played football at Greene County where he was named the 2010 Georgia Region 4-AA Defensive Player of the Year and earned second-team all-state recognition from Associated Press.
Blair helped guide the Mountaineers this past season to an 11-2 record including a Camellia Bowl victory over Ohio.
Other former Mountaineers, safety Doug Middleton, wide-receivers Malachi Jones, Bobo Beathard and Simms McElfresh, and offensive-lineman Davante Harris who went undrafted, signed with the New York Jets, Atlanta Falcons, Arizona Cardinals, Detroit Lions and Indianapolis Colts respectively shortly after the conclusion of the draft. 
Blair, Middleton, Jones, Beathard, McElfresh and Harris will join seven former Mountaineers in the NFL currently including App State alum Daniel Kilgore, who will be Blair's new teammate on the 49ers. Several former Mountaineers are expected to sign as undrafted free agents throughout the next week, which should increase the amount of App State players in the league.
The 49ers, coming off a 6-10 season and hiring of new head coach Chip Kelly, had 11 picks in the draft, making five of them defensive players. Blair will join the 49ers seventh overall pick, Oregon DE DeForest Buckner, on the defensive side of the ball as a rookie.
Story by: Jason Huber, Senior Sports Reporter
Photo by Rachel Krauza