Boone's first Pride festival
Adorned in bright colors and pride shirts, waving all kinds of pride flags, carrying signs expressing love for all, and shouting cheers of support, hundreds of Boone and western North Carolina citizens slowly made their way down the sidewalk of King Street.
They gathered to celebrate the first Boone Pride festival and second annual Pride march Sunday at the Lost Province Brewing Company from 1-5 p.m. 
The marchers met in the parking lot off of Poplar Grove Connector, marched down the length of King Street and then back up to the endpoint at Lost Province. 
Officers of the Boone Police Department guided the path of the participants on bikes and blocked off any traffic to prevent potential injury.
Onlookers honked their horns, or offered cheers of encouragement or stood recording on their phones to capture the moment. 
Mason Fuller, a junior physics major, found a shaded spot in front of Ben & Jerry's to watch and cheer on the marchers. He said it took a little over 15 minutes for the long, continuous line of marchers to pass him by. 
Fuller said he feels Boone is generally an accepting and safe community, and he was glad to see that there weren't any people protesting the march and festival. 
"I was really impressed by how many like older people there were," Fuller said. "Like, I didn't see that many students; I saw people of all ages, there were, like, kids, dogs, elderly people- it was awesome."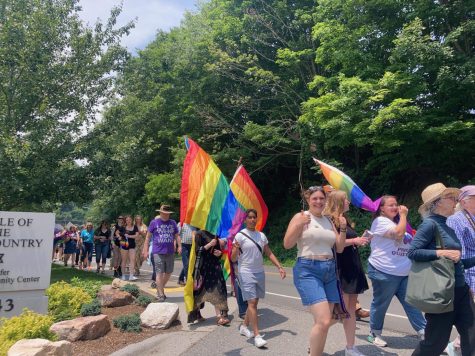 Of the wide range of attendees, several were App State faculty and staff members. 
Jim Houser, an associate professor in the Department of Sustainable Technology and the Built Environment, first stood to watch all of the members of the march and then took up the rear with his dog, Polly. 
Houser said he first came to Boone in 1981 and felt that he and others came there because of its beauty and because it is accepting of all people and lifestyles. 
Many local figures marched and celebrated, including Mayor Pro Tem Edie Tugman, Town Council member Todd Carter and Emily Brewer, the chair of the Human Relations Commission. 
Each addressed the crowd, post-march, expressing their gratitude to attendees and encouraging people to continue to involve themselves in local groups supporting the LGBTQ+ community. 
"I am so grateful that you came out in such great force today to be a part of this," Tugman said to the large crowd. "I congratulate you for everything."
All three members of the town government said they and others are working to continue to create a more inclusive community. 
On May 10, the Town Council passed a Pride Month proclamation which recognized the month of June as Pride Month to "honor the history of the LGBTQ liberation movement and to support the rights of all citizens to experience equality and freedom from discrimination."
The Human Relations Commission's nondiscrimination ordinance went into effect June 1, Carter said. 
The ordinance "affirms that every person deserves to be treated with dignity and respect and should be able to live or work in the Town of Boone without fear of discrimination" against any part of their identity. 
Carter took a second to blink back tears when discussing the recent actions of the Council and the Human Relations Commission in support of the LGBTQ+ community in Boone.
"You can't ban queer joy," Carter said. 
Carter said he "could not be more excited or more proud" of the turnout to the march and festival.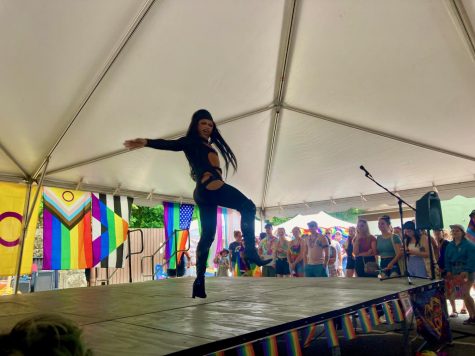 Due to the large crowd, he said they would be marching down the center of King Street next year, instead of using the sidewalk. 
After they addressed the crowd, local drag queens took the stage to entertain the audience and enthrall the crowd.
The second queen to perform went by the stage name Missy V Sour, the V standing for velociraptor. Missy said it felt good to perform and be around good people. 
Sour said she came to the event not only to perform, but to celebrate, because "pride is relevant, pride is radical, and the fact that the whole community is here is wonderful." 
If they weren't busy watching the drag queens perform high kicks and dramatic death drops, onlookers could explore the various tables set up by vendors.
Local, state and national groups such as the Immigrant Justice Coalition, North Carolina Department of Public Health and Human Service and Free Mom Hugs had tables surrounding the festival.
There were also several groups and individuals with connections to the university like the Queer and Trans Staff and Faculty affinity group. 
Maxwell Wallace, a junior art education major, had a table for his business and displayed several illustrations and handmade jewelry sets. 
Beside his wares, he set out a piece of white fabric and encouraged onlookers to write on it why pride was important to them as part of a group art piece. 
Maxwell said he had heard about the event through instagram and decided he wanted to be a part of it. 
The process for applying for a table was simple and required no fee, said Maxwell.