Camellia Bowl champions once again
Just one year after needing a fourth quarter comeback and a game winning field goal to win the Camellia Bowl, the Appalachian State Mountaineers (10-3, 7-1 Sun Belt) held off the Toledo Rockets (9-4, 6-2 MAC) 31-28 to win their second straight Camellia Bowl Championship.
A game that the Mountaineers were never trailing and were tied four times, App once again needed to rely on a kicker's foot late in the game. Freshman Michael Rubino hit a 39 yard field goal to give App State the lead with 5:14 remaining.
The Rockets, who answered with their own score after every Mountaineer touchdown, drove down the field again for a field goal attempt, but chose to save a timeout and take a five-yard delay of game penalty leading to a missed 30 yard field goal attempt and sealing the win for App State.
Junior quarterback Taylor Lamb was named the Bart Starr Most Valuable Player of the game rushing for a career high 119 yards, and scoring two touchdowns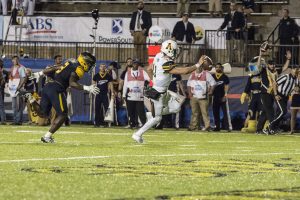 "We have so much fight and so much integrity in our football team and they do things right on and off the field," App State head coach Scott Satterfield said. "They believe in each other and our motto is that we ride together, and I am so proud of those guys and our senior class. Everyone involved in our program from top to bottom, we all pull in the same direction and you can't have success if you don't do that."
Expected to be a high scoring game, App State came right out the gates with Lamb completing a 16 yard touchdown pass to sophomore receiver Deltron Hopkins and taking an early 7-0 lead.
Toledo quarterback Logan Woodside, who led the nation during the regular season with 43 passing touchdowns, answered quickly with a 58 yard pass to receiver Corey Jones and passing for his 44th touchdown to tie the game 7-7.
"Every time they scored, we answered and that's the mark of a champion," Satterfield said. "It was really a wild game, very entertaining and it was a great college football game."
Both defenses stepped up after the team's first score including three dropped passes by Mountaineer receivers, leading to six straight combined punts.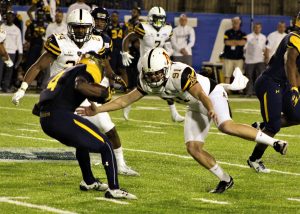 But senior running back Marcus Cox rushed for a 20 yard gain at the end of the first to become the 22nd FBS player all-time to rush for 5,000 career yards, a huge accomplishment after missing almost five games this season.
"You definitely think about it when you have a chance to make history and be apart of a great group of guys," Cox said. "I am grateful for it and it is all apart of our team."
Cox followed his career mark rushing for a 13 yard touchdown in the second quarter to follow up a seven play, 93 yard Mountaineer drive to give App a 14-7 lead.
Cox finished the game with 143 rushing yards and became the first App State player ever to rush for four consecutive 1,000 rushing yards seasons.  
Right as the momentum swung back to the Mountaineers, Toledo tied the game at 14 after a two play, 51-yard drive in 19 seconds.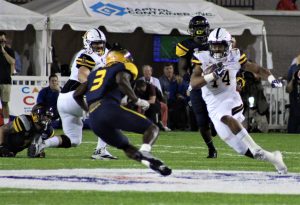 "That is a great Toledo team and we knew it wasn't going to be easy and we have to embrace that and play those four quarters," Lamb said.
Tied at halftime, the Mountaineers struck first in the second half. Going for it on fourth-and-one, a pass interference penalty was called on Toledo giving App a huge 15-yard gain and automatic first down.
The drive led to Lamb rushing for a 13-yard touchdown and giving the Mountaineers a 21-14 lead.
Only needing a combined six plays in under two minutes to score their first 14 points, the Rockets would begin to slow things down answering the App State score with a 14 play, 75 yard drive and tying the game once again at 21.
Then freshman Darrynton Evans made one of the biggest plays of the game returning the Toledo kickoff for a 94 yard touchdown and the 28-21 lead.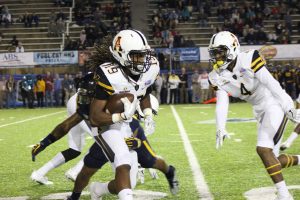 "I saw the ball was short and I saw the hole, had to hit it and got by one guy and took it the rest of the way," Evans said. "The wind was blowing so that could have been what took the ball off its course, but I was happy it was there."
Not only did Evans return the first Mountaineer kickoff touchdown since Tony Washington in 2012, but also proved he will continue being a key player for the Mountaineer team.
"For him to have that huge play in the game being a true freshman and in his first bowl game, the future is bright for him and we will find ways for him to get the football," Satterfield said. "He will get so much better next year."
Toledo would continue to answer scoring again to make it 28-28 entering the fourth quarter, but there was a different feel for the Mountaineers who trailed entering the fourth quarter of last years Camellia Bowl.
"It was different and a clean ball game with no turnovers and both teams took care of the football," Satterfield said. "It was a different feel because we never got behind and we always felt we were right there."
Senior linebacker John Law who has now won a SoCon championship, Sun Belt Championship and two Camellia Bowls, helped lead the strong Mountaineer defense in the fourth quarter picking up 11 tackles.
Getting injured in last years bowl game, Law entered his final college game with an aggressive mindset.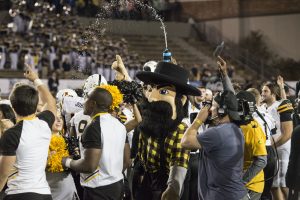 "I was aggressive and wanted to leave it all out there," Law said. "They had some good players and played hard. I have been injured this season now being so healthy, I wanted to go out there and really get after them."
Taking the lead after Rubino's field goal, the game began to have a familiar taste to former Mountaineer Zach Matics hitting last season's game winning field goal.
"It's pretty amazing with the same type of scenario and the score being 31-29 last year and 31-28 this year," Rubino said. "It is big knowing my coaches have that kind of confidence in me and helps me feel comfortable out there."
The narrative this season was a missed field goal from the Rockets ultimately gave the Mountaineers the win.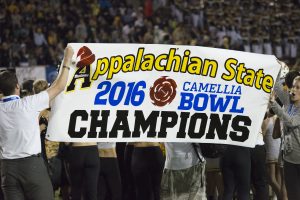 App State has now won two straight Camellia Bowls in only their second bowl-eligible season, won double-digit games back-to-back for the first time since 2009-10 and a Sun Belt Championship in their third year in the FBS.
"We set out this season to win the Sun Belt, win another bowl and get double digit wins again and I don't know what else you can do," Satterfield said with a laugh. "We did about all we could do this year."
Story By: Jason Huber, Sports Editor
Photos By: Halle Keighton, Photo Editor and Braxton Critcher, Photographer