Waking up to crisp morning air and stepping outside to feel the crunch of leaves under your feet while the trees shift from green to shades of red, yellow and orange can only mean one thing: fall is finally here. 
With these changes comes peak week, typically around the third week of October, when the leaves are at their peak color. There are many ways to enjoy peak week and fully experience fall in the High Country. Driving on the Blue Ridge Parkway with the windows down while listening to a fall playlist is a great way to start. Traffic can be less than ideal since the phenomenon brings an influx of people, known as "leaf peepers," but don't let that stop you from experiencing the fresh air and cool breeze that make peak week so popular. 
 Overlooks to visit:
Anywhere on the Blue Ridge Parkway will showcase the vibrant leaves, but there are a few overlooks that provide optimal views. Golden hour, which takes place around 6:50 p.m., is a good time to go because the lighting brings out the colors of the leaves. 
The first overlook to visit is Linn Cove Viaduct. The Linn Cove Viaduct, located at milepost 304.4 on the Blue Ridge Parkway, is a road that juts out of the backside of Grandfather Mountain, making it look as if cars are driving on and through the surrounding trees. 
Located just 20 minutes from campus, Thunder Hill Overlook gives a wide view of the Blue Ridge Mountains in their full autumn foliage. The Yonahlossee Overlook is the last overlook before the Linn Cove Viaduct and offers a southern view of  the road. The overlook provides a different perspective of the trees than the others along the parkway.
Close to campus, located just past the Humane Society, the Grandview Overlook can be easily accessed for a slightly less crowded view of the leaves.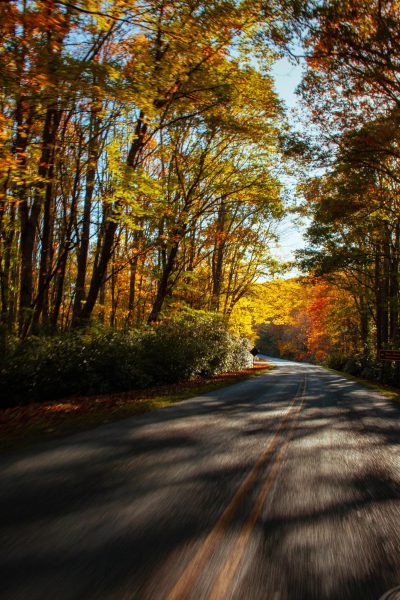 Hikes for viewing: 
Many of the trails in Boone boast the beautiful fall colors that bring people to the High Country in October. Hiking is a good way to get exercise while still enjoying what peak week has to offer. 
The Rough Ridge trail is a popular place to view the beauty of peak week, and offers hikers one of the more iconic views of the Blue Ridge Mountains. Located at mile-marker 302.8 on the parkway, this uphill out and back trail takes visitors along a boardwalk to a 360 degree view of the Blue Ridge Mountains and is only about 1.2 miles round trip. 
For a slightly more challenging hike, Hebron Falls is a 1.5 mile out and back trail, or 3 miles round trip. Located in Julian Price Park, Hebron Falls takes hikers through the trees to a view of a waterfall surrounded by orange and red fall foliage. 
Another hiking option is Bass Lake Trail. This 1.9 mile loop around Bass Lake guides hikers around a lakefront path surrounded by trees. 
Fall activities for peak week:
Lots of fall activities take place during peak week. Because many of these activities are outdoors, they are an easy way to view the leaves while also celebrating the season.
As is common in most places throughout the fall season, there are a number of pumpkin patches and corn mazes in Boone full of family fun. 
Located on the Brown Family Farm along the New River, the New River Corn Maze offers haunted hayrides and over a mile of corn mazes full of twists and turns. Starting Sept. 16, the maze is open Fridays and Saturdays from 10 a.m. to dark and Sundays from 1 p.m. to dark.   
From mid September to late October, the Lantern Farm Pumpkin Patch & Corn Maze is another destination pumpkin patch. Lantern Farm offers a 4 acre maze and pumpkins waiting to be picked, as well as refreshments and pre-picked pumpkins for those on a time crunch.
The Harvest Farm is home to miles of pumpkin patches and a 7 acre corn maze for those looking for a challenge. They provide visitors with the opportunity to complete a map and win a free pumpkin. Harvest Farm is pet friendly and located in Valle Crucis. 
If a pumpkin patch isn't your speed, from Sept. 22 through Oct. 28 Tweetsie Railroad turns into a spooktacular amusement park with activities for the whole family. 
Peak week treats:
Boone and the surrounding areas are also home to several restaurants to enjoy after a peak week adventure. There are a multitude of places, all within a short distance of the parkway to enjoy a meal after a day of fall fun.
The Speckled Trout, located at 922 Main St. in Blowing Rock, is a rustic southern restaurant with a bar full of craft beers and cocktails that serves both lunch and dinner. The Speckled Trout is open on Thursday, Sunday and Monday from 11 a.m.-9 p.m., and Saturday and Sunday from 11 a.m.-10 p.m. The restaurant is closed on Tuesday and Wednesday. 
For those who are looking for a quick bite to eat, Come Back Shack, located at 1521 Blowing Rock Road, offers an on the go dining experience, serving burgers from 10:30 a.m.-9 p.m. seven days a week.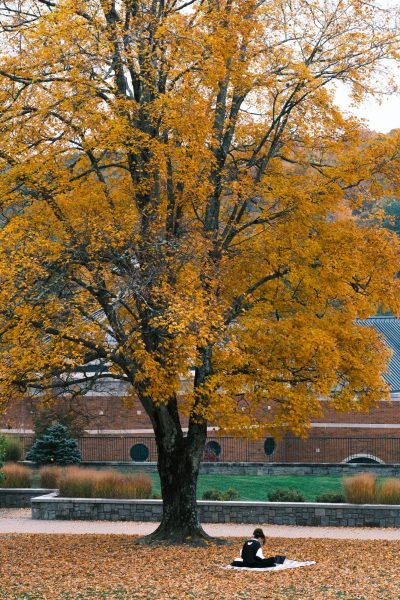 If you're craving a burger but wanting the full sitdown dining experience, The Cardinal is a good option. Located at 1711 NC-105, The Cardinal menu has something for everyone, from fresh burgers to vegan options. The Cardinal is open from 11 a.m.-midnight seven days a week.
For those seeking a cold beer after a day of fall activities, check out Appalachian Mountain Brewery. Not only is Appalachian Mountain Brewery a place to grab a beer or cider on the patio, but they also have pizza from the Farm to Flame food truck. Both AMB and the food truck are  open from noon-10 p.m. weekdays and from noon-11 p.m. on weekends.