The High Country is teeming with thrilling and mesmerizing scenic trails calling all hikers, regardless of skill, to experience. Bursting with life and energy, the Blue Ridge Mountains are the perfect place to make hiking a hobby and embark on new adventures. Keep in mind, this small collection of a few of the area's most popular hikes is just a portion of the trails available, but may serve as a starting point for any eager explorers.
Bass Lake Loop
If you are searching for a relaxed and accessible trail while still witnessing some marvelous views, Bass Lake Loop is the place for you. This is a scenic 1-mile hike that circles one of North Carolina's beautiful mountain lakes. Weaving along the lakeshore, the trail is flat and provides views of both Bass Lake and Cone Manor. Bass Lake is only a few miles from downtown Boone and can be easily accessed via the Blue Ridge Parkway or US-221 near Blowing Rock. You can find this popular spot at the Moses H. Cone Memorial Park, named after the area's renowned "Denim King." Bass Lake Loop is accessible for wheelchairs, baby carriages and is pet friendly. The park has restrooms and parking available off of US-221. This calm trail only takes an average of about 17 minutes and is perfect if you are seeking an easy and laidback stroll while still enjoying the beauty of a gorgeous mountain lake.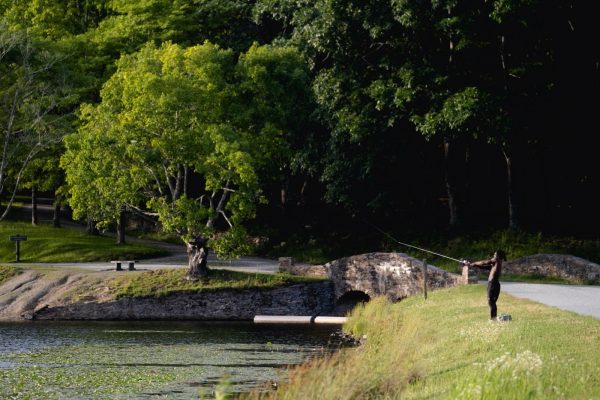 Rough Ridge Trail
This list's Goldilocks hike, Rough Ridge Trail, is a local favorite and one of the Blue Ridge Parkway's most popular overlooks. This moderate difficulty hike is about 1.2 miles long and is found just off the Blue Ridge Parkway outside of Boone. Parking is available at milepost 302.8 on the parkway. The trail is short and sweet, featuring fascinating jagged rocks as you ascend to the 4,773 feet summit with breathtaking, picture-perfect views. The Rough Ridge trail is a small part of the longer 13.5 mile Tanawha Trail that takes you through a dense and shady forest before climbing through rocky terrain to a dramatic opening with stunning views. There are plenty of large boulders to sit and rest at that are perfect if you want to pack a picnic to enjoy while taking in the view.
Cascade Falls
This list wouldn't be complete without a waterfall hike, and the Blue Ridge Mountains Travel Guide says Cascades Falls is one of the most popular waterfalls in the region. This 1-mile loop hike guides you through a rich and luscious forest full of unique native plants and trees. The trail is sprinkled with informational plaques with details on the many different plant species. After wandering through the forest, the path leads you to two overlooks with captivating views of the roaring 35-foot waterfall as it jets out from over the cliff above. Parking for this hike is best at The Cascades Overlook at Milepost 271.9, located about five miles east of Boone. The trail begins on a paved path right next to the restrooms and picnic area. There are many signs cautioning to remain on the trail so it's best to refrain from climbing the stone walls or waterfall, as these areas can become slippery and dangerous. 
Grandfather Trail
Hands down the most intense yet rewarding hike on this list, Grandfather Trail, is not for the faint of heart. With extreme elevation reaching almost 6,000 feet and technically challenging elements, this trail should only be attempted by seasoned and experienced hikers. Located on Grandfather Mountain, the trail is about 4.8 miles roundtrip and takes over five hours to complete. You can access the trail from the Grandfather Mountain Top Shop parking lot or the Black Rock Parking Area. The trail takes you along the three peaks, MacRae, Attic Window and Calloway, that require hikers to hang onto cables and climb ladders in order to progress to the peaks. Remember to exercise caution, pack plenty of granola bars and throw any fear of heights right out the window before tackling this beast. Despite the challenge, know that you can count on experiencing some of the most spectacular and awe-inspiring views in the East.
In order to maximize your joy as you galavant through nature, try to plan ahead to be prepared for nature's challenges. Here are some important hiking tips to remember as you explore the great outdoors.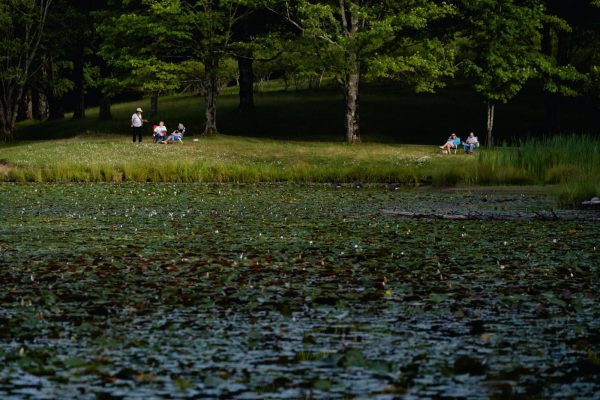 Wear the right shoes
The right kicks can make or break your hiking experience, so it's important to consider traction, support and protection when choosing your footwear.
Pack plenty of food and water
Food is fuel and you are going to need to replenish your energy as you explore. Bring lots of food and water to keep you hydrated and healthy on your journey. 
Leave no trace
Help preserve and protect the environment by staying on designated trails, respecting wildlife and properly disposing of any waste. Keep Boone happy and healthy by leaving no trace while you experience the region's magic.
Expect the unexpected
Make sure to check the weather leading up to your adventure. Boone's sky can change in minutes and it is important to have the proper gear in case of any surprise showers. A raincoat, extra socks and moisture-wicking gear can go a long way. Consider bringing a basic first aid kit in case of any unfortunate scratches or scrapes.
Stop and smell the roses
Slow down, take in the scenery and soak in the moment. It's important to pace yourself while hiking and if you can't maintain a conversation you might need to slow your roll.
Nature yields perspective, freedom and innumerable awe-inspiring moments. Unplug for a day, grab some friends and get ready for a thrilling adventure through some of the many beautiful mountain trails Appalachia has to offer. Have fun, be safe and make some memories while exploring these trails.