Football falls to Penn State, 45-38
Less than 2,000 seats were empty inside Beaver Stadium in Pennsylvania when the App State football team marched in to have a meeting with Big Ten opponent, the Penn State Nittany Lions.
While the Mountaineers kept things close, they weren't able to pull out the victory, taking a 45-38 overtime loss. This is the second time in three years that App State has fallen in overtime in their season opener against a top ten opponent.
"It's tough for us. This team has been there, (we were at) Tennessee two years ago, took them to overtime, lost in overtime again, a very similar type situation. It's hard, it is extremely difficult for our team," head coach Scott Satterfield said.
Penn State got things going early with Nittany Lion quarterback Trace McSorley leading a quick drive down the field that ended with him rushing the ball 12 yards for a touchdown. The Mountaineers took it from there for the rest of the first quarter with redshirt running back and wide receiver Darrynton Evans returning Penn State's kickoff 100 yards for a touchdown. Due to redshirting last season, this is Evans' second straight appearance with a kickoff returned for a touchdown.
"That kickoff return, it was pretty big, especially coming off not playing last year. I really just fielded the kick and then started running. I saw the hole and I was like 'You gotta be kidding me.' I just hit it from there," Evans said.
Shortly after tying the game on Evans' run, redshirt sophomore kicker Chandler Staton was successful on a 38-yard field goal attempt, giving App State their first lead of the game. The score remained 10-7 throughout most of the first half until Penn State kicker Jake Pinegar tied things up with a field goal of his own with 12 seconds left on the clock.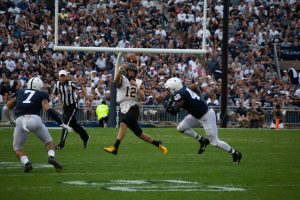 It was a game of quarters from that point on. The third quarter belonged to Penn State, putting two rushing touchdowns on the board, one from McSorley and one from running back Ricky Slade. The Mountaineers were quiet in the third, producing only 76 yards of offense and picking up four first downs.
With a 14-point lead heading into the fourth quarter, it was beginning to look like the Nittany Lions may run away with things. But the Mountaineers fought on through the fourth quarter to make things close again and Satterfield was proud of the way his team responded to adversity.
"That was the biggest question mark that I had for this team. Any time you have a young team, you don't know when 'it' hits the fan and things are going rough, it's real easy to quit, lay down. Or you can fight. With a veteran team, you know how they're going to react. With a young team you just don't know. That's what I didn't know and it was a resounding 'Yes.' They will fight. They will not back down."
The Mountaineers surged back into the game in the fourth quarter, finding the endzone four times, three coming in the final eight minutes of the game. Brand new starting quarterback redshirt sophomore Zac Thomas threw for 270 yards in the game, 153 of them coming in the fourth quarter along with both of his two touchdown passes.
"My offensive line, they did a hell of a job. I think I got out rushed one time and I had to throw the ball away. Other than that, they did their job. Receivers were doing their job, they were getting open, so I can't just put it on me," Thomas said. "Jalin Moore, he had a heck of a game too, so it's not just me. The whole offense really clicked tonight and we showed the nation what we have."
Redshirt senior running back Jalin Moore also had a great fourth quarter, rushing for 57 of his 92 yards and scoring the go-ahead touchdown for App State with about two minutes to go. Unfortunately for the Mountaineers this left enough time on the clock for McSorley to lead Penn State back down the field to score the game-tying touchdown with 42 seconds left. Junior running back Miles Sanders scored the eventual game-winning touchdown on the Nittany Lions fourth play of overtime.
Despite the tough loss, Satterfield has confidence that his team is ready to take on the rest of the season.
"They are so fired up right now that when we get back to Boone, we could practice right now. Our guys are encouraged by what we did tonight. They're hurt but they're encouraged and they're ready to play again. That's just the mindset of our guys right now," Satterfield said.
Story by Brooks Maynard, sports editor
Featured image by Moss Brennan, news editor
Feature image caption: Redshirt sophomore quarterback Zac Thomas embraces a Penn State player following their loss to the Nittany Lions on Saturday.