The campus of Savannah State University was on lockdown late Thursday night after a shooting happened near the university's student union.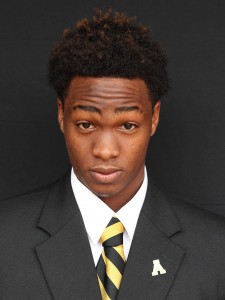 Chris Starks, a junior from the metro Atlanta area, died at Memorial University Medical Center after being transported there for treatment of gunshot injuries he "sustained in the altercation at the SSU Student Union Building," according to a press release from Savannah State University.
Because the university is a state institution, the Georgia Bureau of Investigation (GBI) is handling the investigation with the assistance of the campus police department. The investigation is ongoing and the shooter has not been identified yet. The GBI said in a press release that the shooting "appears to be an isolated incident."
Starks, 22, attended Appalachian State University before Savannah State in 2012 and redshirted as a defensive back for the Mountaineers.
The football team's Twitter account posted its condolences Aug. 28 with a statement from head coach Scott Satterfield.
RIP Chris "Cooley" Starks you always brought joy to everyone you encountered. #AppFamilyhttps://t.co/1MXXwwjqIf

— App State Football (@AppState_FB) August 28, 2015
Transcription of statement:
"We were shocked and devastated to hear the news this morning about Chris Starks' passing. In his short time at Appalachian State, we came to know Chris as a good person, a hard worker and a great friend and teammate. Our thoughts and prayers are with Chris' family and friends at this very difficult time." – Appalachian State football head coach Scott Satterfield
No further details have been released.
Story: Staff Reports