A glimpse into the future: App State season preview
Entering their fourth season in the FBS and third of bowl game eligibility, the Mountaineers (10-3 overall, 7-1 Sun Belt last season) are coming off another bowl game victory in the Camellia Bowl against Toledo 31-28. App looks to continue their success this year with a new squad to start the season.
Some key returning players include the team leaders in passing, senior quarterback Taylor Lamb, rushing and 2016 Sun Belt offensive player of the year Jalin Moore, senior receiver Shaedon Meadors and leading tackler senior linebacker Eric Boggs.
Lamb is now entering his senior season and looking to lead this Mountaineers passing attack to glory. He put up 2,162 passing yards on 197 completions with 15 touchdowns and only eight interceptions in the 2016 season.
Although losing four of their top eight receivers in the offseason, the position is still filled with talent and depth. Meadors is also returning, and at 6 foot 2 inches, he is one of three of App's receivers who stands at that height or taller including senior Zy Letman, who is 6 foot 3 inches, and freshman Thomas Hennigan, who is 6 foot 2 inches. The downfield threat is certainly there, as well as a few speedsters running over the middle, combined with big tight ends Collin Reed, Levi Duffield and Devin Papenheim who will look to replace Barrett Burns at the tight end position.
"I believe we have some guys that can run outside and run by guys," Lamb said. "Throw it a little bit earlier this year and lead it down field and they can go get it and we have to get the mental part down and get down the way of routes and reading coverage and all that."
Behind the passing attack sits an absolute beast of a rushing attack despite losing all-time leading rusher Marcus Cox to graduation. Last year's leading rusher Jalin Moore returns in his junior season after posting 1,402 rushing yards, good for 19th in the nation.
"I have had good success," Moore said. "But I feel like I haven't hit my peak yet. There is a lot more in store for me."
The offensive line also plays a big part in what the running backs are able to do in the game. The O-line has been one of the most consistent in the country the last couple of years; this year, there will be a lot of experience with four seniors on the line and either true freshman Noah Hannon or redshirt freshman Ryan Neuzil making starts. Hannon made his first career start at center on Saturday against Georgia. The Apps have been top-20 in rushing offense the last three seasons.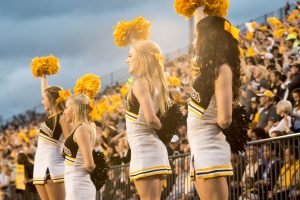 "I let the seniors talk because they talk about the struggles they went through," head coach Scott Satterfield said. "I want those young guys to learn it is awesome to go through that and we had a great offseason and our guys are so thankful to finally get to the season and play football."
The pass rush will be key again this year with the triple threat at defensive lineman looking to wreak havoc on opposing offensive lineman. Senior defensive linemen Caleb Fuller and Tee Sims, along with junior nose-tackle Myquon Stout return after tremendous 2016 seasons combining for 21.5 tackles-for-loss, 12 sacks and nine quarterback hits. Combine that with a great secondary and linebackers, this defense is prime for another great season.
"DL, we are really close," Stout said. "We call it the junkyard and we have a group message and we hang out on the field, we hang out outside and we are more like brothers, which helps with chemistry."
Satterfield is now entering his fifth season as the head coach of the Mountaineers with a record of 32-18. After posting 11 wins in the 2015 season, it dipped down to 10 last year, although two of those losses were to Power Five conference teams in the Tennessee Volunteers and Miami Hurricanes. This season opened up against another Power Five team in the Georgia Bulldogs in Athens.
Game by game preview: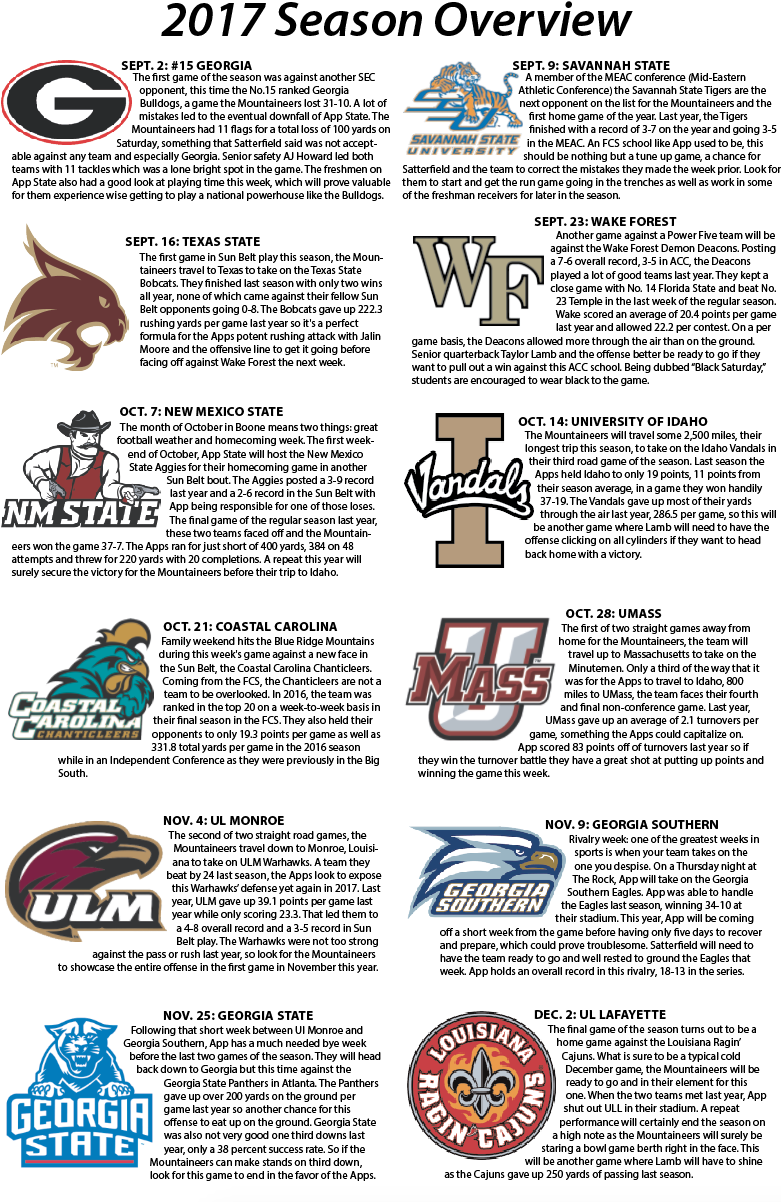 Story By: Taylor Story, Sports Reporter
Photos By: Lindsay Vaughn, Senior Staff Photographer