Good contributions
Freshman point guard Patrick Good has given App State men's basketball a much-needed lift off the bench this season. With his addition on the team, he has contributed a steady scoring option.
In just his second college game, Good provided an immediate spark by scoring 21 points, which were points that kept App in reach of defeating a strong Tennessee team. He followed that performance up two days later with a 16-point game.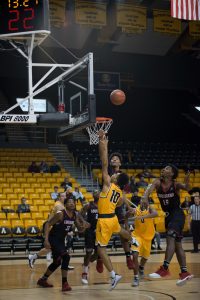 Providing sharpshooting in pivotal moments, the freshman has never lacked confidence, which has given him an advantage as he has adjusted to the faster-paced college level.
"Coming from where he came from, at Crockett High School, he played for his father who did a really good job coaching him and I think that helps any player coming into the college level," head coach Jim Fox said. "Pat always has a lot of confidence. Everything is moving so much faster at this level than it did at the high school level. When you have that confidence that Pat has, I think that's the biggest thing that helps him with a smooth transition."
Without the presence of former point guard Chris Burgess this season, the Mountaineers have had to revamp the point guard position. Sophomore point guard Emarius Logan has done his part, carrying the starting job without any issue. Good and fellow freshman Kelvin Robinson have been asked to take the spot that Logan held last year, to come off the bench and give good minutes, while keeping the team in rhythm.
He looks to fill this role by giving Logan breaks at the position and letting him work in other areas. Good's impact can be seen as soon as he steps on the floor,  impacts the game by giving the opposition match-up problems and giving them another shooter to worry about.
"To me, Patrick is the best shooter in the Sun Belt, so when he comes in, he instantly opens up the floor for everybody to attack," Logan said. "He can play the one and the two, dribbling the ball, or he can play off the ball to come off screens with the way he can catch and shoot."
Good has successfully filled the second point guard spot, finding his moments to shine while making the most of the minutes he is given. He has seen increased minutes as the year progressed because of these facts. Good's performance has led him to find himself, along with Isaac Johnson, as the team's most reliable freshmen role players.
Good began the year by lighting up the three-point line, but quickly made it clear that he was more than just a shooter. Though he still leads the team in three-point percentage at 42 percent, he has looked to do more in recent weeks by stepping up defensively, and taking over a bigger role as a pass-first guard.
"The coaches have been on me about my defense, screening for other people, not turning the ball over and obviously if I'm doing all of those things, that improves my chances of getting on the floor," Good said. "I really thrive off playing time because I feel like I can help this team. But the transition has been different with maturity and speed, and I felt like over the season I have adjusted to it well."
His transformation in such a short time has shown what being a team-first guy is all about. From a player who seemingly shot every time he touched the ball at the beginning of the year, Good has moved into a much different role, one that allows him to help his team in more ways than one.
App's young team has looked to stretch the floor more this year and Good has been just the guy to do that. His ever-changing arsenal has moved his game to more of a versatile threat and has also given the Mountaineers the lift that they have searched for.
"Every guy on the team determines their role, so it depends how they do in practice, how they do in workouts, how they do when we play obviously," Fox said. "Being able to go Italy for two weeks and get some game action there, it was really important for Pat, and so basically guys earn their roles and Pat went out there and earned his role."
Good has played a big part by giving the team what it has lacked the most: scoring off the bench. Bench contributions have been lacking for the Apps this year but with Good and others, such as Johnson, stepping up, the Mountaineers have gained more youth to look to in the future.
Story By: Jay Boyd, Sports Reporter 
Photos By: Matt Sloyer, Staff Photographer and Courtesy of Dave Mayo