Grizzlies dominated by undefeated Sharks
In what was supposed to be one of the more intriguing games of the season with the High Country Grizzlies (2-2) facing the undefeated Jacksonville Sharks (4-0), the Grizzlies were unable to get any offense going, just a week after a 94-6 victory over Dayton, falling 68-21 to the Sharks.
After entering half time a week ago against Dayton leading 62-0, the Grizzlies found themselves on the opposite side of the spectrum this time around, trailing 41-0 at the half to the Sharks as Jacksonville quarterback Tommy Grady threw for five first half touchdowns.
Finally getting on the board in the second half, and outscoring the Sharks 15-6 in the third quarter, the Sharks were too much for the Grizzlies en-route to a blowout victory, as quarterback Stephen Panasuk threw for five interceptions on the day.
"We didn't come to play today, and that showed from the get go and from the score," Panasuk said. "We did not come ready, and did not prepare like we should have. It's a tough pill to swallow, but it's a lesson learned."
Looking to make a statement against an experienced former AFL team in Jacksonville, Panasuk threw an early pick-six for a 46-yard Sharks touchdown return, and the Grizzlies would only see things get worse from there.
Wide receiver Malachi Jones brought the crowd back into the game with an aerobic over the wall catch for a first down, giving the Grizzlies some hope for a drive.
"It was third down and I knew it would go over, and I knew we had to make a play," Jones said. "Somebody had to come up and make a play and we have to do that for now on. It felt weird. I had no idea where I was. It was probably the smoothest going over the wall moment I've ever had."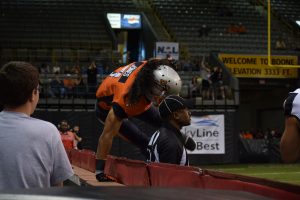 Panasuk threw his second interception of the day with 10.1 seconds remaining in the first quarter, and the Grizzlies trailed 13-0 at the end of the first quarter.
The Grizzlies did their best to make an early comeback in the second quarter, but struggled to make any deep passes against the Sharks defense.
"They did a good job at making sure we didn't go deep," Jones said. "In arena football we have to go up top, and they did a really good job making sure we didn't, and we will watch film and make sure we do better."
Grady took advantage when the Sharks were on offense, and threw four more first half touchdowns, including a touchdown with 33 seconds remaining in the half to give Jacksonville a 41-0 halftime lead.
High Country had their opportunities, having possession for 20:53 in the first half, compared to Jacksonville having possession for 9:07, but the Sharks size gave them the first half advantage.
"We played like crap in first half, and the only thing we could talk about for the second half is to not give up," head coach Josh Resignalo said.
Things looked a little brighter at the start of the second half as Jones caught a 15-yard touchdown pass to cut the deficit to 41-7, and the Grizzlies outscored the Sharks 15-6 in the third quarter.
Injuries began to rack up for the Grizzlies, leaving High Country with very little depth.
Jacksonville's backup quarterback Damien Fleming took over at the quarterback position, replacing Grady, and instead of passing, the Sharks ran in all five of their second half touchdowns.
"We were short on guys depth-wise. We had a lot of guys injured, and we have to work harder and get in weight room. We will do better next time we see them," wide receiver Daron Clark said. "We have a lot of rookies around, and playing a team with vets is tough, and we have to live and learn from our mistakes."
Running back Undra Hendrix ran in his second touchdown of the day as the clock winded down to zero to end the game, putting an end to the long day, and looking forward to a much needed bye week coming up.
"You see why Jacksonville is number one team in this league," Jones said. "Unfortunately we didn't come out like we needed to, and we had opportunity to make plays and we didn't make them. It is all learning, and we are nowhere near where we need to be as far as potential and a unit."
The Grizzlies will now have a bye week before traveling to Columbus, Georgia, to take on the Columbus Lions on April 22.
Story By: Jason Huber, Sports Editor
Photos By: Lindsay Vaughn, Staff Photographer