Grizzlies obliterate the Wolfpack
The High Country Grizzlies steamrolled their way to their first ever home win with an all-around domination of the Dayton Wolfpack, defending their home turf with a 94-6 win on Saturday night.
From the first snap, the Grizzlies' (2-1) defense swarmed to the ball, with the Wolfpack's (0-3) first drive beginning with two sacks and an incompletion, and finishing with a blocked field goal. Coupled with an easy touchdown run by Undra Hendrix and a touchdown reception by Malachi Jones, the Grizzlies raced to a 22-0 lead by the end of the first quarter.
The steadfast defense easily handled the Wolfpack in the first half, not even allowing positive yards until there was only 6:30 left in the first quarter. The Grizzlies dominated the air with four interceptions in the second quarter coming from defensive back Brandon Fuentes and Jimmy LeGree, with each of them bringing one back for a touchdown.
The Grizzlies kept at it and were up 62-0 by halftime. For head coach Josh Resignalo, the game plan was to not let up, finish the game, and be ready for next week.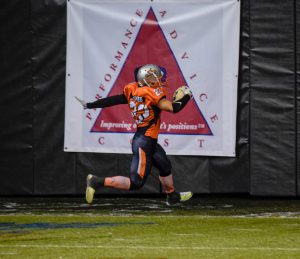 "Just to put ourselves in a position to finish, to keep pushing, don't let up," Resignalo said. "We have some tough games coming up and we have to be able to fight our way through."
If the Grizzlies were going to slow down, it wouldn't be any time soon, as they piled on with three more interceptions in the second half and a host of touchdowns.
The Grizzlies' offense, led by Malachi Jones' three touchdown receptions, powered their way to an 81-0 lead before Dayton finally found their way onto the board with a touchdown, but failed to convert for two after.
The one touchdown would be the only consolation prize for the Wolfpack, as the Grizzlies defense wouldn't let them sniff the end zone for the rest of the game. Hendrix knows the value of having a staunch defense to play with, and was more than happy to recognize that after the game.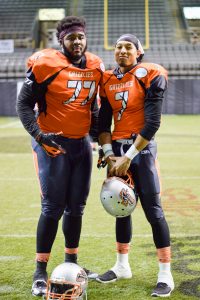 "Defense did a great job," Hendrix said. "They weren't all that good up front on the offensive line, and we've got the best defensive line in the conference, in the nation I think."
It would be that defense that capped off the game when Fuentes found the ball again and got in the endzone for his second pick-six of the game, giving the Grizzlies a final score of 94-6.
The Grizzlies will now shift their attention to next week's home game against the Jacksonville Sharks (3-0) who are coming off of a 57-43 win against the Lehigh Valley Steelhawks.
Story By: Ian Taylor, Sports Reporter
Photos By: Lindsay Vaughn, Staff Photographer